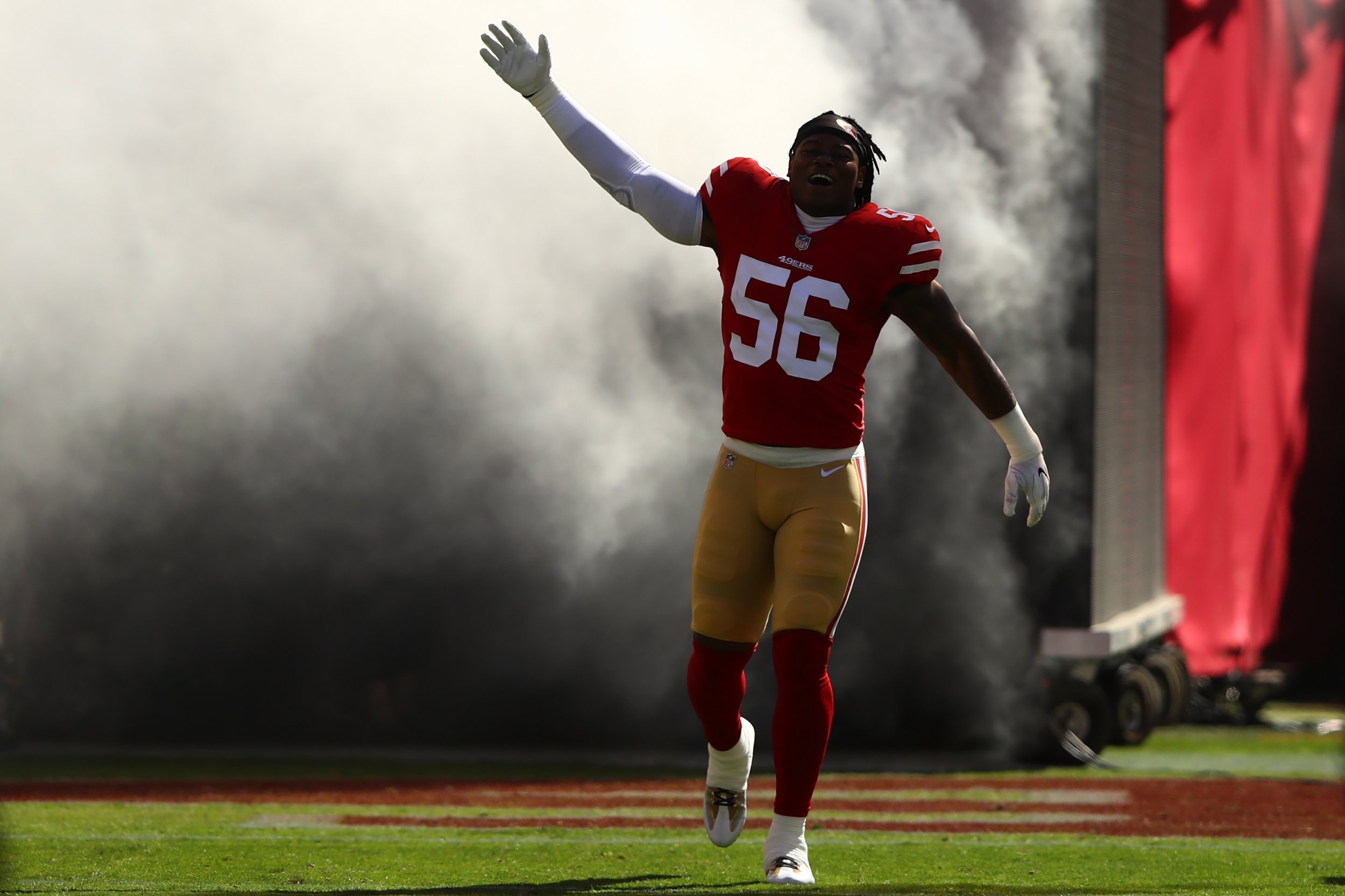 Washington Redskins senior vice president Doug Williams said the organization is united in its decison to claim troubled linebacker Reuben Foster off waivers earlier this week.
Williams said the team's four key decision-makers voted unanimously to bring in Foster and claimed he was comfortable with the amount of research he did before making the move on Tuesday.
Foster was claimed off waivers by the Redskins on Tuesday, days after being released by the San Francisco 49ers following his arrest late Saturday night for a charge of misdemeanor domestic violence, according to ESPN's Adam Schefter.
Williams issued an official statement on Tuesday after the move, but spoke publicly for the first time during his weekly segment on The Team 980 Thursday. The former Super Bowl-winning quarterback acknowledged that the franchise knew there would be backlash -- as did head coach Jay Gruden previously -- which he said was "rightfully so."
"I've got six daughters, so it ain't something I would condone," Williams told The Team 980. "But at the same time, I think we are in the business of at least looking into [Foster's case]. I could sit here, and I won't, name a bunch of teams that took on players that got a lot of baggage that nobody's saying anything about.
"You can't get into nitpicking what they do and what you do. You gotta look at it from your standpoint. There was a lot of thought that went into it. It wasn't just a spur of the moment type of thing. We all gathered, we talked about it, we knew there was going to be some risk-reward involved in it."
The Redskins were the only team to submit a waiver for Foster this week. The linebacker was at the team's facility on Wednesday to get a physical and meet with team officials.
According to NFL.com, the linebacker will not be permitted to practice or play in games for Washington and will remain on the Commissioner's Exempt List while the NFL conducts an investigation into his arrest.
Per the personal-conduct policy, "A player is is placed on Commissioner Exempt List may not practice or attend games, but with the club's permission he may be present at the club's facility on a reasonable basis for meetings, individual workouts, therapy and rehabilitation, and other permitted non-football activities."
The former first-round draft pick was arrested at 9:10 p.m. EST on Saturday at the Grand Hyatt hotel in Tampa, was booked into jail two hours later and released on bond the following afternoon, according to an arrest report from the Hillsborough County Sheriff's office.
Foster has had previous legal troubles, including an arrest on charges of felony domestic violence following an incident at his home in February.
The linebacker pleaded no contest to a misdemeanor weapons charge related to the initial domestic violence allegations and was also arrested for misdemeanor marijuana possesion in Alabama in January.
Foster received a two-year probabtion sentence, 232 hours of community service and $235 in fines for the weapons charge. He also completed a first-time offender diversion course in order to have his marijuana charges dismissed.
Foster's offseason arrest resulted in a two-game suspension at the beginning of the 2018 regular season for violations of the league's policies on personal conduct and substance abuse.
The former Alabama standout's off-field issues -- along with a rotator cuff injury -- also led to a slide in the 2017 NFL Draft after being projected as the top linebacker prospect.
Foster attended the NFL Combine, but was sent home early after being involved in a shouting match with a hospital worker because he was reportedly frustrated with a long wait at a medical examination.
The former Butkus Award winner fell to No. 31 overall and appeared in 16 games during two seasons with the Niners, recording 101 tackles and three pass breakups during that span.