Down the Stretch, Trump Goes for Crowds, While Biden Stays Low-Key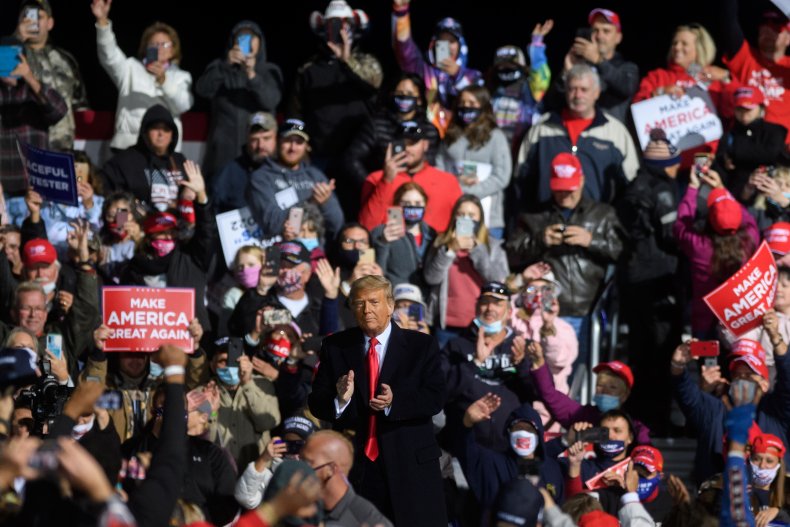 President Donald Trump and former Vice President Joe Biden have set out on decidedly different paths as they trek toward Election Day—now less than three weeks away.
Trump, who has recently recovered from COVID-19, is holding mass rallies, with hundreds of supporters—many unmasked—in key battleground states.
Biden is hosting more low-key events, and even skipping days from the campaign trail, as he did Wednesday, to hold virtual fundraising events, despite having a financial edge over Trump.
Their divergent strategies signal where each campaign stands heading into the final stretch.
Biden currently holds a strong lead over Trump in the polls. The latest RealClearPolitics national average shows him with at least a 9-point lead. Biden's also leading in key battleground states, where both have events lined up in the coming days.
But Trump's campaign aides say he sees value in holding his large-scale rallies, after being sidelined for about a week with COVID-19. Trump tested positive for the coronavirus on October 1 and was briefly hospitalized after he faced Biden in their first presidential debate in Ohio.
A second debate that was supposed to be held this week was called off after Trump wouldn't agree to a virtual event. He's now set off on a heavy schedule of in-person rallies, after the White House physician gave him an early OK to return to the campaign trail.
Biden and Trump each are scheduled to hold separate televised town hall events on ABC and NBC, respectively, on Thursday in lieu of the debate.
"The president is eager to get back out there," Trump senior campaign adviser Jason Miller told Newsweek and other outlets this week, adding that Trump chided his campaign team for "not having enough rallies and public events scheduled" through Election Day.
Voters can expect to see Trump doing at least "two to three events" a day for the final stretch, Miller said. Through the rest of the week, Trump has rallies scheduled in Iowa, North Carolina, Georgia, Florida, Michigan and Wisconsin. He held events in Florida and Pennsylvania on Monday and Tuesday.
Trump has repeatedly said that now that he has had COVID-19 it is safe for him to be in public. His campaign offers masks and sanitizer for attendees of his mostly open-air events, though the masks are not required to be worn. Biden has repeatedly chided Trump for not observing local regulations on crowd size or masks.
"Trump continues to undermine the experts, hosting super-spreader events in the nation's capital and across the country in a failed attempt to distract from the issue at the top of Americans' minds: his reckless mismanagement of the COVID-19 pandemic that has cost far too many lives and livelihoods, and plunged our economy into a recession," Biden campaign spokesperson Rosemary Boeglin said in an email to Newsweek.
Biden was in Broward County, Florida—normally a Democratic stronghold—on Tuesday. Trump, who narrowly pulled off a win in Florida four years ago, has made Florida central to his campaign victory strategy, but Biden has held public events in the state three times since the general election campaign began.
"Here in Florida, you can determine the outcome of this election. We win Florida and it's all over," Biden told a limited crowd of supporters at his drive-in rally at Memorial Regional Park in Miramar.
Meanwhile, Trump was entertaining a massive crowd outside of a hangar at John Murtha Johnstown-Cambria County Airport in Pennsylvania.
"I'm running against the single worst candidate in the history of presidential politics, and you know what that does? That puts more pressure on me," Trump told the crowd. "Can you imagine if you lose to a guy like this? It's unbelievable."
It's unclear how much impact Trump's large rallies have on his campaign chances. In 2016 many of his campaign events were carried live on major television networks. This week, even Trump-friendly Fox News has cut away as Trump spoke to supporters.
Before he tested positive for the coronavirus and was briefly hospitalized, RealClearPolitics' polling analysis showed little change before his rallies and after in key swing states.
In late September, Trump held two rallies in Pennsylvania—one at the Pittsburgh airport on September 22 and another in Harrisburg on September 26. Two weeks before the Pittsburgh event, Trump was polling an average of 45% to Biden's 48% in the state. Two weeks after the second event, on October 10, Trump's average Pennsylvania polling was at 44% to Biden's 51%.