Cheerleader With Down Syndrome Is a Beacon of School Spirit for Her Mississippi Junior High
Behind the spirit of a Mississippi middle school's cheer squad is one inspiring cheerleader: Bailey Edwards, an eighth grader at Biloxi Junior High School, was born with Down syndrome, but her fellow cheerleaders say it doesn't stop her from stepping up to any challenge.
"She inspires everybody and she lifts everybody up if they feel down," said Aislyn Leary to WLOX.
"She has her struggles but she can get through them so well, she's super smart," adds Layla Prentiss, who has known Bailey since kindergarten.
Bailey's instructors credit her hard work ethic with making her shine on the field — and off it.
"Bailey earns everything that she gets," said assistant principal Michelle Boudreaux. "Nothing's given to Bailey. She works just as hard, probably a little bit harder than everyone else."
She doesn't just cheer for the school's football team, but also for her teammates and her classmates. She's inspired them, and her community to be confident, fearless and full of heart.
"She's a really good dancer and she's a really good cheerleader," beams cheer mom Cherie Prentiss.
Bailey's favorite part about being on the team? "Doing stunts is good! It's fun to be out here and playing out here," she said.
This is her last season on the cheer squad, but Bailey's excited to start high school next year.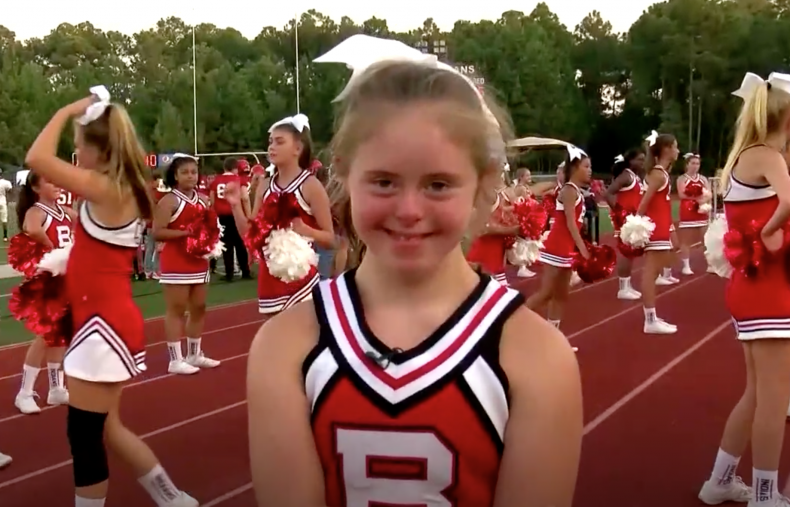 Other schools in Mississippi also encourage students with different abilities to join the cheer squad. Ocean Springs High School was the first in the state to form an inclusive cheer team, the Sparkle Squad, in 2015. Its members are mentored by the school's varsity cheerleaders.
And another young woman with Down syndrome, AnnCatherine Heigl, is on the cheer squad at George Mason University.
Down syndrome affects approximately one in every 700 children born in the United States, making the condition the most common chromosomal disorder. People with Down syndrome vary in their physical traits and cognitive abilities.
those with different abilities are making strides elsewhere on the playing field, too: Over Labor Day weekend the Long Island-based Family Residences and Essential Enterprises (FREE) Players made history as the first special needs drum and bugle corps selected to compete—and win—the Drum Corps Associates World Championships in Williamsport, Pennsylvania.
That weekend saw a solo performance by the FREE Players' first color guard member, who performed to Josh Groban's cover of "Pure Imagination" from Willy Wonka and the Chocolate Factory. .