Downloads of Maps of Sensitive D.C. Areas Spark More Security Concerns, FBI Document Shows
The FBI is ramping up security measures ahead of President-elect Joe Biden's inauguration, especially after the violent storming of the U.S. Capitol earlier this month.
The bureau privately informed security officials that it had observed people downloading and sharing maps of sensitive areas in Washington, D.C., and discussing how these locations could be used to interfere with security, according to an intelligence briefing obtained by The Washington Post.
On Monday, the FBI summarized a number of security concerns posed by "lone wolves" and QAnon followers—some of whom were present at the January 6 Capitol siege—who have indicated they plan to come to Washington for the ceremony.
Although the FBI has detected "suspicious traffic" in its monitoring of communication systems used by some of the rioters at the Capitol, none of it "points to any specific action."
Asked for comment, the FBI referred Newsweek to remarks FBI Director Christopher Wray made last week about inauguration security.
"We're monitoring all incoming leads," he said, "whether they're calls for armed protest, potential threats that grow out of the January 6 breach of the Capitol, or other kinds of potential threats leading up to inaugural events and in various other targets."
He said that there has been "an extensive amount of concerning online chatter" and that the FBI has been tasked with "trying to distinguish what's aspirational versus what's intentional."
"If we find that an individual poses a violent threat, then we and our partners will take advantage of every lawful authority and method we've got to disrupt any attempt or attack," Wray said. "Our posture is aggressive. It's going to stay that way through the inauguration."
The Secret Service, which is responsible for coordinating inauguration security, has said it will "continue to work with our federal, state, local and military partners to continue securing the 59th inauguration based on the relevant intelligence available to the security community." But the agency has not disclosed its level of concern ahead of the event.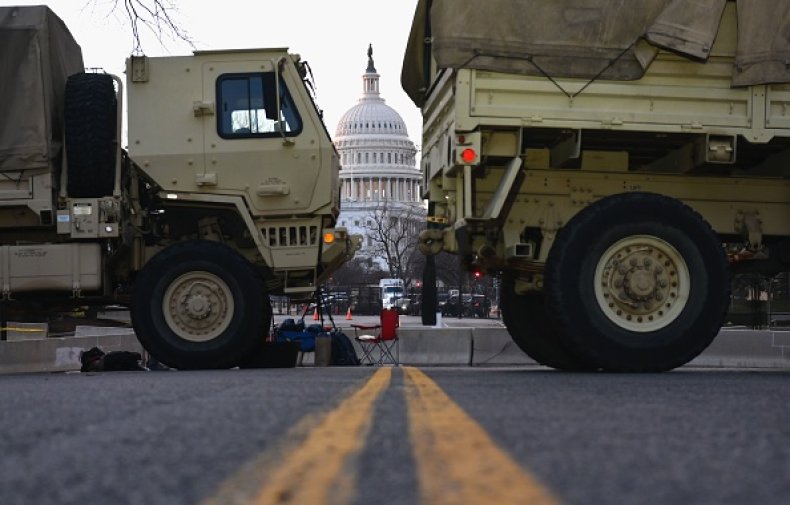 The FBI briefing comes amid growing concerns surrounding the security of Biden's inauguration only two weeks after a pro–Donald Trump crowd stormed the Capitol and left five dead.
At least 25,000 National Guard troops and thousands more law enforcement officers have been brought into D.C. to secure the city for the transition of power.
On Sunday, the Associated Press reported that the FBI is screening all National Guard troops out of concern about a possible insider attack.
According to the FBI report, "QAnon members have discussed posing as National Guard soldiers, believing that it would be easy for them to infiltrate secure areas."
The briefing said that National Guard troops have reported seeing individuals photographing and recording them at work and that the footage has been uploaded online. But it is not clear if these efforts are tied to security threats to Wednesday's presidential swearing-in.
More than 100 people, including law enforcement officers and former members of the military, have been arrested in connection with the storming of the Capitol.
On Tuesday, the AP reported that two National Guard members are being removed from inauguration security after it was discovered they had ties to right-wing militias. No plot against Biden was found.