Dozens Arrested in Mostly Peaceful Ferguson Protests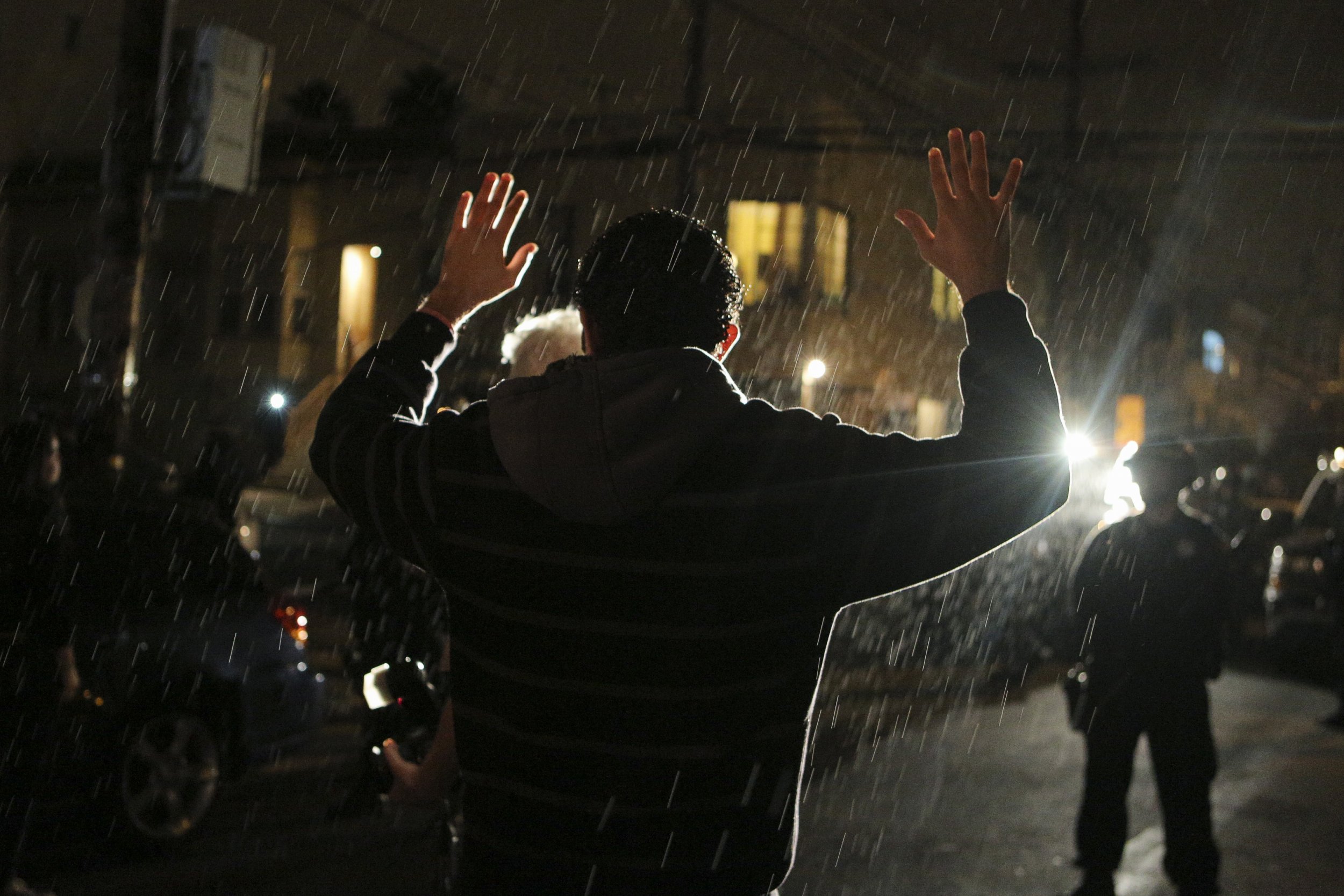 On Friday night, police arrested and charged 16 demonstrators with disturbing the peace during mostly calm protests in Ferguson, Missouri. They were arrested around 10:30 p.m. outside the Ferguson police station, after ignoring warnings from law enforcement to leave the street, according to the St. Louis Post-Dispatch. Speaking to the paper on Saturday morning, Mike O'Connell, Missouri Department of Public Safety spokesman, amended the number of arrests from an originally reported 15 to 16 people.
Protests have been ongoing since a grand jury decision earlier this month not to indict police officer Darren Wilson over the shooting death of unarmed black teenager Michael Brown on August 9 in Ferguson. Most of those arrested Friday are being charged with disturbing the peace; one person was charged with assaulting a law enforcement officer, according to a tweet from the St. Louis County Police Department.
On Friday, hundreds of activists shut down three suburban malls in Missouri, chanting, singing and urging people to "stop shopping and join the movement," the Associated Press reported. At the Chesterfield Mall in Chesterfield, Missouri, demonstrators marched and held a "die-in" by lying on the floor. Stores shuttered and shoppers left the mall amidst the civil disobediance, but the shopping center remained officially open until 10 p.m.
November's grand jury decision has spurred protests in hundreds of American cities, prompting traffic blockades and hundreds of arrests. On Friday night, small protests also took place in Chicago, Seattle and Oakland, California, according to NPR.
Columbia Missourian reports that on Saturday, dozens of people will be embarking on a week-long NAACP march stretching from Ferguson to Jefferson City, Missouri, that includes rallies and teach-ins during stops in the evening. Titled the Journey for Justice, the 120-mile march will begin in Ferguson and culminate at the Governor's Mansion. The march mirrors the polemic civil rights march led by Martin Luther King Jr. that went from Selma to Montgomery, Alabama, after Jimmie Lee Jackson, an unarmed activist, was shot and killed in February 1965 by an Alabama law enforcement official.
According to the NAACP website, the Journey for Justice will be "the first of many demonstrations to show both the country and the world that the NAACP and our allies will not stand down until systemic change, accountability and justice in cases of police misconduct are served for Michael Brown and the countless other men and women who lost their lives to such police misconduct."