Dozens of Baby Penguins Found Starved to Death as Water Too Hot To Hunt
Dozens of baby penguins have been found starved to death in New Zealand because the water has become too hot for them to hunt.
On May 8, 22 blue penguins were found dead on Tokerau Beach in Doubtless Bay, Kaitaia, by local resident Carol Parker. A few days earlier on May 2, the Department of Conservation had received reports of another group of more than 20 dead penguins in the same area at the northern tip of New Zealand, the NZHerald reported.
Parker found one chick still alive, and sought veterinary help. She told the NZHerald that although the penguin was not injured, it was "very exhausted." The baby penguin later died, however.
A scientist at New Zealand's Department of Conservation, Graeme Taylor, told the NZHerald that the deaths are down to the effects of climate change.
Samples taken from penguins found dead at the scene showed signs of starvation and hypothermia.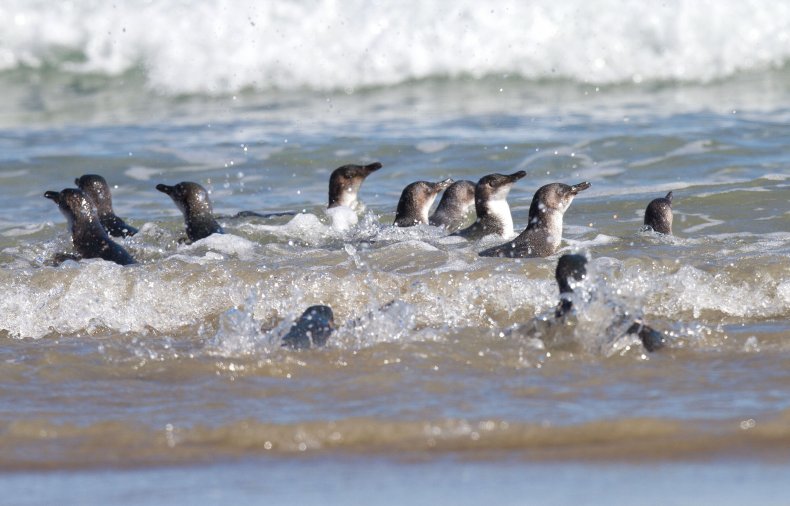 Taylor told the news outlet that the species prefers to hunt in cold water. However recently, the temperatures have risen.
The "La Nina" conditions seen in the area over the summer have caused the water to heat up, reducing the amount of prey available.
Most dead penguins are babies because they are too weak to dive deeper in search of other food sources, and lack endurance, the NZHerald reported.
"Normally a penguin of this type is around about a kilo, but a lot of these really starving birds are down around half that weight, you know, 500-600 grams," Taylor told the NZHerald. "They're just skin and bones. They've got no fat on their body which they need, they're in the water the whole time."
As the baby birds starve due to lack of prey, their thick layer of blubber also diminishes. With nothing to keep them warm, they are vulnerable to hypothermia.
Dead penguins have been found on New Zealand shores before—according to Taylor, it happens approximately every 10 years.
However, scientists are concerned that as climate change worsens, instances like this will increase.
"And as a result, [it's] probably going to end up pushing the penguins out of the far north, the temperatures up there will not be able to be tolerated in terms of food supplies," Taylor told the NZHerald.
Newsweek has contacted the Department of Conservation for comment.
In 2021, 66 baby penguins were found dead on an island in Wellington Harbor. Autopsies confirmed that all these penguins had died of starvation due to rising temperatures.
At the time, penguin expert Mike Rumble told RNZ that it is normal for 11 percent of chicks to due during a season, however the mass death increased it to 35 percent.