Dozens of Minnesota mothers staged a "nurse-in" protest outside a public pool over the weekend after someone called the police on a woman for breastfeeding.
Last Wednesday, Stephanie Buchanan was breastfeeding her 3-month-old son Roman near the kiddie pool at the Mora Aquatic Center when somebody told her to "cover up," reported CBS. "A patron came up, a lady at the pool, and told me that I needed to cover up," she said.
Mary Davis—Buchanan's friend who was also at the public pool—then began breastfeeding her own child in solidarity, before the complainant warned both women to either move indoors to the locker room to finish or cover up.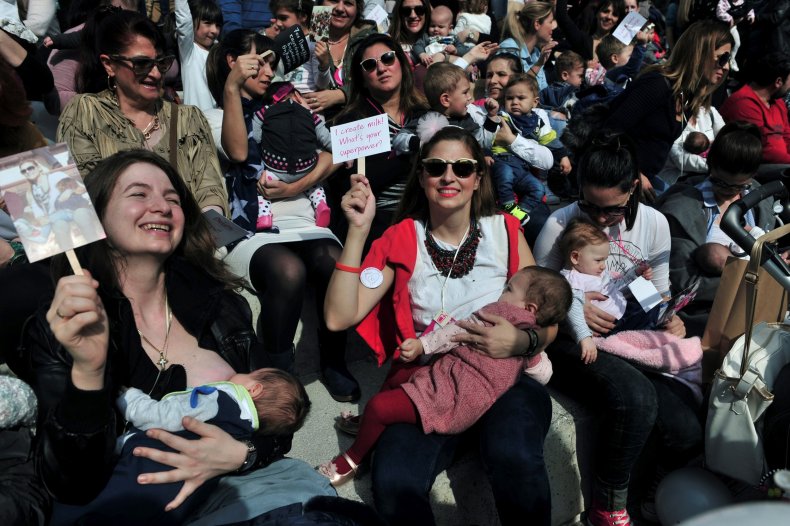 Soon after, when Buchanan and Davis were about to leave, a police officer approached them and asked them to vacate the premise. "I said 'Minnesota state law protects me to feed my baby anywhere that I need to,'" Buchanan said. "He said, 'I understand, and I let the establishment know, but they reserve the right to ask you to leave.'"
After news of the incident broke online, dozens of mothers from the area gathered outside the pools on Saturday and breastfed their babies in protest. "To get such an overwhelming community and state response from not just moms, but dads and other family members have been amazing," Buchanan said.
Following the protest, the Aquatic Center and authorities issued an apology within a statement that clarified their position. "While we always have supported nursing mothers, the situation inside of the kiddie pool made many patrons uncomfortable," they said, adding that neither of the women was asked to leave.
The Aquatic Center in Mora is around 60 miles north of Minneapolis.
According to CBS, the two women are planning on filing a discrimination lawsuit in retaliation. "[The apology] fell short of our expectations," Davis said. "I think it fell short." They are also planning another nurse-in protest at the same location for August.
"People have no problem seeing puppies feed from their mama and it's so cute, but then the minute a mom starts to breastfeed, some people say it makes them uncomfortable, they don't like it," Davis told ABC Action News.
Minnesota law says women can breastfeed in "any location, public or private, where the mother and child are otherwise authorized to be." Breastfeeding is not classified as indecent exposure.
The Mora Aquatic Center did not immediately respond to Newsweek's request for comment.
Uncommon Knowledge
Newsweek is committed to challenging conventional wisdom and finding connections in the search for common ground.
Newsweek is committed to challenging conventional wisdom and finding connections in the search for common ground.