Dozens of Coffins Plunge Into Sea After Landslide Rocks Cliff-Top Cemetery
Dozens of coffins have plunged into the Mediterranean ocean after a landslide rocked a cliff-top cemetery in north-west Italy.
The landslide triggered the collapse shortly after it struck at about 3 p.m. on Monday in Camogli, a tourist hotspot near the city of Genoa, leading around 200 to fall down the newly-revealed 160ft cliff face. Rubble and debris from two chapels and other parts of the cemetery were seen floating in the water close to where the cliff had crashed into the ocean.
Footage taken moments before the collapse showed workmen at the site as a person recorded the funerary recess closest to the ocean giving way, moments after a small chapel visibly started to slide down the crumbling cliff.
There were no reports of any injuries.
Genoese media said firefighters and divers from nearby towns were seen bringing coffins and debris to shore. It was also reported that currents had already pushed some coffins onto the nearby shoreline, with several of them having smashed open when they hit the water.
The operation to bring as many of the coffins onto land continued into the night, with 10 successfully retrieved, and further assessments into the area's safety were said to be ongoing. Efforts to identify the bodies will be left to the coroner.
Local resident Germana Zoppi told the newspaper Il Secolo XIX he was devastated and had grown concerned about retrieving his grandmother's remains.
He added: "I lost my grandmother, I don't even know if we will find her again. And now I try to understand that my father didn't go down too. It's a shame."
It is believed the dramatic collapse was triggered by a series of storms that have hit the Liguria region over the past few years and added to existing coastal erosion. The cemetery had existed at the site for around 150 years.
Tino Revello, councilor for public works of the municipality of Camogli, told the Ansa news agency the cliff where the cemetery was situated had been under earmarked for supportive consolidation work before it gave way.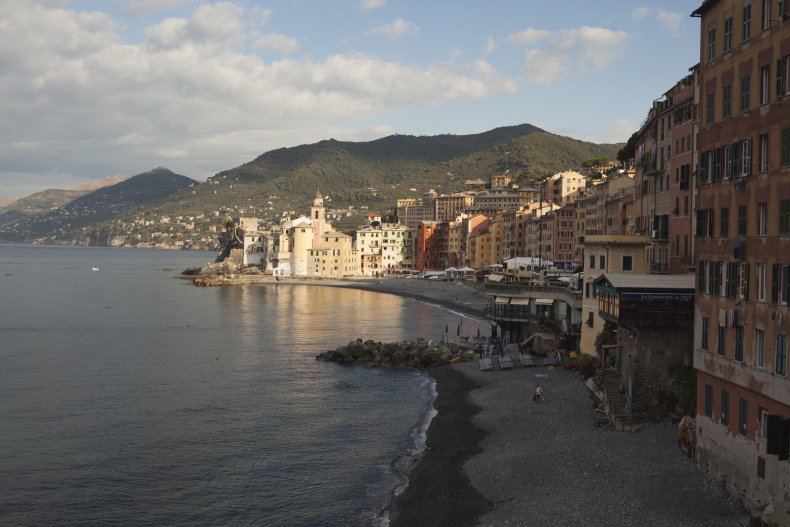 He added: "The area had also been cordoned off because in the last few days we had heard strange creaking."
Camogli mayor Francesco Olivari told the agency on Monday: "A landslide of this size is difficult to predict. Several interventions had been made in recent years inside and outside the cemetery. The crag is still active, and tomorrow morning we will continue the inspections to assess whether to enlarge the risk area."