Over 150 Dead After Halloween Nightmare in South Korean Nightlife District
A Halloween nightmare unfolded in South Korea as more than 150 party-goers died and many more were injured as they attempted to enjoy the holiday on Saturday evening.
A crushing crowd surge resulted in at least 154 deaths and more than 130 injuries, according to South Korean news reports, which cited local fire authorities. At least 26 of the victims were foreign nationals, including at least two U.S. citizens. The crowd crush led to dozens of people going into cardiac arrest in Seoul's crowded Itaewon nightlife district near the Hamilton Hotel.
"The top priority right now is saving and evacuating patients, and providing prompt transportation and treatment to victims [heading to] medical institutions," South Korean President Yoon Suk-yeol said, The Korea Herald reported. The president was reportedly holding an emergency meeting to address the situation as emergency crews responded to the tragic scene.
Seoul Mayor Oh Se-hoon was in Europe on a visit, but decided to cut the trip short and return to South Korea as the news of the stampede emerged, according to The Korea Times.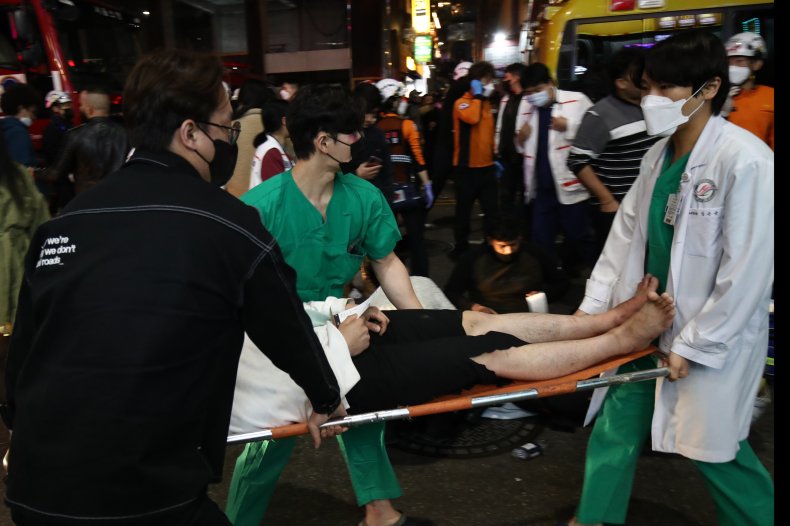 Video and images from the scene circulated widely on social media. One video shared by the Allkpop Twitter account quickly racked up more than 2.3 million views. In the clip, many people can be seen lying on the ground as others attempt CPR while crowds of party-goers stand and walk nearby.
Warning: Video contains graphic content that may be disturbing to some readers.
The tragedy began late Saturday evening, with emergency crews responding to the scene by about 11:30 p.m. local time, according to The Korea Herald. The South Korean-based publication reported that about 100,000 people were in the crowded nightlife area to celebrate the Halloween weekend.
"A lot of young people have gathered here tonight. A lot of people came to the party and club, wearing costumes and a lot of people I've seen distraught and sad and there are chaotic scenes," BBC's Hosu Lee reported.
Rescue workers set up a makeshift emergency medical facility by a main road in Itaewon, according to local media reports. More than 140 ambulances were mobilized from across the country as well. At least some of the injured were sent to Seoul National University Hospital, Kyung Hee University Hospital at Gangdong and Hanyang University Hospital for treatment.
President Joe Biden released a statement saying he was grieving with South Korea in the aftermath of the tragedy.
"Jill and I send our deepest condolences to the families who lost loved ones in Seoul. We grieve with the people of the Republic of Korea and send our best wishes for a quick recovery to all those who were injured," Biden said in a White House statement emailed to Newsweek. "The Alliance between our two countries has never been more vibrant or more vital – and the ties between our people are stronger than ever. The United States stands with the Republic of Korea during this tragic time."
Earlier on Saturday, U.S. Secretary of State Antony Blinken expressed condolences to the South Korean people in a Saturday Twitter post.
"We were deeply saddened to learn of the deadly stampede today in Seoul. We send our thoughts and deepest condolences to the family and friends of the deceased and injured, as well as to the people of the ROK [Republic of Korea] as they mourn this horrific tragedy," Blinken wrote.
Newsweek reached out to South Korea's Ministry of the Interior and Safety for comment.
Update October 29, 2022 at 2:55 p.m. ET: This story has been updated with additional information and the headline was changed to reflect the rising death toll.
Update October 29, 2022 at 3:52 p.m. ET: This story was updated again to reflect the increased death toll.
Update October 29, 2022 at 5:14 p.m. ET: Blinken's statement about the tragedy was added.
Update October 29, 2022 at 5:57 p.m. ET: Biden's statement was added.
Update October 30, 2022 at 9:09 a.m. ET: The death toll was updated.