Dozens of Educators Exposed to Coronavirus During School Reopening Meeting
Dozens of educators in Northern California were asked to quarantine after they were exposed to COVID-19 during an in-person school reopening meeting last month.
A leadership team with the Santa Clara Unified School District met in person on June 19 to discuss strategies to help schools open safely in the fall, district superintendent Stella Kemp said during a virtual board meeting last week. Though many meetings held among school officials have been conducted online due to the continuing threat of the pandemic, Kemp said the complexity of the district's path to reopening required in-person discussions.
"Unfortunately, one of our members of our leadership team tested positive for COVID in the days following Friday's meeting," Kemp said.
The other attendees were asked to self-quarantine and get tested after the infected individual, who had been presymptomatic during the meeting learned of their diagnosis, according to the district superintendent.
At the time of the June 25 virtual meeting, Kemp said no additional meeting attendees had tested positive for the virus. Newsweek reached out to the school district for comment but did not receive a response in time for publication.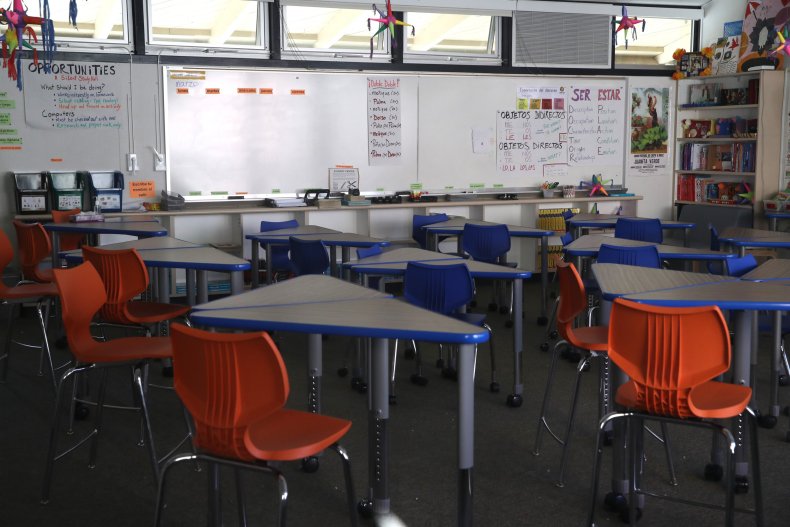 According to the San Francisco Chronicle, at least 40 school principals were at the meeting and thus exposed to the virus.
Although California began lifting pandemic restrictions last month, a recent spike in new cases caused Governor Gavin Newsom to backtrack on some reopening measures and continue to discourage Californians from gathering in large groups. By Wednesday, state health officials reported 232,657 total cases statewide, with 4,547 of those confirmed in Santa Clara County.
The continuing threat posed by the pandemic has caused many Americans to question whether in-person schooling will be able to safely resume in the fall. Less than two weeks after introducing a statewide stay-at-home order on March 19, Newsom said schools would remain closed through the end of the academic year, though virtual instruction was encouraged to help fill the resulting learning gap.
According to a set of guidelines the California Department of Education published in early June, school districts' progress toward reopening in the fall would largely depend upon how well their area was handling the virus. Social distancing and face masks would be encouraged for all students and staff members once schools reopen, the guidelines said.
The Santa Clara County Public Health Department released its own reopening guidelines for students in kindergarten through high school on Tuesday, but said steps taken to reopen would depend upon the county's progress toward snuffing out the virus in the coming weeks.
While the Centers for Disease Control and Prevention (CDC) has said COVID-19 in children only accounts for about 2 percent of the nation's cases, concern remains for the teachers, staff members and parents who could be exposed to the virus by children without symptoms—a risk that is likely to increase once children return to school.
"This is exactly the dilemma that every district is facing now," Kemp said. "We are trying to figure out how to best keep our students and staff safe—and in an environment where the vast majority of things are happening around us are out of our control."