Dozens Face $4,700 Fines After COVID Curfew Protests in Montreal
Dozens of people reportedly face large fines after gathering to protest a nighttime curfew in Montreal, Canada.
Francois Legault, Quebec's premier, announced on Thursday that a nightly curfew would be reimposed for an indefinite period from New Year's Eve, in response to a surge in coronavirus cases driven by the Omicron variant.
The province had imposed a nightly curfew in January last year that was not lifted until late May.
Quebec's latest curfew is in effect from 10 p.m. to 5 a.m. Those who break it face fines of between $800 (1000 CAD) and $4,750 ($6,000 CAD).
According to CTV News, a few dozen people gathered near Legault's office in downtown Montreal on Saturday night to oppose the move.
Caroline Chèvrefils, a spokesperson for Montreal police, said the 57 people were handed fines for breaking the curfew. One person was also arrested for assaulting a police officer, she said.
Newsweek has contacted Montreal police for additional comment.
Videos posted on social media showed police patrolling the streets and alerting people via loudspeakers of the risk of fines.
People also received emergency alerts warning them about the curfew on New Year's Eve. "It is forbidden to be outside your home or property between 10 p.m. and 5 a.m. Increased police surveillance," the message said, according to screenshots shared on Twitter.
In a statement announcing the curfew, Legault said the curfew was necessary to prevent hospitals from being overwhelmed.
"I know the curfew is an extreme measure, but the situation is extreme," Legault said. "As soon as the worst of the storm is over, the first thing we'll do is remove the curfew."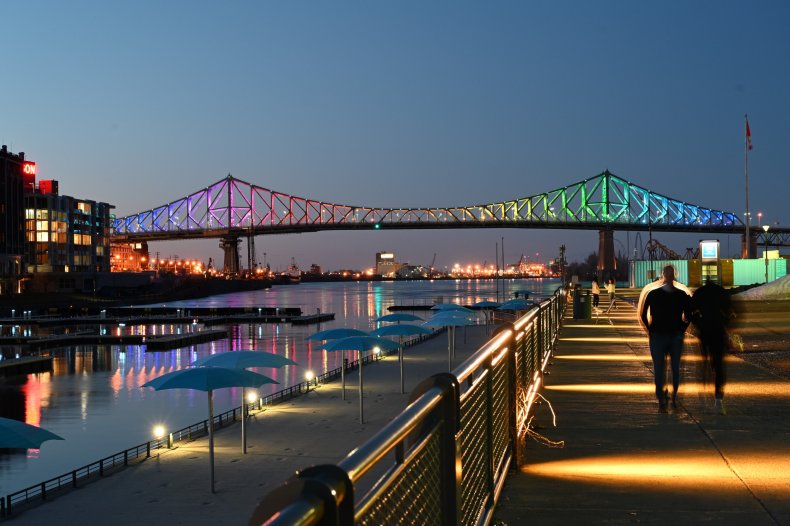 Quebec has also limited restaurants to providing takeout service only and banned private gatherings indoors.
Gyms, bars and other entertainment venues have been closed since last week.
The new curfew was announced as health officials reported a daily record of more than 14,000 new coronavirus cases on Thursday.
Quebec has been the only Canadian province to order a curfew during the coronavirus pandemic.
But as 2021 came to a close, Canada's Prime Minister Justin Trudeau urged Canadians to get vaccinated to help curb the spread of coronavirus.
"The year may be coming to an end - but, with Omicron spreading quickly around the world, it's clear that this pandemic isn't," he tweeted. "But we can finish the fight against COVID-19 if we keep working together. So do your part: get vaccinated, and get your booster when it's your turn."