Dozens of Florida Doctors, Exhausted by Unvaccinated COVID Patients, Beg People to Get Shot
Dozens of South Florida doctors gathered early Monday to beg people to get a COVID-19 shot, citing their exhaustion and frustration with the flood of unvaccinated patients in their care.
"A large majority of hospitalized COVID patients are unvaccinated. This is not only upsetting but it is so frustrating to all of us who are here today," Dr. Jennifer Buczyner, a neurologist and stroke director at the Jupiter Medical Center, said. "Many of these patients have decided not to get vaccinated, but when they're vaccinated, they tell us they wish they had."
"We are exhausted. Our patience and resources are running low, and we need your help," Dr. Rupesh Dharia, an internal medicine specialist in Palm Beach Gardens, pleaded.
Fifty to 75 doctors from various hospitals in Palm Beach County gathered Monday morning before heading to their hospitals, intensive care units, emergency rooms and operating rooms to urge Floridians to get vaccinated as the state sees a massive surge in hospitalizations.
"We are all here behind me together, as your community doctors and hospitals, with one simple message that can save your life: Please go get vaccinated and wear a mask," Buczyner said.
On Sunday, the U.S. Department of Human and Health Services said 17,253 patients were hospitalized for COVID-19 in Florida—an increase of more than 1,300 from the week before. The state's hospitalizations also account for one in every five COVID-19 patients in the country.
Many health officials have begun referring to "a pandemic of the unvaccinated," as those who haven't received a shot make up more than 90 percent of hospitalizations nationally.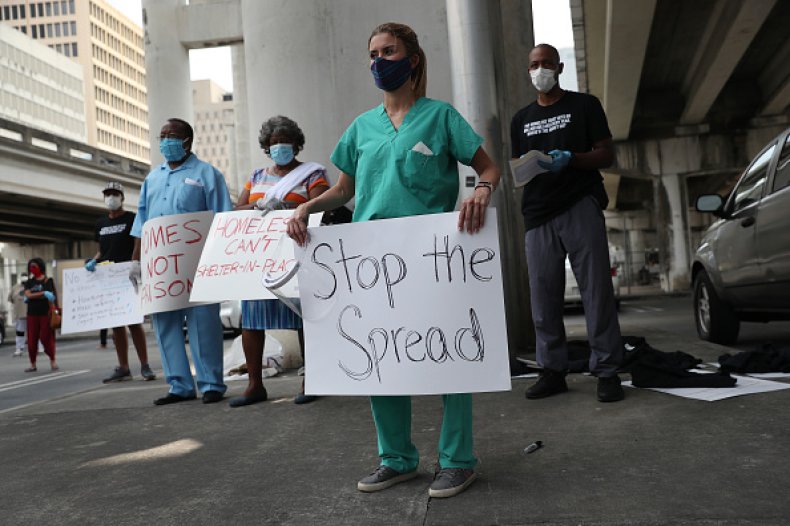 On Monday, doctors warned that Florida's hospitals have become overwhelmed by the influx of patients in recent weeks and said that strained resources could also affect health care for non-COVID patients.
"Hospitals and operating rooms have a limited amount of staff, resources and supplies, and the reality is they're spread thinner and stressed out more than ever before," Dr. David Lickstein, chief of surgery and a plastic surgeon at Jupiter Medical Center, said.
He continued, "You've heard that elective surgery has been placed on hold, but what does that really mean for you? If you have terrible back pain, can't get around or live your life, is the surgery really elective? If the removal of your cancer is being held up a week or two because there isn't an ICU bed available for you, is that elective? This affects all of us."
Over the past month, hospitals in Florida began suspending elective surgeries and banning visitations because of the spike in coronavirus hospitalizations.
Doctors said on Monday that they are dedicated to continuing their provision of care to patients despite burnout from the pandemic and called on the public to help alleviate the pressure many health care workers face.
"During the past two years, our health care teams [have] worked tirelessly to ensure the delivery of the highest quality of medical care in our community during this pandemic. Providers are overworked, teams are understaffed, and yet we have continued to provide excellent care even when resources were limited," Dr. Lee Fox, chief of staff at Jupiter Medical Center, said.
He continued, "Health care workers consistently put themselves at risk when taking care of patients with COVID-19. It's been a long two years, and quite frankly we are all exhausted, both physically and psychologically, but nevertheless we remain focused and dedicated to continue to provide the best medical care to our patients. Please help us help you by making responsible decisions: get vaccinated. Wear a mask and do proper social distancing."
Dr. Jose Deolazabal, a pulmonologist and chief of staff at Palm Beach Gardens Medical Center, added that preventive measures, like the vaccines, are the best way for people to help health care workers who have been exhausted by the pandemic.
"We have an incredible staff at our local hospitals and our community hospitals, and we do our very best to care for our patients, but all the care in the world—let me tell you: Prevention is everything," Deolazabal said.
"Lots of times, patients tell me they wish they had taken the vaccine earlier. Prevention is crucial, and we're lucky we have a very, very important preventative tool in front of us and that is the vaccine," he said.