Dozens of German Police Officers Suspended For Secretly Sharing Neo-Nazi Propaganda
A total of 29 police officers in Germany have been suspended amid allegations they shared neo-Nazi propaganda in WhatsApp groups.
Herbert Reul, the interior minister of North Rhine-Westphalia state, told a press conference on Wednesday that investigators had searched 34 locations, including police stations and private apartments in the Ruhr industrial region and seized material which had left him "speechless".
The Associated Press news agency reported that Reul had said investigators had uncovered "the most foul and repugnant neo-Nazi, racist and anti-refugee agitation".
Reul told reporters that the offending images included pictures of Adolf Hitler, swastikas, a depiction of a refugee in a concentration camp's gas chamber and another mocking the shooting of black people.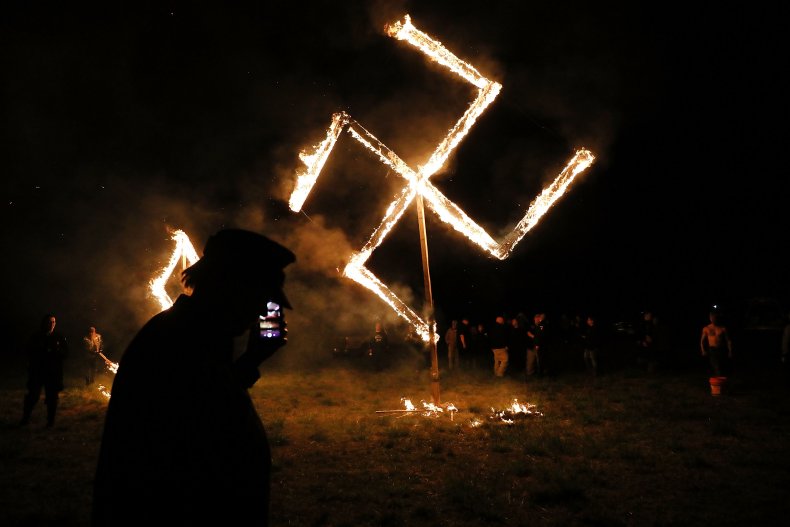 Reporters were told that the items were swapped in at least five chat groups used almost solely by police officers with the most recent message sent on August 27.
The WhatsApp groups were initially set up in 2012 and another group containing the most images was created in 2015, the press conference was told.
Reul said that most of the officers alleged to have been involved had worked at some point at the same police precinct in Muelheim an der Ruhr.
It is understood all 29 officers were suspended with immediate effect on Wednesday and disciplinary proceedings begun.
Reul said:"We have to ask unpleasant questions of ourselves.
"Who knew about this? Why was this tolerated for years? By whom?"
Germany is one of many countries attempting to crack down on a surge in support for neo-Nazi groups.
The arrests in Germany come just days after Frank Meeink, a former neo-Nazi who inspired the 1998 film American History X, gave an interview to The Daily Beast alleging that white supremacists he formerly knew, are now cops.
Meeink opened up about his experience with "ghost skins," a practice white supremacists use to hide "overt displays of their beliefs to blend in" with the general public.
According to Meeink, nationalist leaders with ties to law enforcement would often vet members of the neo-Nazi group he was affiliated with in the 80s and 90s, and some of his former associates are now policemen.
"I know that there are neo-Nazis who I used to run with who are now cops," Meeink said. "And that's just in my crew. Imagine how many neo-Nazis and white nationalists have been becoming cops? Three of the people in my crew alone became cops."
Meeink said nationalist leaders and high-ranking members of the Ku Klux Klan like David Duke would encourage young people within the organization to join the police force, and Meeink recalled one rally in the 90s when they were told to "cover up our swastikas, grow our hair out, and become cops."