Policeman Killed, Dozens Injured in Blast Outside Kiev Parliament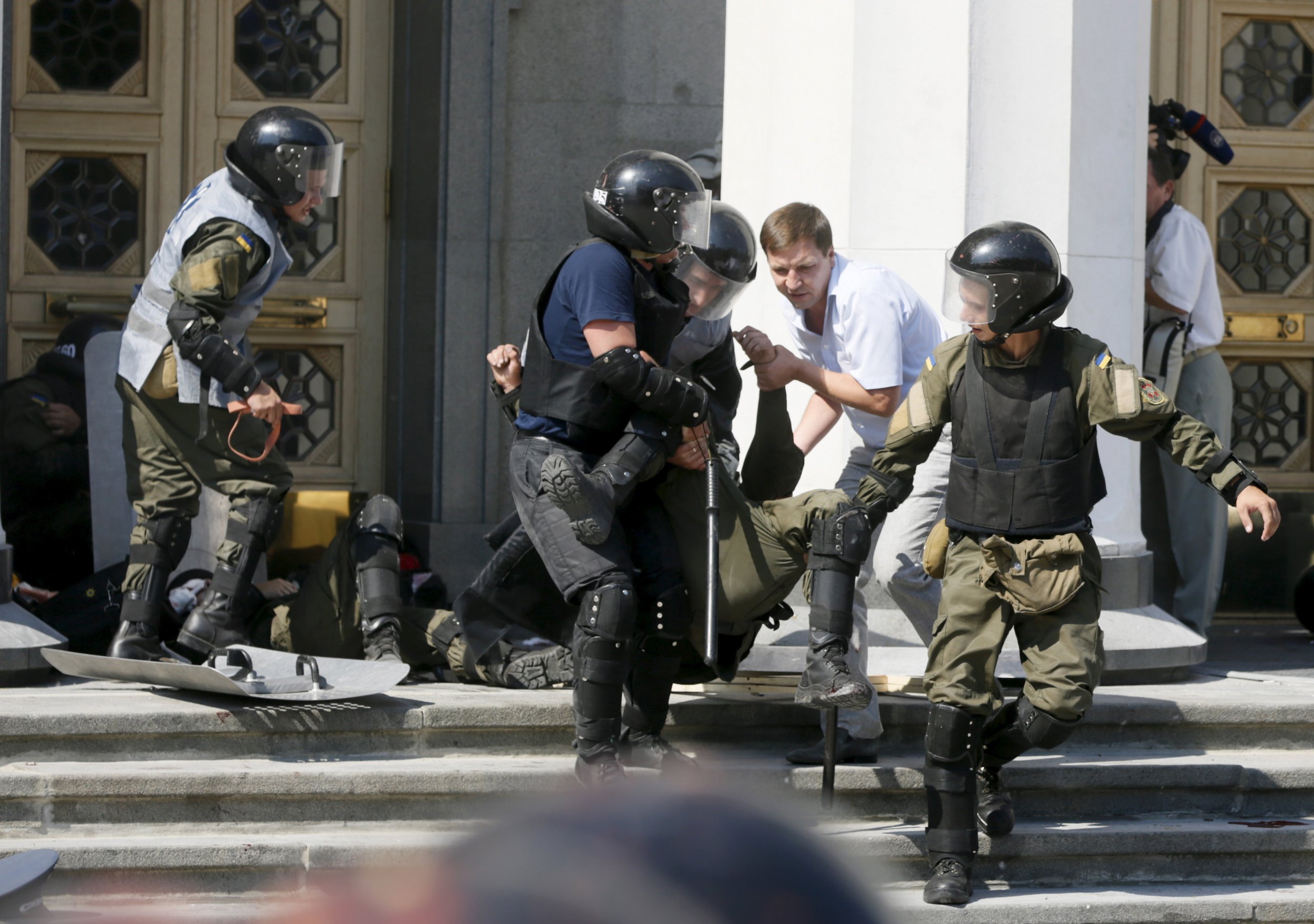 At least one National Guardsman is dead and dozens of police officers are injured after a blast in front of Ukraine's parliament building in Kiev on Monday, amid protests against legislation that would grant portions of war-torn eastern Ukraine greater autonomy.
Demonstrators had gathered at the parliament building to express their frustration with the proposed bill, and attempted to break down a fence surrounding the building as politicians argued about granting more power to local lawmakers in the Donestk area.
Arsen Avakov, Ukraine's minister of internal affairs, wrote on Facebook that the explosion was caused by "people wearing 'Freedom' T-shirts," referring to members of the Svoboda (Freedom) Party, which has been one of the most outspoken against the legislation and is considered extremely nationalist. "No political goal will justify what happened today."
Officials estimate 90 people were injured in the blast, including 15 soldiers who had just returned from the front lines of Ukraine's war with pro-Russian separatists. Four of the soldiers were seriously injured, sustaining eye, stomach, neck and leg injuries.
The blast was caused by a grenade, according to local officials. About 30 people were arrested, including the person suspected of throwing the grenade. The suspect was not identified.
The protesters are believed to have used an F-1 grenade and to have had more with them. F-1 grenades date back to World War II, when they were used by Russians. Its considered a "high explosive," according to a military collectors organization.
"Why should soldiers be wounded by provacateurs under your flags in the center of Kiev, 1,000 kilometers from the front?" Avakov said of the violence. "To throw grenades on your guards, who just returned from the front, this isn't political. This is an anti-Ukrainian war of scoundrels, no matter what they call themselves."
The protesters are attempting to prevent passage of a measure that would allow the areas most seriously affected by pro-Russian separatists to become slightly more autonomous without entirely handing control to the rebels. The proposed legal change is meant to curb violence and has been supported by Ukraine's Western allies. Such reforms were outlined in an agreement reached in Minsk this past February between international leaders and Ukraine and Russia.
In a call between Ukrainian President Petro Poroshenko and American Vice President Joe Biden, Biden "emphasized...strong support for constitutional amendments...that allow for meaningful decentralization of power in keeping with the relevant provisions of the Minsk agreements while perservings Ukraine's unitary state structure."
However, some Ukrainians view the legislation as divisive and believe pro-Russian separatists will move forward under the assumption that they have legally seized those areas from the Ukrainian government. Parliament says the legislation would not give full autonomy to the rebel-held regions. Ukrainian politicians who opposed the legislation called it "anti-Ukrainian" and "pro-Vladimir Putin."
Despite an active ceasefire in place between Ukraine and the separatists, fighting has continued and thousands have died in the conflict since it began in early 2014.
The legislation could still fail, as it has received support from only 265 of parliament's 450 members. A minimum 300 votes are needed to pass the measure, the BBC reported.
"We condemn today's deadly and unprovoked attack on law enforcers outside the Verkhovna Rada and express our deepest sympathies to the family of the victim. We hope the Ukrainian authorities will swiftly bring those responsible to justice," a U.S. embassy spokesman told Newsweek.