At least 24 people have been killed and more than 53 injured after gunmen opened fire at a military parade in the city of Ahvaz in southwestern Iran, Al Jazeera reports.
The dead include a woman and child, at least eight members of the Iranian Revolutionary Guard and a journalist, state media say.
The Fars news agency reports that the attack, which lasted for around 10 minutes, involved four unknown gunmen who were wearing military uniforms.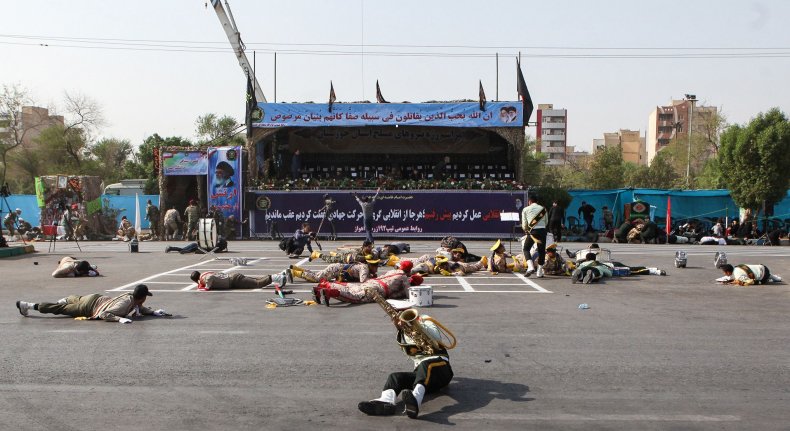 They began shooting at marching military personnel, as well as civilian bystanders, from a nearby park at around 9 a.m. local time. The gunmen also took aim at government and military officials on a podium.
Security forces arrested two of the attackers and killed the other two, according to Ali Hosein Hoseinzadeh, the deputy governor of the oil-rich Khuzestan province, of which Ahvaz is the capital.
No group has claimed responsibility yet but the Iranian foreign minister Mohammad Javad Zarif said "terrorists" were to blame.
In a twitter post he wrote: "Terrorists recruited, trained, armed & paid by a foreign regime have attacked Ahvaz. Children and journos among casualties. Iran holds regional terror sponsors and their US masters accountable for such attacks. Iran will respond swiftly and decisively in defence of Iranian lives."
Meanwhile, state media and other officials have said Sunni militants or Arab nationalists were responsible. Iran has previously blamed Saudi Arabia—its main rival in the region—for providing support to separatists in its Arab minority. In the past, Arab separatists have conducted attacks on oil pipelines in Khuzestan province.
After the shooting took place, a video published by the Iranian state-run English news outlet Press TV emerged online purportedly showing the first moments of the attack on the parade, which was marking the start of the Iran-Iraq War in 1980.
The devastating conflict, which lasted until 1988, led to an enormous number of casualties. Estimates vary widely but the total number of people killed on both sides is thought to range from between 1 million to twice that number.