Dozens of Nigerian Soldiers Missing After Boko Haram Attacks
Dozens of Nigerian troops disappeared on Saturday when militant group Boko Haram attacked a military base in northeastern Nigeria, according to reports.
The jihadist fighters descended Saturday evening on a military base in Jilli village, in the country's northeastern Yobe state. Agence France-Presse reported that the assault may have been conducted by militants loyal to Islamic State-backed leader Abu Mus'ab al-Barnawi.
Conflicting reports emerged after the attack, as military personnel issued contradictory statements about the more than 700 troops stationed at the base.
AFP initially reported that hundreds of soldiers were missing after the attack, and a military source told the outlet "so far we have lost 31 soldiers, including three officers. Two vigilantes were also killed in the attack." AFP also reported that 24 troops were wounded in the attack.
The army, however, denied the claims of missing soldiers. While acknowledging the assault by Boko Haram, the military said that "troops reorganised and successfully repelled the attack, and normalcy has since returned to the area."
Reports indicated that the military had sent reinforcements to the base and that searchers were attempting to find troops who were killed, wounded or missing.
Saturday's attack followed an ambush by approximately 100 Boko Haram fighters against Nigerian soldiers in Borno state on Friday. Soldiers who were involved in the attack said more than 20 troops remained missing on Monday, but the military denied any troops were unaccounted for. Militants took eight military vehicles in the attack, according to AFP.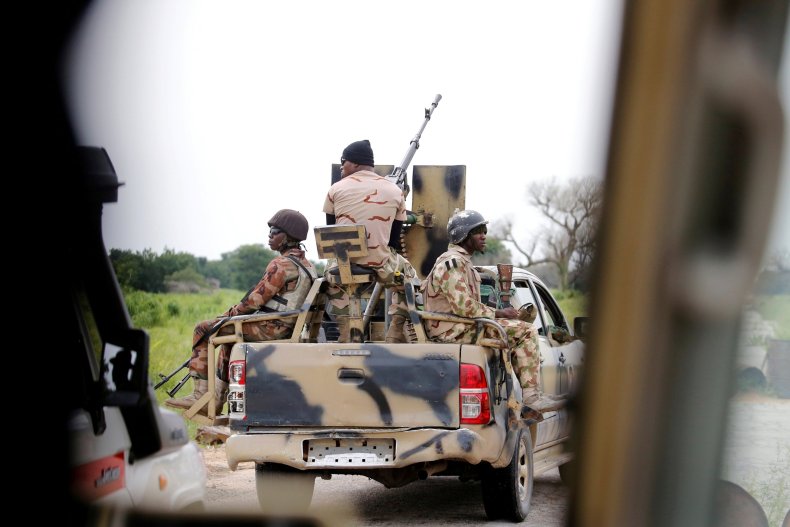 Reuters reported that Boko Haram has had a deadlier influence in Borno state than any other area in the country. The militants have killed 30,000 in Nigeria people since 2009, when the group began its insurgency to build an Islamic caliphate.
Nigeria's government has struggled to contain the militant group for nearly a decade. Attacks launched by the group have triggered a regional humanitarian crisis in the Lake Chad region that has left 2.6 million people displaced.
President Muhammadu Buhari, who vowed to defeat the militant group while campaigning for office, has faced public backlash for failing to significantly curb Boko Haram's influence.
The government has prematurely declared victory over Boko Haram for years. Last week, Buhari signaled the military had conquered militants in the country's northeast. "It's evident that we are in a post-conflict stability phase, which has been made possible by the good work of our armed forces," Buhari said just days before the attacks.