Dozens Of Indian Schoolgirls Beaten After Fighting Off Sexual Harassers
A group of boys and their parents carrying bamboo sticks and iron rods sent 36 girls to the hospital in the northeastern state of Bihar on Saturday. The girls, aged 10 and 14, reportedly argued and fought back against the group of boys who made crude comments and sexual advances.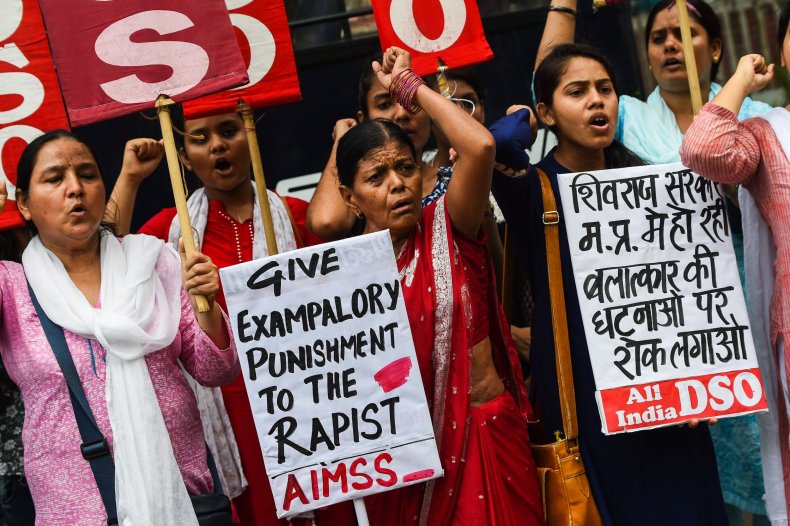 "The girls were playing inside the school compound when some boys came in and tried to sexually harass them. The girls fought them off and there was an altercation. A mob then gathered with the boys' parents who beat up the girls. The girls were injured, shocked, in trauma and were rushed to the hospital. These were scenes of havoc as most of the girls are in sixth and seventh grades," Jagatpati Chaudhury, the district education officer in Supaul, told Al Jazeera.
Police arrested nine people in connection with the attack and local officials say that they will install a taller fence to stop people from entering the school grounds, where boys reportedly wrote vulgar messages on the building's walls.
"They dragged us by our ponytails, assaulted [us] with bamboo sticks and kicked and punched. We were totally unarmed and had nothing to protect us. I saw many of my friends lying on the ground and crying with pain," Gudia, one of the girls said, according to The Guardian.
The attack comes less than a week after the body of a 15-year-old girl was found hanging from a tree. Police arrested three teenagers who allegedly beat Savita Yadav to death when she tried to stop her attackers from raping her.
The Indian government, long criticized for not doing enough to fight sexual harassment, approved the death penalty for those found guilty of raping children under 12 in July. Many critics of the new law fear that victims will not come forward and are worried that it will not stop crimes from being committed.
"Under-reporting is a problem because the perpetrators are mostly known to the victims and there are all sorts of dynamics at play that cause victims and their guardians not to report the crime. Ours is a society where discussion of child sexual abuse is taboo," said Dr. Anup Surendranath, the executive director of Project 39A, a social justice organization, according to the BBC.