Dozens of Wisconsin Voters, Poll Workers Test Positive for Coronavirus After Primary Election
As national polls show rising support for mail-in voting, news has emerged that dozens of voters and poll workers who were present during Wisconsin's April 7 primary were later sickened by coronavirus.
Despite warnings from public health experts and a last-minute attempt at postponement by Democratic Governor Tony Evers, a legal challenge by Republican forced the primary to go ahead. Over 400,000 people showed up for in-person voting.
"So far, 40 people who tested COVID-19 positive after April 9 have reported that they voted in person or worked the polls on election day; several of those people reported other possible exposures as well," a spokeswoman from the Wisconsin Department of Health Services told Newsweek in a statement on Monday night.
"Public health officials continue to interview people who have tested positive with COVID-19 and query whether someone has reported voting in person or working at the polls," she added. "There is no way to know with certainty if any exposures at the polls that are reported are in fact attributable to COVID-19 illness."
On Friday Milwaukee Health Commissioner Jeanette Kowalik said that 40 people in the Milwaukee county alone had tested positive as a result of participating in the primary, according to WUWM. Milwaukee county's population of just under 950,000 represents less than one-fifth of the state's total population.
While is unclear how many of the positive cases were the direct result of the primary, it is likely that at least some of the hundreds of thousands of voters and poll workers in the state were either infected with the virus or were exposed to it during the primary. The state has confirmed over 6,000 cases since the pandemic began.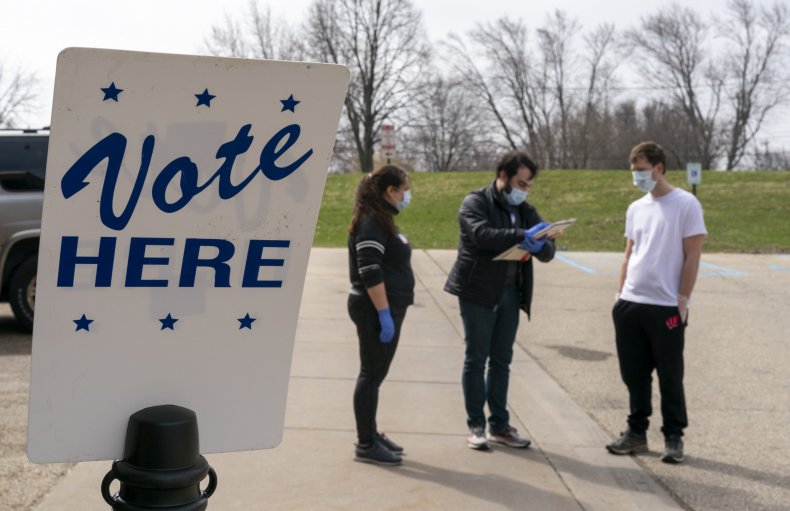 Concerns over spreading the virus by person-to-person contact have been at the heart of recent calls to widely implement voting by mail for November's elections. The issue has become divided along party lines, with President Donald Trump claiming the practice is "corrupt," despite having voted by mail himself in March.
"Sure, I can vote by mail," Trump told reporters on April 7. "Because I'm allowed to."
A clear majority of the U.S. public appears to endorse mail-in voting. A poll released Monday by The Associated Press-NORC Center for Public Affairs indicates that 60 percent of U.S. voters believe that authorities should allow people to vote by mail instead of in-person "without having to give them a reason."
However, a sharp partisan divide was also revealed among voters. The poll showed 73 percent of Democrats supported voting by mail without giving a reason, with 46 percent of Republicans agreeing. Only 37 percent of Republicans said they support eliminating in-person voting in favor of voting by mail, as opposed to 60 percent of Democrats.
Five western states had already adopted default vote-by-mail elections before the health crisis emerged. A majority of states, including most that are considered battleground states, also currently allow no-excuse absentee voting.