Dr. Anthony Fauci Approves of Brad Pitt's 'SNL' Impersonation, Calls Him 'a Classy Person'
To the surprise of precisely no one, Dr. Anthony Fauci loved Brad Pitt's impersonation of him during Saturday Night Live's most recent cold open. While making a Monday appearance on Telemundo's Un Nuevo Dia, Dr. Fauci was asked about it and couldn't stop singing the recent Oscar winner's praises.
"I think he did great," Dr. Fauci gushed. "I'm a great fan of Brad Pitt and that's the reason why when people ask me who I would like to play me I mention Brad Pitt. He's one of my favorite actors. I think he did a great job."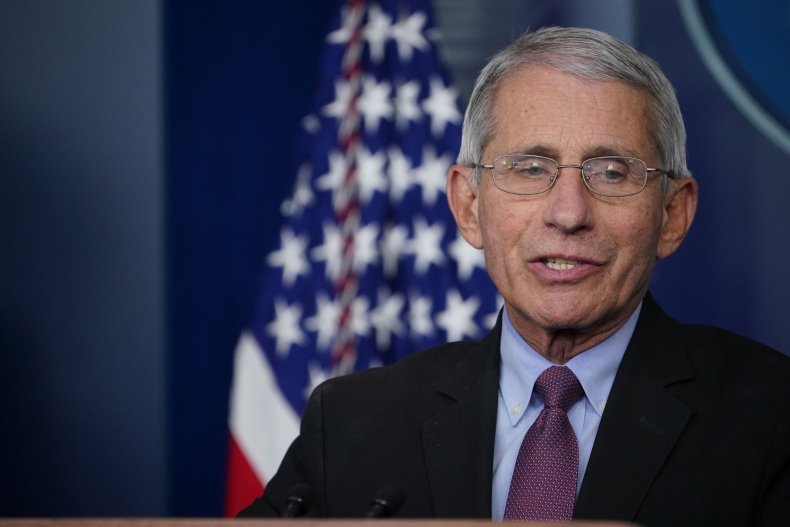 The praise didn't stop there. "I think he showed that he is really a classy guy when, at the end, he took off his hair and thanked me and all of the health care workers," Fauci added, referencing Pitt's personal shoutout at the end of the skit. "So, not only is he a really great actor but he is actually a classy person."
Earlier this month during an appearance on CNN, Dr. Fauci joked that the Ad Astra actor was his top pick to play him on SNL. And during the cold open for SNL's second at-home edition, the doctor's wish came true.
Pitt opened the remotely produced broadcast in a gray wig and glasses and sat at a large desk in a regal office. He poked fun at President Donald Trump's handling of the coronavirus pandemic, singling out his statements about disinfectants and ultraviolet rays being used to kill the disease.
"Yes, [President Donald Trump] has taken some liberties with our guidelines," the actor quipped. "So tonight, I'd like to explain what the president was trying to say. And remember, let's all keep an open mind."
As noted by Dr. Fauci, Pitt concluded his segment on a serious note by removing the wig and glasses to show his appreciation to "the real Dr. Fauci." "Thank you for your calm and your clarity in this unnerving time," Pitt said. "And thank you to the medical workers, first responders and their families for being on the front line."