Dr. Anthony Fauci Says COVID Vaccine Demand Exceeding Supply 'Inevitable'
While coronavirus vaccine supply shortages persist nationwide, Dr. Anthony Fauci explained that the ongoing distribution lag is rooted in widespread demand for immunizations, which exceeds available inventory.
The leading public health expert and National Institute of Allergy and Infectious Diseases (NIAID) director, who moved to the forefront of the country's COVID-19 response team at the beginning of the pandemic, discussed the U.S. vaccine rollout and offered a hopeful look toward future improvements on Sunday.
Speaking to NBC News' Chuck Todd during a Meet the Press appearance, Fauci said vaccine distribution challenges reported across the U.S. are largely a product of extensive, and "inevitable," need dwarfing the stock accessible in early February.
"The demand clearly outstrips the supply right now," he told Todd, though he noted that the current "escalation of availability" in terms of vaccine doses indicates that manufacturing will "continue to escalate as we go from February, to March, to April and beyond."
"So, even though there's a clear, clear discrepancy between the demand and the supply, that will get better as we get through February and into March," Fauci continued.
The U.S. initiated its COVID-19 vaccine rollout in December, after the Food and Drug Administration (FDA) authorized immunizations developed by Pfizer and BioNTech, as well as Moderna and the National Institutes of Health, for emergency use. Distribution and administration procedures unfolded at a considerably slower pace than anticipated, prompting critiques of federal and state leaders who had previously been tasked with constructing vaccination strategies.
Although the rollout's momentum steadily increased following more significant delays recorded during its first weeks, the latest data, updated by the Centers for Disease Control and Prevention (CDC) on Sunday, shows roughly 70 percent of doses delivered to states have so far been administered. Even so, the quantities of vaccine doses delivered and administered remain much lower than the estimated number of individuals requiring immunization.
States have received just over 59.3 million total vaccine doses, and administered about 41.2 million of them, as of Sunday, according to CDC figures. Eventually, somewhere between 70 and 85 percent of the U.S. population must receive vaccines in order for the country to achieve herd immunity, Fauci said in December. Those percentages equate to approximately 230 to 279 million people. Excluding all individuals younger than 18, some of whom might still receive immunizations against COVID-19, the numbers remain high, amounting to somewhere between 179 million and 217 million vaccinations.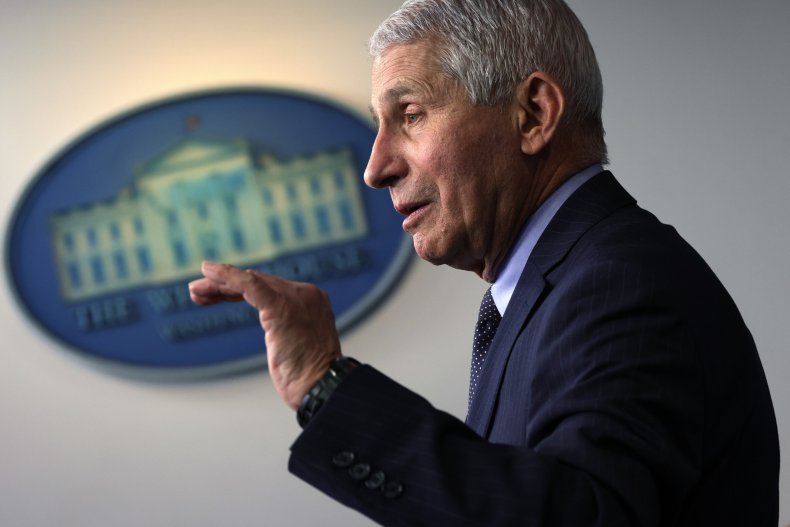 Pfizer and Moderna's COVID-19 vaccines each require two doses before they can effectively protect against the respiratory disease, creating extra manufacturing and distribution steps.
On Sunday, Fauci referenced the newer Johnson & Johnson vaccine's anticipated emergency use authorization, and said its promise of a single-dose immunization could also help accelerate vaccination efforts.
"You heard last week about the favorable results," the NIAID director said of Johnson & Johnson's preliminary efficacy report. "And that's a single dose vaccine, so things will continue to get better."
Newsweek reached out to NIAID for comments, but did not receive a reply in time for publication.
Newsweek, in partnership with NewsGuard, is dedicated to providing accurate and verifiable vaccine and health information. With NewsGuard's HealthGuard browser extension, users can verify if a website is a trustworthy source of health information. Visit the Newsweek VaxFacts website to learn more and to download the HealthGuard browser extension.