Dr. Anthony Fauci Says U.S. 'Obviously' Could Have Saved Lives by Starting Coronavirus Mitigation Earlier
Dr. Anthony Fauci, the top infectious disease expert on the White House Coronavirus Task Force, said that the U.S. "obviously" could have saved lives if social distancing measures and other mitigation strategies had been implemented sooner.
The remark came during a Sunday interview with CNN's State of the Union, during which Fauci was asked about a report by The New York Times that outlined how top health officials in the administration of President Donald Trump wanted to implement mitigation efforts back in February. Fauci, the director of the National Institute of Allergy and Infectious Diseases, responded by explaining that sometimes health recommendations are followed and sometimes they aren't.
"Often the recommendation is taken. Sometimes it's not. But it is what it is. We are where we are right now," he said.
The top health official tried to deflect criticism of the administration, suggesting that hindsight always makes the correct choice more clear.
"I mean, obviously, you could logically say that if you had a process, that was ongoing and you started mitigation earlier you could have saved lives," he said. "Obviously no one is going to deny that, but what goes into those kind of decisions is complicated. But you're right, obviously, if we had, right from the very beginning, shut everything down it may have been a little bit different."
Later in the segment, Fauci said he hoped that life in the U.S. would be back to normal enough by the general election in November for voters to safely go to the polls. But he cautioned that "there is always the possibility, as we get into next fall and the beginning of early winter, that we could see a rebound."
As the number of confirmed cases and deaths from COVID-19, the disease caused by coronavirus, has grown rapidly nationwide, many have criticized Trump and his administration's slow response to the pandemic. The president repeatedly downplayed the threat from the virus, even as top officials and advisers were warning in memos that the death toll could soar and the economic fallout could cost the country trillions of dollars. The government has also been slow to roll out testing, making it difficult for officials to track the spread of the virus.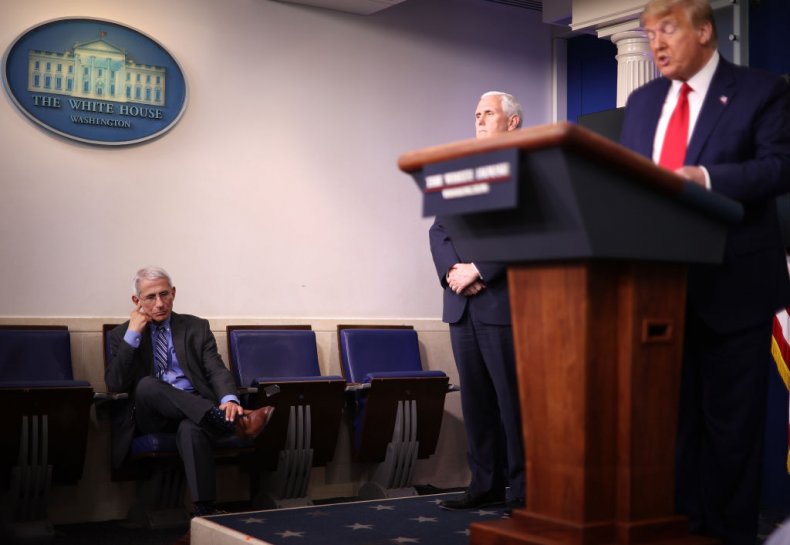 "We have to remember what this crisis has taught us: The administration's failure to plan, to prepare, to honestly assess and communicate the threat to the nation led to catastrophic results," presumptive Democratic presidential nominee Joe Biden wrote in an op-ed for The New York Times on Sunday. "We cannot repeat those mistakes."
As of early Sunday afternoon, there were more than 530,000 confirmed cases of coronavirus in the U.S., according to a tracker by Johns Hopkins University. Of those, more than 20,000 people have died, while over 32,000 have already recovered.