Dr. Birx Says Curbing Coronavirus Cases 'Only Works If We All Follow the Guidelines and Protect One Another'
Dr. Deborah Birx, the response coordinator for the White House coronavirus task force, urged Americans to continue following social distancing and public health guidelines as states are reopening ahead of Memorial Day--noting that adhering to the public health guidance will be the only way to curb the spread of the novel virus.
"We've learned a lot about this virus, but we now need to translate that learning into real change behavior that stays with us so we can continue to drive down the number of cases," Birx said in a Sunday morning interview with ABC's This Week. "This only works if we all follow the guidelines and protect one another."
Birx emphasized the importance of maintaining social distancing, explaining that gatherings should be limited to 10 people.
"We really made it clear that during this reopening social gatherings should not be more than 10 people even if they're outside," the public health official explained.
However, Birx's remarks appeared to be at odds with President Donald Trump's urging that houses of worship, which often attract crowds of more than 10 people, be allowed to reopen. In a Friday announcement, the president declared that churches, synagogues and mosques are "essential."
"Some governors have deemed liquor stores and abortion clinics essential, but have left out churches and houses of worship. It's not right. So I'm correcting this injustice and calling houses of worship essential," the president said. He explained that the Centers for Disease Control and Prevention (CDC) would issue guidelines for worship centers on how to reopen safely.
Newsweek has reached out to the White House for comment.
Birx also suggested during a Friday press conference that places of worship in some areas of the country should wait longer to reopen.
"If there is a heightened number of COVID cases, maybe they wait another week," she cautioned.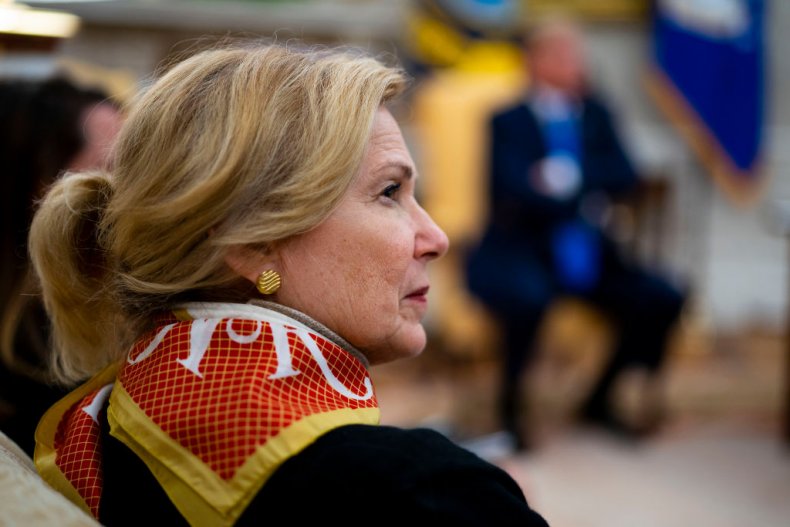 More than 97,000 people have died in the U.S. due to COVID-19, the disease caused by the novel coronavirus. Nationwide, about 1.66 million people have contracted the virus since the outbreak began in January. The country has continued to confirm between 17,000 and 27,000 new cases daily over the past couple weeks, with 22,784 additional cases reported on Saturday.
While many areas of the country appear to have passed their peaks of new infections, other parts of the country are still seeing increases. Religious leaders in some parts of the country have dismissed Trump's calls to reopen houses of worship, while others have welcomed the president's guidance.
The CDC guidance to worship centers encourages social distancing, wearing masks and increased hygiene and sanitation. It also calls on churches, synagogues, mosques and other religious facilities to limit the number of attendants, but does not provide a specific number. The guidelines additionally urge houses of worship to avoid sharing of worship materials.