Dr. Birx Says Large Anti-Lockdown Protests Are 'Devastatingly Worrisome,' Warns Demonstrators Could Infect Grandparents
Dr. Deborah Birx, the White House Coronavirus Response Coordinator, warned on Sunday that crowded anti-lockdown protests are "devastatingly worrisome," pointing out that demonstrators--including those who didn't wear masks--could potentially infect their elderly relatives with the novel coronavirus.
Large demonstrations against "stay-at-home" and "shelter-in-place" orders have taken place in municipalities across the country, as right-wing protesters urge their state's leaders to lift stringent social distancing measures despite the ongoing coronavirus pandemic.
Birx was asked specifically about a large demonstration in Michigan during an interview with Fox News Sunday.
"It's devastatingly worrisome to me personally because if they go home and infect their grandmother or their grandfather who has a comorbid condition and they have a serious or an unfortunate outcome, they will feel guilty for the rest of our lives," Birx said.
"So we need to protect each other at the same time we're voicing our discontent," the public health expert added.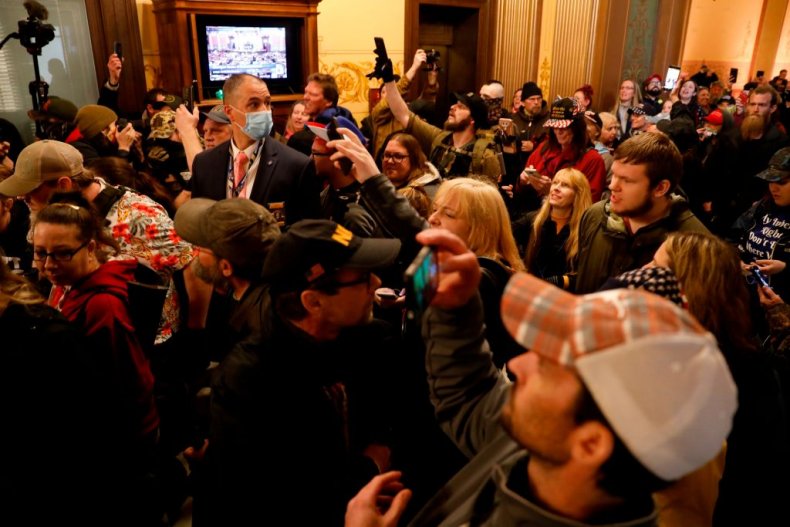 Hundreds of protesters converged on Michigan's capitol in Lansing on Thursday. Some carried guns and brought signs or banners supporting President Donald Trump. Many held signs reading "Free Michigan" and criticizing Democratic Governor Gretchen Whitmer. A group of the gun-touting demonstrators even entered the state's legislative building, chanting "let us in."
Trump voiced his support for the Michigan demonstrators in a Friday tweet.
"The Governor of Michigan should give a little, and put out the fire," Trump wrote on Friday. "These are very good people, but they are angry. They want their lives back again, safely! See them, talk to them, make a deal."
A spokesperson for Michigan United for Liberty, a group that has helped organized protests in the Midwestern state, told Newsweek that the group understands the serious nature of the virus but believes people should have the freedom to take control of their own lives.
"While we understand the virus is real and that people are dying from it, and as unfortunate as that is, we refuse to live in fear of a virus and are more concerned about the rights of the people. Life is too short as it is, we shouldn't have to live in fear," they said in an email.
While Whitmer has eased some of her state's stringent lockdown measures, she has extended the state of emergency through May 28. Casinos, bars and other public places are to remain closed and restaurants are still banned from offering dine-in service as Michigan continues to face one of the worst outbreaks of the novel coronavirus nationwide.
As of Saturday afternoon, Michigan had reported 43,207 confirmed cases of the coronavirus statewide. Of those infected, 4,020 had died while 15,659 had already recovered. According to the state's data, the overall case fatality rate stands at 9 percent.
"There is nothing that I want more than to just flip the switch and return to normal, but that's not how it's going to work, unfortunately. The only way we can get through this and take the next steps forward is if we all continue to do our part," Whitmer said on Friday.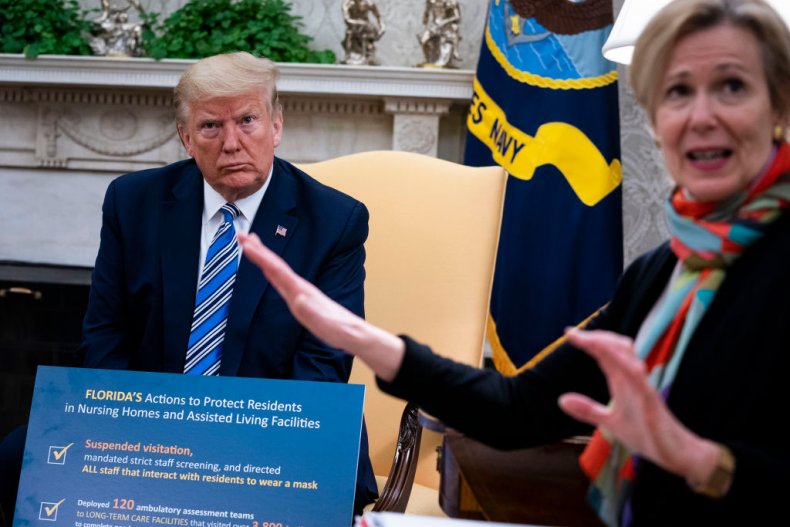 Despite the large demonstrations in Michigan, polling has shown that the majority of the state's residents support the governor's response to the pandemic. A survey conducted by Progress Michigan from April 28 to 29 found that 58 percent of Michigan voters approved of Whitmer's handling of the crisis while just 36 percent disapproved.
That was notably higher than voters in the state's approval of Trump's response to the pandemic. According to the poll, only 44 percent of Michigan voters approved of the president's handling of the crisis, while 50 percent disapproved.
This article has been updated with a statement from Michigan United for Liberty.