'Dr. Bumbum' Charged With Homicide Over Botched Buttock Lift
A Brazilian celebrity plastic surgeon—known as "Dr. Bumbum" because of his extensive work in buttock enhancement—has been charged with homicide over the death of a patient last month.
Denis Furtado, 45, was arrested following the death of bank manager Lilian Calixto, 46, during a procedure carried out in Furtado's apartment in the exclusive Rio de Janeiro suburb of Barra de Tijuca.
Furtado was charged alongside his mother, girlfriend, secretary and domestic employee, all of whom are accused of assisting in the deadly procedure, The Guardian reported. If found guilty, Furtado could face up to 30 years in prison.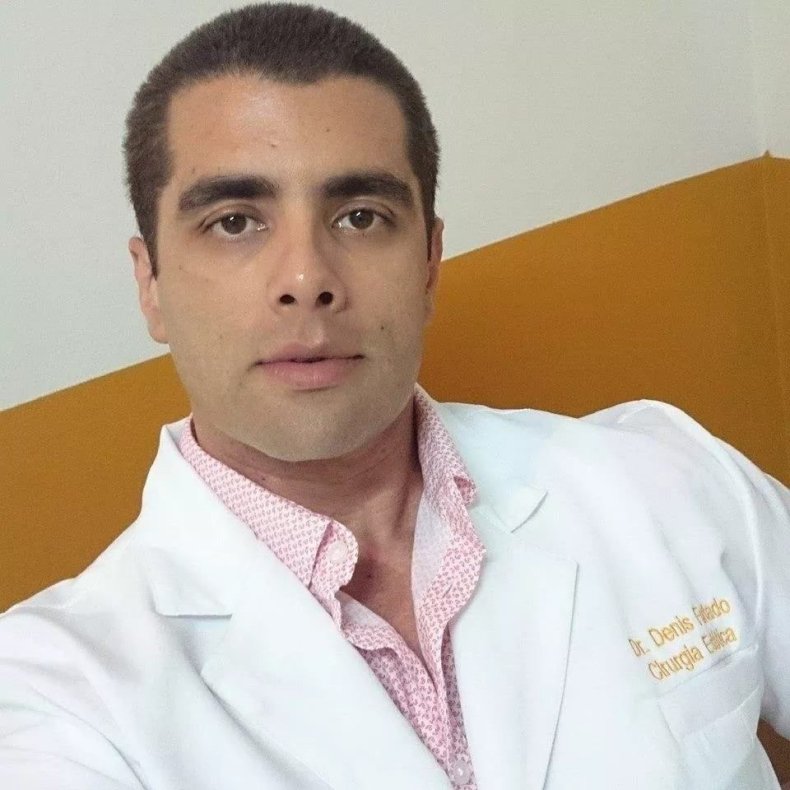 Calixto died after Polymethyl methacrylate, known as PMMA, was injected into her behind. In a statement, prosecutors said the 10.5 ounces used exceeded usual practice and that "the recommendation is for use in small doses and with restrictions." The Brazilian Plastic Surgery Society has issued warnings related to aesthetic PMMA use.
This risk was exacerbated by doing the procedure in Furtado's apartment, which authorities said had been "provisionally and precariously adapted to attend patients."
Calixto soon became unwell, at which point Furtado took her to a nearby hospital where she died hours later. The surgeon—whose lawyer said he was panicking—went on the run, but was captured four days later thanks to an anonymous tip off.
Furtado's celebrity status made the case a media sensation. Dr. Bumbum had more than 600,000 followers on Instagram and 44,000 on Facebook, where he would upload "before and after" images of his work. The surgeon had appeared on Brazilian TV, claiming he had performed more than 8,000 buttock lift procedures.
However, according to prosecutors, Furtado had no specialist qualifications for plastic surgery and was only licensed to practice in Brasília and the nearby state of Goiás, not Rio. "With an expressive number of followers on social media, 'Dr Bumbum' attracted women with the false promise of easy and immediate beauty," authorities said.
Fittingly, given his online presence, Furtado's demise played out on social media. The surgeon even used Instagram to publish proclamations of his innocence.
"As everyone knows, an accident happened," he said in one video, claiming Calixto had left his consulting room after a buttock treatment. Furtado then said he took Calixto to hospital where she had a fatal heart attack. Once police tracked him down, officers tweeted a photo of Furtado and his mother in custody.
Furtado is a product of Brazil's burgeoning plastic surgery industry. The country is a huge market and has the second highest rate of procedures in the world behind the U.S.
The government subsidizes around 500,000 operations each year, and many procedures are free or very cheap in public hospitals. Roughly 1.2 million plastic surgeries are undertaken each year in Brazil.