Democratic Republic of Congo: How Do You Solve a Problem Like Joseph Kabila?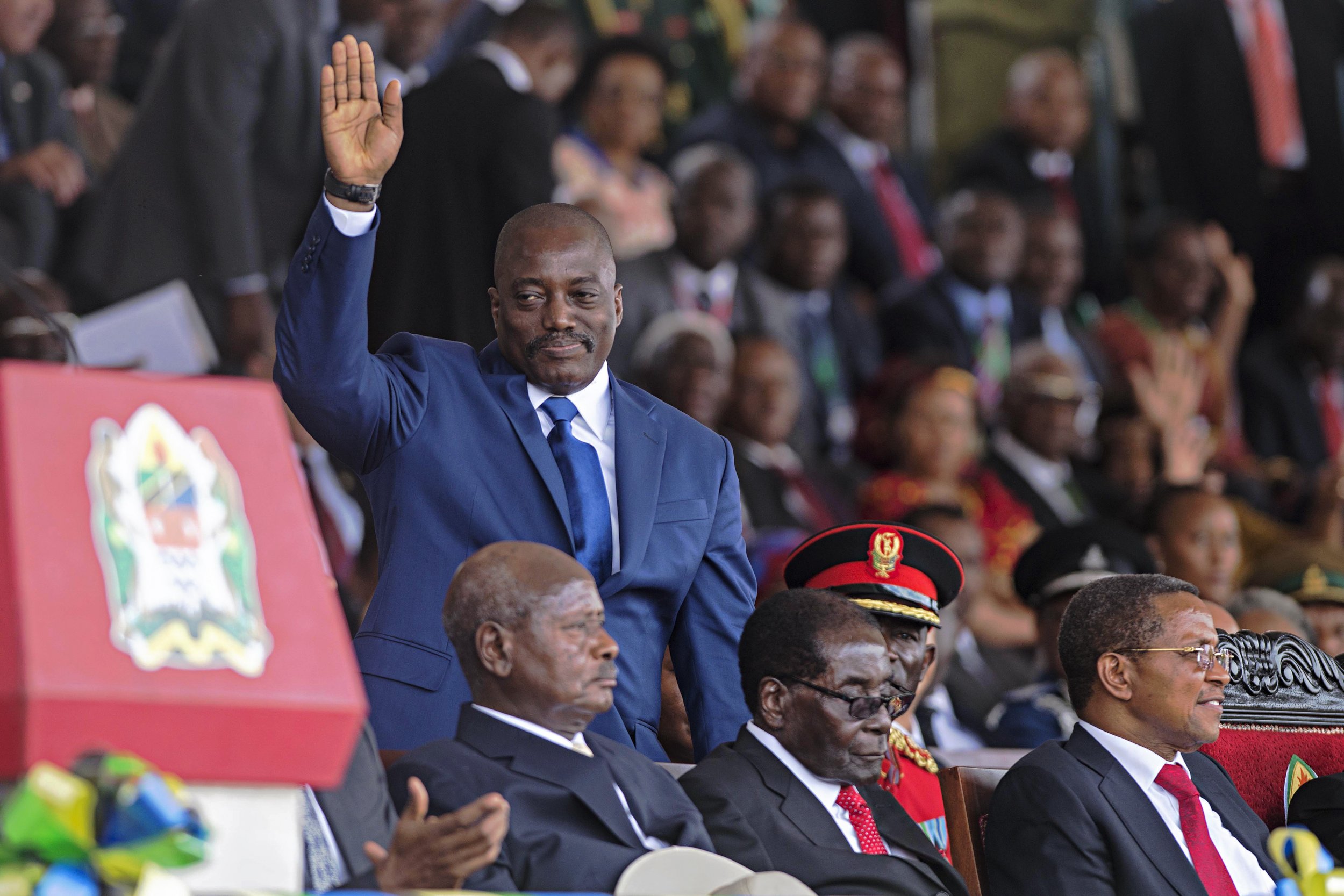 The streets of Kinshasa were left empty on Tuesday as people in Democratic Republic of Congo (DRC) observed a one-day strike and stayed at home.
The strike, organized by a coalition of opposition parties and civil society groups known as Citizen Front 2016, was touted as a protest against DRC President Joseph Kabila. The 44-year-old president, who has been in power since 2001, is due to step down when his second term expires and elections are held in November. But opponents are worried that Kabila could yet find a way to stay in power.
The strike was hailed as a success by opposition leaders and images circulating on social media showed empty streets and highways in Kinshasa, which is the third largest city in Africa with an estimated population of 11.6 million people . A number of government offices in Kinshasa were operating at less than half-strength, Reuters reported , with U.S., French and Belgian schools in the capital closed.
"Our peaceful protest demonstrates to Kabila and the world that we will not sit idle, that we will protect our constitution, we will protect democracy, and we will protect the DRC," says Moise Katumbi, the former governor of DRC's Katanga province, in comments emailed to Newsweek . Katumbi was previously a supporter of Kabila but resigned in September 2015 over what he saw as the latter's attempts to unconstitutionally stay in power.
The strikes were a rare nationwide show of unity in DRC and could be an ominous sign of things to come, according to Phil Clark, a Central Africa expert at SOAS University of London. The protests stretched from Kinshasa in western DRC to Goma in the east, where Kabila has traditionally had a strong support base. They suggest a growing opposition to Kabila across the country that could herald bloody nationwide protests if the president refuses to honor his mandate. "There is a real danger of large-scale protests if Kabila decides to run for a third term and, as a result, a real danger of large-scale crackdowns," says Clark.
Succeeding his father Laurent Kabila after his assassination in 2001, Kabila's 15 years in power have been anything but peaceful. War has ravaged the vast mineral-rich DRC and created almost 450,000 refugees. Between 1997 and 2008, an estimated 5.4 million people died in conflict in DRC, according to the International Rescue Committee, although this figure has been disputed as too high.
Kabila has been victorious in two elections: once in 2006 and again in 2011. While the 2006 result was generally regarded as fair, Kabila's victory in 2011 was widely criticized as unfair. The U.S.-based Carter Center, which observed the vote, declared at the time that the results "lack credibility," with some areas reporting impossibly high turnout and attributing almost all votes to Kabila. The foreign minister of Belgium, DRC's former colonial power, declined to attend Kabila's inauguration ceremony, a sign of the country's discontent with the results.
Kabila has not said he is running for a third term. But he has also refused to deny it on multiple occasions. In January 2015, violent protests saw dozens of people killed after the DRC government attempted to pass a law requiring a national census before the election—a massive exercise in a country almost as big as western Europe and that was seen by opponents as a tactic to delay elections.
The census law was not passed, but a timetable prepared by DRC's electoral commission in January said it would take up to 16 months to revise the voter register prior to elections, making a vote in 2016 impossible. "All of this looks like a government that's stalling and trying to buy itself some more time," says Clark.
The DRC president does not have to look far for inspiration to overstay his mandate. In neighboring Burundi, more than 400 people have died in clashes since April 2015, when President Pierre Nkurunziza decided to run for a third term. Referendums in DRC's neighbors Republic of Congo and Rwanda in October and December 2015 have ostensibly given legitimacy to attempts by Denis Sassou Nguesso and Paul Kagame to stay in power. In Uganda, President Yoweri Museveni is attempting to extend his 30-year rule in Thursday's elections, having amended the constitution in 2006 to allow himself to run for a third term.
According to Roddy Barclay, head of analysis at U.K.-based consultancy africapractice, Kabila would be unlikely to succeed if he put the issue of constitutional reform to a referendum. The president won just 49 percent of the vote in 2011 and the strikes demonstrated a growing discontent with Kabila. "Kabila lacks the political strength and wider support of the likes of Nguesso or Kagame," says Barclay.
Despite its huge size and massive mineral wealth—it is a main source of coltan, a key element in mobile phones and laptops—DRC is one of the least developed countries in the world, ranking 176th out of 188 countries in the U.N.'s 2015 Human Development Index. A democratic transition is crucial for the good for DRC, but the strikes show that one of Africa's most enigmatic countries may be headed on a path to violence. "The events this week suggest that this opposition is starting to spread," says Clark. "If that's the case and Kabila does try to run for a third term, he may be confronted with nationwide protests. The experience of the last two elections in Congo shows that, if there's a large-scale protest against Kabila, he tends to react violently."