Dr. Death on Peacock is inspired by the podcast of the same name which was released in 2018. The podcast and the new series delve deep into the true story of disgraced neurosurgeon Christopher Duntsch. In total, 32 of Duntsch's patients in Texas were affected by his malpractice. Two were killed and two were paralyzed.
Across eight episodes, Dr. Death on Peacock takes you deep into the world of Duntsch from his younger days as an aspiring football player to his arrest and trial in 2015. In 2017, he was convicted of maiming Efurd and sentenced to life in prison, where he remains today. The series was adapted by Marco Polo's Patrick Macmanus and features a star-studded cast.
The cast of 'Dr. Death' on Peacock
Christopher Duntsch —Joshua Jackson
Joshua Jackson takes on the role of Dr. Death himself, Christopher Duntsch.
Originally the role was supposed to be played by 50 Shades of Grey star Jamie Dornan, but he had to pull out of the series due to restrictions imposed by the coronavirus pandemic.
On paper, the real Duntsch looked like the perfect neurosurgeon, with 15 years of training to his name. However, when he secured a job at Baylor Regional Medical Center in Dallas, things took a dark turn.
Several of his patients at Baylor were maimed, suffering life-changing injuries. Patients were also injured at other hospitals he worked at. In total two women died after their surgeries—Kellie Martin and Floella Brown.
Duntsch's license was suspended on June 26, 2013. It was eventually revoked on December 6, 2013.
He did not face criminal charges until 2015. He was arrested on five counts of aggravated assault causing serious bodily injury, and one count of injury to an elderly person, concerning the 2012 operation on Mary Efurd.
He was found guilty of maiming Efurd in 2017 and was sentenced to life in prison.
Speaking to Newsweek, Jackson said of Duntsch: "He didn't know he was twisted and that is actually the essence of what is so interesting about playing him."
He explained: "We can look at him from the outside, the outcome and evidence are all you need, right? He destroyed the lives of essentially every single patient that he touched.
"He was interpersonally a monster, a nightmare to be around. A charismatic, charming monster but still a monster, but he saw himself as the hero of his own story. He saw himself as a brilliant doctor and a brilliant surgeon. A man who was a victim of other people's bad work and bad behavior."
Jackson is best known for his role as Cole Lockhart in The Affair and Mickey Joseph in When They See Us.
Most recently, he starred in Little Fires Everywhere as Bill Richardson, alongside Reese Witherspoon and Kerry Washington.
His other well-known credits include The Mighty Ducks, Dawson's Creek and Fringe.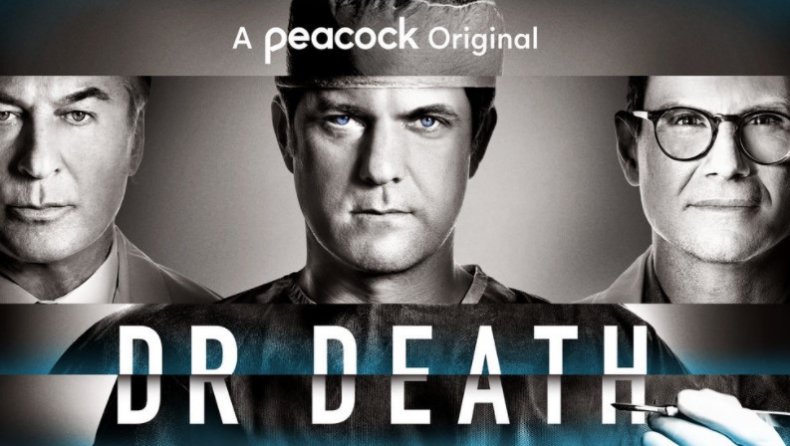 Randall Kirby — Christian Slater
Christian Slater portrays Randall Kirby, a vascular surgeon and former colleague of Duntsch at Baylor.
Kirby was one of the first people in the medical field to raise the alarm about Duntsch's botched operations.
He and spine surgeon Robert Henderson (played by Alec Baldwin) embarked on a relentless campaign to make sure Duntsch would never operate again.
Speaking to Newsweek, Slater shared that he spoke closely with the real Randall Kirby, who believed Duntsch to be a "psychopath."
Christian Slater said, after speaking with the real Dr. Kirby: "His opinion is that this guy is a psychopath and really should not have been ever near an operating theater, so that gave him the foundation to really stand up and do the right thing and do everything he could to stop this maniac."
About taking on the role of Kirby, Slater described him as "passionate, energetic and unpredictable."
He added: "It was a different sort of character for me to get the opportunity to play. Typically I would play the Dr. Death role. For me it was fun to play against that and actually get the opportunity to be a little bit more heroic and be the guy who is standing up for justice as opposed to being the psychopathic killer."
Slater is best known for playing Jason Dean in Heathers and as the titular character in Mr. Robot.
His other well-known credits include True Romance, Dirty John, and Very Bad Things.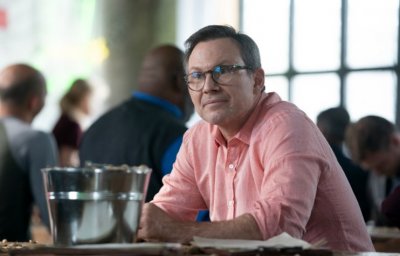 Alec Baldwin — Robert Henderson
Alec Baldwin plays the role of spine surgeon Robert Henderson, who teamed up with Kirby to take down Duntsch.
As seen in Dr. Death, at one point Henderson suspected Duntsch may have been an imposter.
Dr. Death viewers will most likely recognize Baldwin as Jack Donaghy in 30 Rock, a role that won him two Emmy Awards, three Golden Globe Awards, and several Screen Actors Guild Awards.
He is also well known for playing Alan Hunley in the Mission: Impossible film series and Shelly Kaplow in The Cooler.
Michelle Shughart — AnnaSophia Robb
AnnaSophia Robb portrays Michelle Shughart, the young fiery assistant district attorney who prosecuted Duntsch in 2017.
Shughart for the prosecution argued Duntsch's was motivated by money to continue operating despite numerous botched operations.
Shughart was ultimately successful, with the jury only taking a few hours to reach a verdict of guilty. He was later sentenced to life in prison.
Robb said : "She put all the puzzle pieces together to create the case basically. She is a very sweet but strong woman, fiercely intelligent, very kind."
She added: "I really had a fun time playing her. She's the prosecutor, she's the lawyer in charge and that was a lot of fun."
Robb began her career as a child actress, appearing as Violet Beauregarde in Tim Burton's Charlie and the Chocolate Factory in 2005 and Leslie Burke in Bridge to Terabithia in 2007.
Robb most recently starred as Gypsy Blanchard's neighbor Lacey in the Hulu miniseries The Act, alongside Patricia Arquette and Joey King.
Her other well-known credits include a young Carrie Bradshaw in The CW series The Carrie Diaries, Creason Clifton in The Crash, and Rebecca in Words on Bathroom Walls
Other cast members in Dr. Death include It's Always Sunny in Philadelphia's Dominic Burgess as Duntsch's best friend Jerry Summers and American Horror Story's Grace Gummer as Duntsch's assistant Kim Morgan.
Molly Griggs plays Duntsch's girlfriend and mother of his children, Wendy Young, and Hubert Point-Du Jour as Josh Baker, a nurse who suspects Duntsch of malpractice.
Dr. Death is streaming on Peacock now.