'Dr. Death': Christian Slater on Playing Dr. Randall Kirby
Dr. Death is the new true-crime drama series on Peacock about the disgraced neurosurgeon, Dr. Christopher Duntsch accused of injuring 33 patients, leaving many with life-changing injuries. Two of his patients, Florella Brown and Kellie Martin died following Duntsch's surgery and his best friend, Jerry Summers, was left a quadriplegic. Today, he is serving a life sentence for the maiming of elderly patient Mary Efurd in 2012.
The Affair's Joshua Jackson portrays Dr. Duntsch, a man he described to Newsweek as "twisted." Mr. Robot's Christian Slater takes on the role of real-life vascular surgeon Dr. Randall Kirby, appearing opposite 30 Rock's Alec Baldwin who portrays veteran spine surgeon, Dr. Robert Henderson.
Speaking to Newsweek, Christian Slater described the real Dr. Kirby as "energetic, passionate, and unpredictable."
He added: "It was a different sort of character for me to get the opportunity to play. Typically I would play the Dr. Death role. For me, it was fun to play against that and actually get the opportunity to be a little bit more heroic and be the guy who is standing up for justice as opposed to being the psychopathic killer.
"I love the character, I love the energy of the character. That's the type of energy and passion I like to live my life by and would like to incorporate more of that into my work.
"He is who I'd like to be, aspire to be. He's got a lot of energy whereas I tend to be a little bit more laid back and chilled."
In Dr. Death, Slater spends most of his screen time with Alec Baldwin, whom he candidly described as a "hero" of his.
He added: "To get to bounce off of him and have the scenes that we did together, it was a lot of fun. We were given a lot of freedom to improvise and really just have a good time with each other."
Apparently, in real life, Kirby and Henderson made an unlikely pair. Kirby is more energetic and Henderson is more on the quiet and reserved side. Both men were strangers until they teamed up to ensure Dr. Christopher Duntsch would never work in a hospital again. On separate occasions, they had witnessed firsthand the damage Duntsch had done to his patients.
In 2013, Kirby was called in to help Jeff Glidewell at University General Hospital, Duntch's last patient.
Upon operating, Kirby discovered Glidewell had a "foreign body" lodged in his neck.
Duntsch had left a sponge in the soft tissue of his neck during Glidewell's first operation, causing him significant breathing problems.
Kirby had once worked alongside Duntsch before the Glidewell case, assisting him during routine surgery in January 2012. As seen in Dr. Death and heard on the Wondery podcast that inspired the eight-part drama, Kirby witnessed Duntsch misuse surgical tools and perform dangerous surgery. For example, he reached for a grabbing instrument to remove a diseased disc when he should have used a scalpel. He raised his concerns, but they were swept under the carpet.
Henderson was called to do repair surgery on Mary Efurd at Baylor Plano in 2012, two days after Duntsch had operated on her.
During the operation, Henderson found drilled holes and screws in her spine that were in the wrong place. Around the time of the operation, Henderson had heard stories about Duntsch and following the Efurd surgery, he recommended to the management at Dallas Medical Center that Duntsch have his privileges revoked immediately.
Speaking to Newsweek, Christian Slater shared that the real Dr. Kirby believes Duntsch to be a "psychopath" and a "maniac."
He said: "After speaking with the real Dr. Kirby, his opinion is that this guy is a psychopath and really should not have been ever near an operating theatre. That gave him the foundation to really stand up and do the right thing and do everything he could to stop this maniac."
Following the operation on Glidewell, Kirby submitted a formal complaint to the Texas Medical Board. He had submitted several throughout 2012 and 2013.
In one of his letters, Kirby reported having "direct knowledge" of seven patients Duntsch had "maimed or killed," reports D Magazine.
Kirby also referred to the death of Floella Brown, who suffered a stroke following Duntsch's surgery.
He had damaged her vertebral artery, causing a huge amount of blood loss. She suffered a stroke and was taken off life support days later.
Kirby wrote: "No autopsy was done (at the family's request) but it is well-documented that the stroke was due to a left vertebral artery injury due to Dr. Duntsch's horrendous surgical technique."
When their concerns went unheard, Kirby and Henderson embarked on a relentless campaign to ensure Duntsch's would never be able to operate and that criminal charges would be brought.
The Texas Medical Board suspended Duntsch's license on June 26, 2013.
That same month, Kirby along with the Glidewell family took the case to prosecutors to press charges against Duntsch. Duntsch's license was eventually revoked on December 6, 2013.
In his letter to the Texas Medical Board, Kirby wrote: "I am beginning to think the police are the only ones intellectually and physically capable of getting to the bottom of this matter."
Eventually, they made sure their case reached the District Attorney's office and young Assistant District Attorney Michelle Shughart (AnnaSophia Robb) took on the case.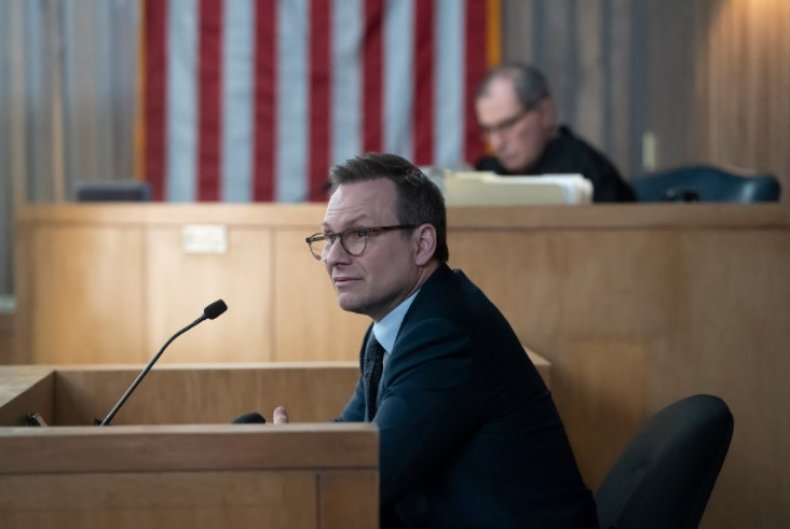 The DA's office agreed to prosecute Duntsch on charges of assault and harm to an elderly person, specifically Mary Efurd. He had originally been charged with six felony counts of aggravated assault with a deadly weapon, five counts of aggravated assault causing serious bodily injury, and one count of injury to an elderly person
In February 2017, Duntsch was sentenced to life in prison. He is not eligible for parole until 2045.
"It's an important story to tell. People need to know doctors are not gods and we tend to put them on a pedestal and we turn our lives over to these men and expect and hope that they will do the right thing," Slater reflected.
"So it's important to get a second or third or fourth opinion and ask as many questions and do as much research as you can on who is going to be repairing whatever it is that is damaged within you."
Today, Dr. Kirby and Dr. Henderson are still practicing physicians in Texas.
Dr. Death is streaming on Peacock now.