Dr. Deborah Birx to Retire After Family Gets 'Dragged Into' Thanksgiving Travel Criticism
Dr. Deborah Birx, a member of President Donald Trump's coronavirus task force, announced plans to retire amid a controversy over her Thanksgiving travel.
Birx, who has worked in the federal government since 1980, was thrust into the spotlight this week as news broke that she had traveled and visited with family over the Thanksgiving weekend, even though officials urged people to stay home. The longtime civil servant is just one of several officials to face criticism for their apparent "Do as I say, not as I do" behavior during the coronavirus pandemic.
On Tuesday, Birx told Newsy that it's been a "very difficult" time for her family.
"I will have to say this experience has been a bit overwhelming," she said. "I think what was done in this last week to my family...they've tried to be supportive, but to drag my family into this when my daughter hasn't left that house in 10 months, my parents have been isolated for 10 months."
Birx added that she wants the Biden administration to be successful and will help in any role in which people think she can be helpful and then retire. It's not clear exactly when she plans to step down, but she said she plans to be "helpful" to President-elect Joe Biden's administration "through a period of time."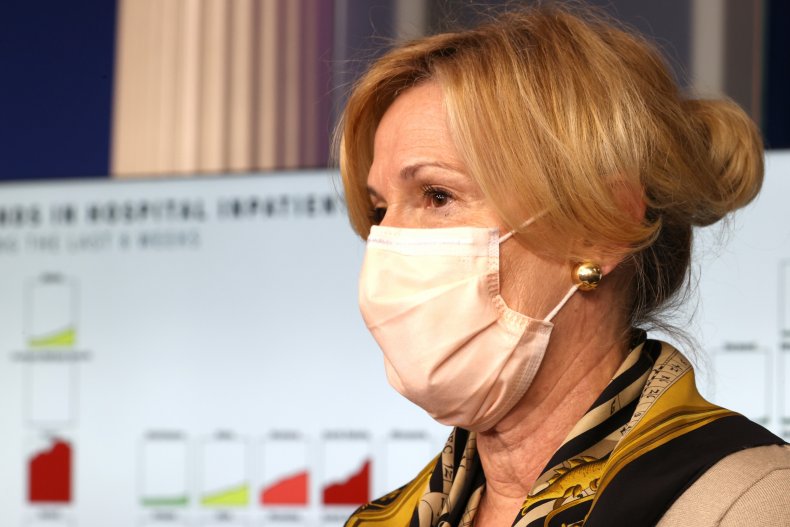 As coordinator of the White House's coronavirus response, Birx urged people to remain "vigilant" ahead of the Thanksgiving weekend and to limit celebrations to those within their immediate households. Recognizing that it would be difficult to remain away from loved ones during the holidays, officials cited the surge in virus cases as a reason to alter plans, because an increase in the already spiking case counts could push hospitals past their capacity breaking point.
However, several officials, including Denver Mayor Michael Hancock and San Jose, California, Mayor Sam Liccardo, were called out when they failed to adhere to their own advice on Thanksgiving travel. Birx is only the most recent government figure to face public backlash for her actions over that holiday.
The day after Thanksgiving, Birx traveled to her vacation home on Fenwick Island, Delaware, where she was joined by her husband, daughter, son-in-law and grandchildren. Birx told the Associated Press the purpose of the trip was to deal with the winterization of the property, not to celebrate Thanksgiving. She said everyone there was part of her "immediate household" but acknowledged that they live in different homes.
Lawrence Gostin, a public health expert at Georgetown University's law school who has known Birx professionally for years, told the AP he is confident she took precautions to minimize the risks but said her actions undercut public health efforts.
"It's extraordinarily important for the leaders of the coronavirus response to model the behavior that they recommend to the public," Gostin said. "We lose faith in our public health officials if they are saying these are the rules but they don't apply to me."
Birx reiterated to Newsy that her Thanksgiving weekend trip involved members of her "immediate household," even though some people wanted create the "perception that it was different than that." She said that the family purchased the home on November 18 to provide a "respite" for her pregnant daughter and that she wanted to make sure it was safe, since she had not yet gone there.
"We went from immediate household to immediate household in full isolation. We never visited anyone, we never had anyone into the household," she said. "It was the same situation had we been here at home, but because of the perception it created, we obviously will not do that through any of the holiday seasons."
Newsweek reached out to Vice President Mike Pence, head of the White House's coronavirus task force, for comment but did not hear back in time for publication.