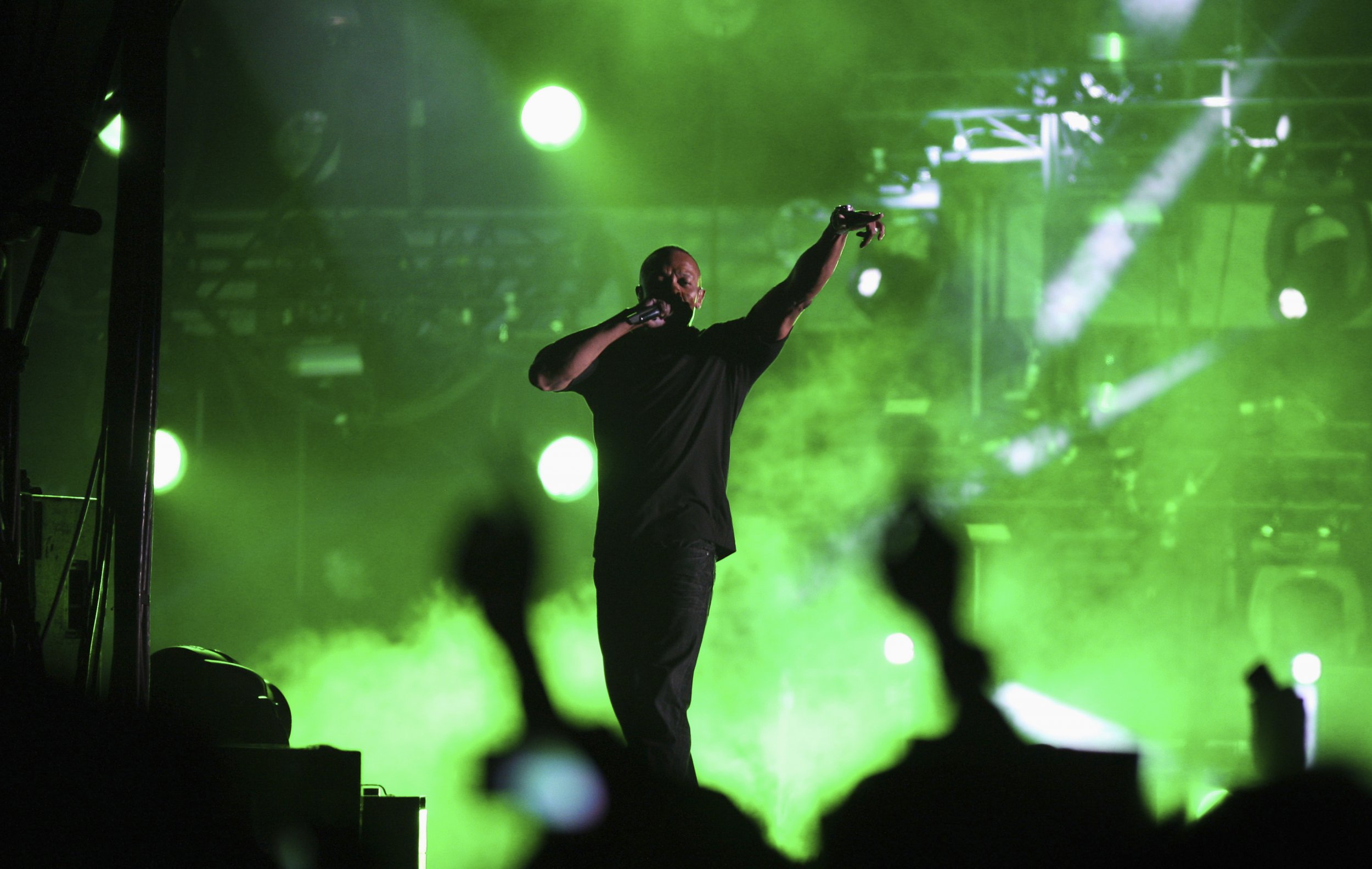 The most notorious perfectionist in hip-hop is finally dropping a new album. Over the weekend, Dr. Dre announced on his Beats 1 radio show, "The Pharmacy," that Compton: The Soundtrack will be released exclusively through Apple Music on August 7. The album—which can now be preordered on iTunes—consists of 16 tracks, featuring appearances from old-school Dre protégés like Snoop Dogg, Eminem and Xzibit as well as guest verses from new-school legend Kendrick Lamar.
Fans have been waiting 13 years for the release of a long-announced album called Detox—the would-be follow-up to 1999's The Chronic: 2001—but Dre told "The Pharmacy" audience that he had been dissatisfied with the sound of that record. After seeing an early cut of the upcoming Straight Outta Compton film—an upcoming biopic about his early rap group, N.W.A—the legendary producer, rapper and mogul felt a new spark: "I was leaving the set...and I found myself being so inspired by the movie that I started recording an album. I kept it under wraps."
Though he's one of the most influential figures in hip-hop history, Dre's solo releases have been few and far between. 2001 was preceded only by 1992's The Chronic, which propelled Dre to new heights just as N.W.A was in decline (and also introducing the world to Snoop Dogg). He is known for his work behind the scenes, producing signature beats that helped popularize artists like 2Pac , Eminem and Lamar.
If the hype is to be believed, it seems that Compton: The Soundtrack could be Dr. Dre's last solo record. "All my friends came in, and we all came together to build this thing," he said. "It's going to be my grand finale."
Rumors of a non-Detox album have been circulating since May, but the new tracklist blindsided many fans over the weekend. Low-quality leaks on YouTube have appeared, as is often the case with new hip-hop albums, but it's worth waiting until Friday to hear the new songs, which will also feature a collaboration with N.W.A alumnus Ice Cube. "Cube came in, [and] he went bananas on the record," said Dre.
Detox, it appears, will never be released—a result of the high standards to which the Doctor holds himself. "I'm gonna keep it one thousand with you," he said on the radio show. "I don't think I did a good enough job [on Detox]. I couldn't do that to my fans, I couldn't do that to myself."
Fortunately, the new album apparently has satisfied him. "I'm really proud of this," he said.