50 Cent, Ice Cube And Others Rally Behind Dr. Dre After Rapper's Brain Aneurysm
The hip hop world has rallied behind Dr. Dre after the mogul was reportedly hospitalized for suffering a brain aneurysm.
The renowned rapper and producer, 55, received medical treatment at a Los Angeles hospital for the illness but has now confirmed he is recovering well at home.
Per TMZ, Dre was rushed to Cedars-Sinai Medical Center in the city on Tuesday shortly after suffering the aneurysm but has since reassured fans he is "doing great" but did not give a reason for his hospitalization.
Taking to Instagram Wednesday morning, the billionaire rapper—given name Andre Romelle Young—wrote: "Thanks to my family, friends and fans for their interest and well wishes. I'm doing great and getting excellent care from my medical team. I will be out of the hospital and back home soon. Shout out to all the great medical professionals at Cedars. One Love!!"
Many of the entertainer's famous friends have sent public messages of support as he recovers from the medical emergency.
"Send your love and prayers to the homie Dr. Dre," Ice Cube tweeted. Missy Elliott said: "Prayers up for Dr. Dre and his family for healing & Strength over his mind & body."
One of Dre's collaborators 50 Cent shared a photo of the pair and tweeted: "get well dre, Man stress kills relax," to which Snoop Dogg responded: "GET WELL DR DRE WE NEED U CUZ."
"Dre is recovering nicely," wrote LL Cool J. Rapper Juicy J tweeted: "Noooooo not Dr Dre. praying for a speedy recovery."
"Dr. Dre is supposedly stable. Keep him in your thoughts. F***," tweeted It's The Real.
"PRAYERS UP FOR DR DRE," wrote G Eazy.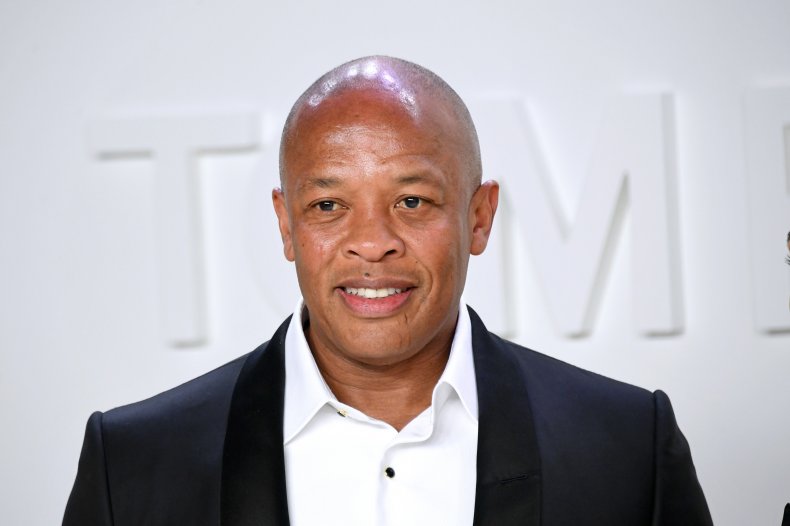 A number of other celebrities have also extended well wishes to Dr. Dre, with Ellen DeGeneres tweeting: "Praying for Dre."
Singer Ciara added: "Praying for you Dr. Dre. Praying for a full recovery."
Charlie Puth wrote: "Prayers up for Dr. Dre. You are the reason why I produce music."
Musician Flea of Red Hot Chili Peppers fame tweeted: "Love to Dr. Dre."
Brooklyn Nine-Nine star Terry Crews said: "Praying for Dr. Dre right now."
NFL player Russell Wilson tweeted: "Prayers up for Dr. Dre."
Basketball legend Magic Johnson wrote: "Cookie and I are praying for our friend Dr. Dre to make a full recovery! Get well soon my friend!"
Dr. Dre is currently going through divorce proceedings with his estranged wife Nicole Young.