Dr. Dre's Prenup With Nicole Young Could Stop Her Getting Half of $800 Million Fortune
Dr. Dre's Wife Nicole Young filed for divorce from the rapper and producer earlier this month after nearly two and a half decades of marriage—but a prenup agreement may mean she won't be entitled to half of her husband's $800 million fortune.
Young cited irreconcilable differences in her filing after being married to Dr. Dre, whose real name is Andre Romelle Young, for 24 years. She is seeking spousal support.
In 2019, Forbes estimated the music mogul's net worth at $800 million. The 55-year-old has now responded to his wife's petition, revealing a prenuptial agreement.
According to TMZ, Dre's response to the divorce filing is that he's agreed to pay Young's spousal support but he says any distribution of property should be governed by their prenuptial agreement.
Young, who works as a lawyer, did not reference the prenup in her original filing. She is represented in the divorce by a high-powered celebrity attorney, Samantha Spector.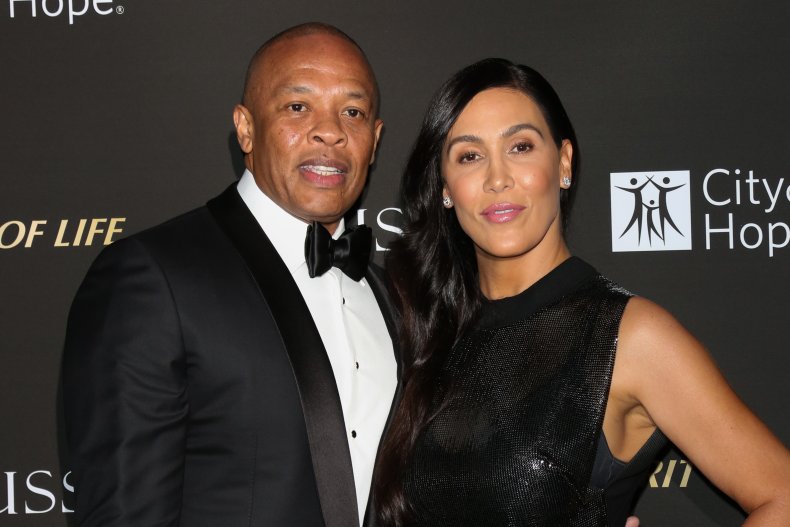 The The Chronic star's earnings are mostly from his Beats Electronics empire. Forbes states that Dre spent steadily over the years on property—he paid $40 million for Tom Brady and Gisele Bundchen's Los Angeles estate.
He also made some generous charitable donations, giving $70 million to start a school at USC with Beats co-founder Jimmy Iovine.
Before he and Young got married in 1996, Dre's fortune climbed due to him finding fame in rap group N.W.A. before releasing his solo debut studio album The Chronic in 1992 under Death Row Records, which he co-owned before founding his own label.
He is responsible for signing the likes of Eminem and 50 Cent on his label Aftermath Entertainment.
As his career progressed, Dre later produced records for artists including 2Pac, Snoop Dogg, The Game and Kendrick Lamar.
Dre amassed his fortunes as a founding member found fame of the rap group N.W.A. before releasing his solo debut studio album The Chronic in 1992 under Death Row Records, which he co-owned, before he founded his own label, Aftermath Entertainment, and signed Eminem and 50 Cent.
In 2008, he released his first product under Beats by Dr. Dre, the success of which led to Apple purchasing the brand for $3 billion in May 2014.
Dre lists the date of separation as March 27, 2020. The couple share two children together: son Truice, 23, and 19-year-old daughter Truly.
He is also dad to four kids—daughters Tyra Young and La Tanya Danielle Young as well as sons Marcel and Curtis—from previous relationships. His son Andre Young Jr. died at age 20 in 2008.