Dr. Dre Has Net Worth of $800M As Daughter Reveals She's Homeless
Dr. Dre's eldest daughter has revealed that she is homeless and living out of a rental car, amid claims that the hip-hop legend is refusing to support her.
LaTanya Young, 38, told the Daily Mail that she works as a delivery driver for DoorDash and Uber Eats, as well as an assembler at a warehouse—but still can't afford an apartment in California.
Young, a single mother of four, said she had reached out her famous father for help, but had not received any money from him in 18 months. She added that she hadn't seen her dad in 18 years and communicated with him through his team.
"My kids are staying with friends—they are not living in the car, it's just me," Young said. "I'm taking odd jobs just to make it now—I got paid $15 an hour as an assembler at the warehouse. I'm trying to keep my head above water. I've been in debt for a while."
Young, who moved to California one month ago after struggling to find work in Nevada, now fears she will lose her vehicle.
"The car is a pretty penny," she said. "It's an SUV that costs $2,300 for three weeks and I only paid for one week. Sooner or later they are going to take the car."
"The wage is higher in California—there was no work in Nevada," she added. "There weren't enough jobs. I have friends and family that will let us come back and forth, but the majority of the time I'm living out of my car."
Young, whose father split from her mother Lisa Johnson when she was five years old, said Dr. Dre's lawyer had told her that she would not receive any financial help because she had spoken to the press about him in the past.
Newsweek has contacted a representative for Dr. Dre for comment.
His daughter's interview has shone a light on the net worth of the rapper, producer and entrepreneur, which was valued at $800 million by Forbes in 2019.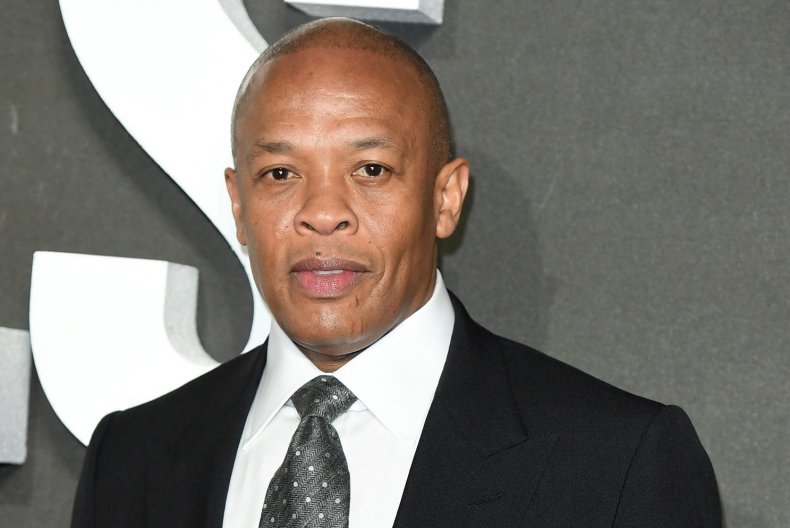 Dr. Dre, real name Andre Young, is one of the most influential musicians of the past 35 years, making a string of rap hits with N.W.A. and as a solo artist. The 56-year-old was a co-founder of Death Row Records and later set up Aftermath Entertainment.
His venture into the headphones business with Beats by Dr. Dre, which he set up with Jimmy Iovine, made him one of the richest men in the music industry. The company was snapped up by Apple for $3 billion in 2014 and Dr. Dre pocketed $585 million before taxes, according to Forbes.
As well as earning colossal amounts of money, Dre has also made headlines for spending it. He snapped up Tom Brady and Gisele Bündchen's former home in Brentwood, California, for $40 million in 2014, per the Los Angeles Times. Dre and Iovine also donated $70 million to the University of Southern California in 2013.
The father of eight was recently ordered to pay his ex-wife, Nicole Young, $300,000 a month in spousal support. The court order states that Dre, who reportedly suffered a brain aneurysm in January, will have to pay support "until the party receiving support remarries or enters into a new domestic partnership, [or the] death of either party."