Dr. Fauci Has 27-Point Lead Over Donald Trump on Coronavirus Handling: Poll
Dr. Anthony Fauci's coronavirus approval rating is 27-points higher than President Donald Trump's, new polling data shows.
The latest national survey published by Quinnipiac University on Wednesday found that 68 percent of voters approved of the National Institute of Allergy and Infectious Diseases (NIAID) director's handling of the pandemic.
A little over one-in-five (22 percent) said they disapproved of the expert's response to the COVID-19 outbreak—putting his net approval rating at 46 points overall.
By comparison, only 41 percent of polled voters approved of Trump's handling of the novel coronavirus, while 56 percent told pollsters that they disapproved.
When the same poll was conducted in April, the president's net coronavirus disapproal rating was 10-points lower. Forty-six percent of voters backed his handling of the pandemic at the time, while a 51 percent majority disapproved.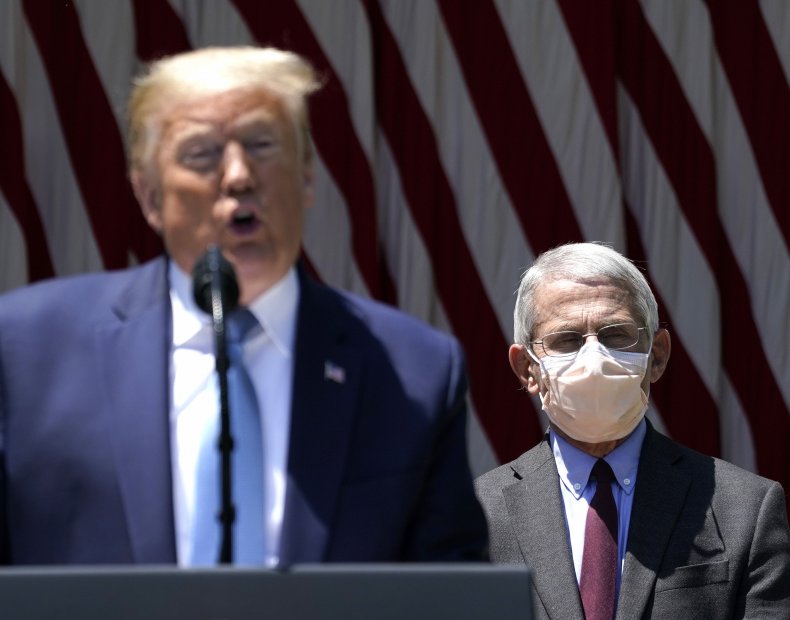 Fauci has also seen his net coronavirus approval rating slump from 71 percentage points to 46 points over the last month, according to Quinnipiac data.
However, the leading infectious disease expert on the White House coronavirus task force still had a higher coronavirus approval rating than the Centers for Disease Control and Prevention, state governors and congressional lawmakers.
Trump's coronavirus approval rating was only higher than that of Republicans in Congress—who were backed by 38 percent of voters.
Asked whether they thought Trump or former Vice President Joe Biden would do a better job of tackling the coronavirus pandemic, 55 percent of voters opted for the presumptive Democratic nominee while only 39 percent put greater faith in Trump.
Biden was also found to have an 11-point lead over Trump in a head-to-head match up for the presidency.
In a statement released with the data, Quinnipiac University Polling Analyst Tim Malloy said: "What does the 11 point Biden lead tell us? At best for Team Trump, it says voter confidence in President Trump is shaky. At worst for them, as coronavirus cases rise, Trump's judgement is questioned - and November looms."
The pollster found Trump's net coronavirus disapproval rating had grown as many Americans still felt it was unsafe to visit restaurants and other non-essential businesses amid nationwide reopenings.
Sixty-two percent said they thought it was unsafe to go to a restaurant, while only 37 percent thought it was safe. A plurality of 50 percent felt it was not safe to visit a barbershop or salon, compared to 48 percent who said it was safe.
Three-quarters (75 percent) of voters also said the country should reopen slowly, even if it came at a cost to the economy. Twenty-one percent were on the side of a rapid reopening of the U.S. economy, even if it increased the spread of COVID-19.
"Reopen slowly, even if we are rolling the dice on how it will affect the economy, say three-quarters of American voters," Malloy said. "As far as sending kids off to college, hopping on an airplane, or getting a haircut, there are reservations."
Quinnipiac University surveyed 1,323 self-identified registered voters between May 14 and May 18 for its latest poll. The margin of error stands at 2.7 percentage points.