Dr. Fauci Concerned About Protests Spreading Coronavirus, Says 'Physical Separation' Is Still Important
Dr. Anthony Fauci on Wednesday expressed his concern about the ongoing protests over the death of George Floyd and their effect on the coronavirus outbreak, saying that "physical separation," is still important to stop the spread.
"The issue of physical separation is important. Masks can help, but it's masks plus physical separation, and when you get congregations like we saw with the demonstrations, like we have said, myself and other health officials, that's taking a risk," Fauci, the country's leading infectious disease expert and a member of the White House coronavirus task force, told ABC's Good Morning America.
"Unfortunately, what we're seeing now is just an example of the kinds of things we were concerned about," he said.
Fauci's comments came shortly after the National Guard in Washington, D.C., confirmed that several members tested positive for the novel coronavirus after being deployed to contain protests outside of the White House.
"We can confirm that we have had COVID-19 positive tests with the DCNG," said a D.C. National Guard spokeswoman, Air Force Lieutenant Colonel Brooke Davis, according to McClatchy DC. "The safety and security of our personnel is always a concern, especially in light of the COVID-19 era."
During his appearance on Good Morning America, Fauci spoke about the National Guard members testing positive, which he said was "certainly disturbing but is not surprising."
The nationwide protests erupted after Floyd, a 46-year old black man, died in police custody on May 25. He was held down on the ground by Minneapolis police, including officer Derek Chauvin, who knelt with his knee on Floyd's neck for almost nine minutes. Floyd lost consciousness and died shortly afterward.
The protests began as many states reported a slowing of the virus's spread, but in addition to Fauci, other health experts have warned that the demonstrations could be t catalyst for a new surge.
"It makes me cringe on a number of levels," Dr. Katie Passaretti, medical director for infection prevention at Atrium Health in Charlotte, North Carolina, told NBC News. "It's a setup for further spread of COVID. It's heartbreaking."
During a May 31 news conference, Atlanta Mayor Keisha Lance Bottoms warned demonstrators about the spread of the virus, saying, "If you were out protesting last night, you probably need to go get a COVID test this week."
She added, "Because there's still a pandemic in America that's killing black and brown people at higher numbers."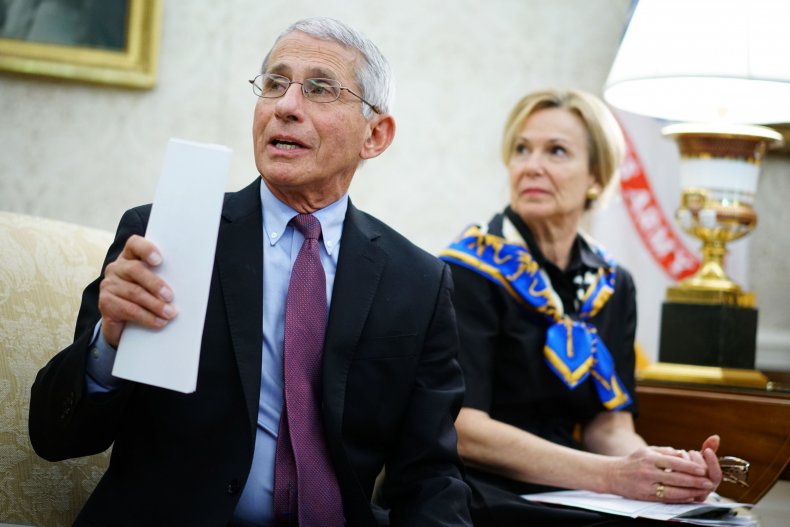 In addition to the ongoing protests, some states have eased coronavirus restrictions and moved into phased reopenings. On Good Morning America, Fauci urged Americans to continue practicing social distancing and avoid gatherings "in large numbers."
"You still have to practice a degree of caution and carefully go through the process of trying to normalize," he said.
The coronavirus, which causes the respiratory disease COVID-19, has infected over 1.9 million Americans, according to a Johns Hopkins University tracker. The virus has also caused at least 112,006 deaths.
Newsweek reached out the federal Department of Health and Human Services for comment but did not receive a response in time for publication.