Dr. Fauci Defends FDA Officials Amid Trump's Claim of a Political 'Hit Job'
Dr. Anthony Fauci, the nation's leading infectious diseases expert and coronavirus task force member, defended the U.S. Food and Drug Administration on Thursday amid President Donald Trump's accusations of the agency committing a "political hit job."
MSNBC's Andrea Mitchell asked Fauci during an interview if career FDA officials are involved in a "hit job," as the president has claimed.
"No. That I can say with a good degree of certainty," Fauci responded. "They are devoted to science to the public health and the decisions they make.… I have confidence in them.…They are very good people."
Fauci's comments come two days after Trump tagged FDA Commissioner Stephen Hahn, whom Trump appointed in 2017, in a tweet, complaining of "another political hit job" because of the agency's plans to raise the standards for a coronavirus vaccine emergency authorization, Axios reported.
"New FDA Rules make it more difficult for them to speed up vaccines for approval before Election Day," Trump tweeted Tuesday. "Just another political hit job! @SteveFDA"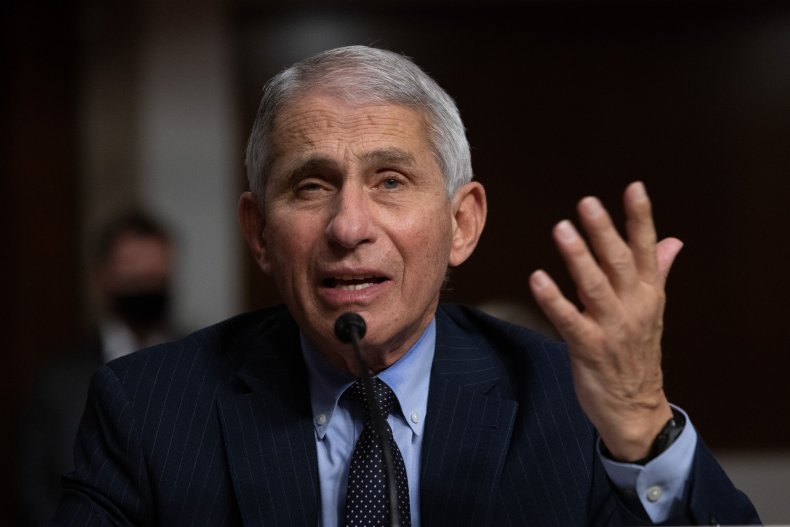 The FDA first planned to release a set of strict guidelines for an emergency authorization of a vaccine, standards which would make it near impossible for any vaccine to be deemed safe and effective before the November 3 election, The Washington Post reported September 22.
The agency's decision came amid mounting fear from the American public that any vaccine would be too rushed and potentially tainted because of Trump's repeated insistence that one would be ready before Election Day and his administration's interference with other health agencies, the Post reported.
In response, key White House officials at first blocked the stricter FDA guidelines from being approved, according to The New York Times. The agency submitted them to the Office of Management and Budget for approval more than two weeks ago, but they stalled in the office of Mark Meadows, Trump's chief of staff, the Times reported.
One of the FDA's main stipulations is that volunteers who have participated in vaccine clinical trials be monitored for a median of two moths after receiving the final dose before the government can grant any authorization, according to the Times. Given where the clinical trials currently stand, the two-month period would not be able to happen before November 3.
After the FDA submitted their guidelines to the White House in late September, Meadows raised several concerns, including questioning the need for the two-month follow-up period, according to the Times.
Trump told reporters on September 23, the same week the White House received the guidelines, that his administration "may or may not" approve them, suggesting the FDA's decision "was a political move more than anything else."
But on Tuesday, one day after Trump returned from Walter Reed National Military Medical Center, where he received treatment for his own coronavirus diagnosis, the White House reversed course, accepting the FDA's rules, which were finally published that same day, USA Today reported. The official guidelines do contain the two-month follow-up period.
The president, desperate for a second term in office, is relying on his administration's ability to push out a safe and effective vaccine before Americans finish casting their ballots on November 3.
Trump assured Americans Monday that they should not fear COVID-19 and that a vaccine is coming "momentarily," he said in a video filmed moments after he returned from the hospital.
If Trump were to achieve this goal, it could bode well for his chances at re-election, possibly proving to the American people his strength as a leader in controlling a virus that has claimed the lives of more than 211,000 Americans and upended daily life for nearly seven months.
But companies working on top vaccine contenders under Trump's Operation Warp Speed are casting doubt on their ability to have doses available in time for the election.
Stéphane Bancel, the CEO of Moderna, told the Financial Times on Wednesday that November 23 is the earliest his company could request vaccine authorization from the FDA. And he didn't expect to have approval for distributing the vaccine to all Americans until spring of 2021.
Fauci has also said it is "unlikely" that there would be a definitive answer to a vaccine's efficacy before Election Day.
During his interview Thursday, Fauci spoke to where the U.S. is currently at in terms of its handling of coronavirus. The country is still reporting roughly 40,000 new COVID-19 cases each day, and those numbers could grow even worse as temperatures get cooler and more people seek indoor activities, Fauci said.
"I'm not comfortable with that," he said. "I would like to see that level, way, way down, well below 10,000."