Dr. Fauci Focused on Vaccine Development Efforts, Hasn't Spoken to Trump in Weeks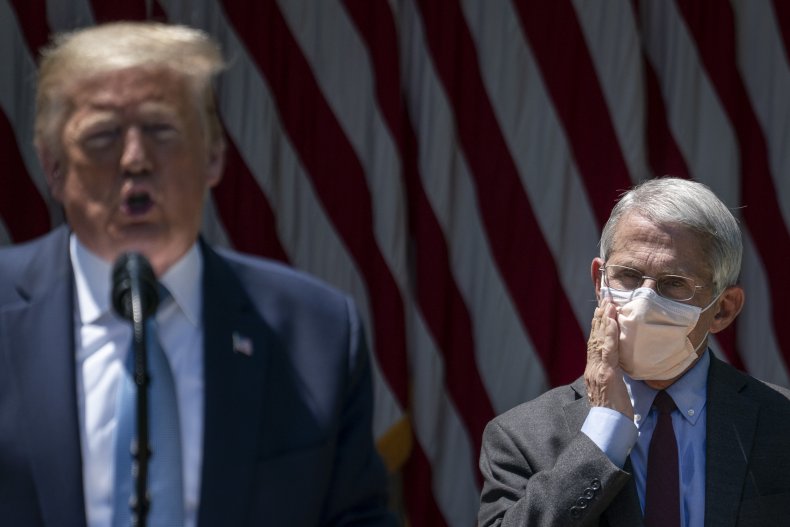 Leading U.S. infectious disease expert Dr. Anthony Fauci revealed he has not spoken to President Donald Trump in two weeks, while insisting his work with the Coronavirus Task Force continues and progress is being made on efforts to develop a vaccine.
Fauci and other members of the task force had been meeting with Trump regularly to discuss public health strategies during the first months of the pandemic. However, in an interview with NPR released on Tuesday, Fauci said he had not spoken with the president in weeks.
"I spoke with him when we made the presentation to explain to him our vaccine development efforts," said Fauci. "So, it was two weeks ago."
Although meetings with the president have become rare, Fauci said that vaccine development efforts are "moving very quickly" and he is cautiously optimistic that initial doses of a potential vaccine could be available by the end of the year or "the first few months of 2021."
Last month, the White House shifted public focus away from the health efforts of the task force, which had been holding daily televised press briefings, and onto reopening the economy.
Fauci previously noted that the president's personal dealings with the task force had "dramatically decreased" during an interview published June 1 by health care news outlet STAT News.
"We used to have task force meetings every single day, including Saturday and Sunday, and about 75 percent of the time after the task force meeting we'd meet with the president," Fauci told the outlet. "So I was meeting with him four times a week back, a month or so ago."
"But as you probably noticed, the task force meetings have not occurred as often lately," he added. "And certainly my meetings with the president have been dramatically decreased."
Public health experts have pointed out that several states are experiencing a recent rise in cases of the virus. Regardless, the administration has dismissed any notion of the country shutting down a second time in response a spike in cases.
Vice President Mike Pence, who Trump assigned to lead the task force in late February, insisted that "panic" over the virus surging as states continue to open is "overblown" in an opinion piece published by The Wall Street Journal on Tuesday.
Fauci has not called for a second lockdown but has sometimes expressed concern over the pace and manner of reopening amid the pandemic, noting that the country is still yet to exit the first wave of the virus.
On Tuesday, the doctor said that individuals choosing to ignore public health advice could be contributing to a surge in cases, even if states are following guidelines that could limit the spread of the virus.
Fauci warned against people gathering in public but urged those who insist on gathering to continue to wear masks and follow other guidelines.
"A state may be saying 'OK, we are in this particular stage of the reopening,' but then you might find people within the state actually not really adhering to the kinds of structured guidelines that belong to the phase they are in," Fauci told NPR. "That clearly is increasing the risk and likely explaining some of the upticks that you're seeing."
There were more than 2.2 million COVID-19 cases in the U.S. as of Tuesday night, including over 119,000 deaths and about 900,000 recoveries.
Newsweek reached out to the White House for comment. This article will be updated with any response.