Dr. Fauci Predicts Up to 200,000 New COVID Cases Per Day By Fall
National Institute of Allergy and Infectious Diseases Director Dr. Anthony Fauci is predicting that by the fall, there will be up to 200,000 new daily COVID-19 cases in the U.S. driven by the Delta variant.
"Remember, just a couple of months ago, we were having about 10,000 cases a day," Fauci told McClatchy's DC Bureau on Wednesday. "I think you're likely going to wind up somewhere between 100,000 and 200,000 cases."
"What we're seeing, because of this increase in transmissibility, and because we have about 93 million people in this country who are eligible to get vaccinated who don't get vaccinated — that you have a significant pool of vulnerable people," Fauci said. "And so when you look at the curve of acceleration of 7-day averages of cases per day, it is going up in a very steep fashion."
Fauci's estimate would bring figures much closer to January's numbers. The highest number of cases recorded in a single day was on January 7 when 295,880 new infections were reported.
Cases plummeted back down to the 8,000 mark in June, but the highly transmissible Delta variant, which has become the dominant strain of the coronavirus in the U.S., is causing infections to surge once again.
According to data from the Center for Disease Control and Prevention (CDC), the variant accounts for more than 90 percent of the country's new infections.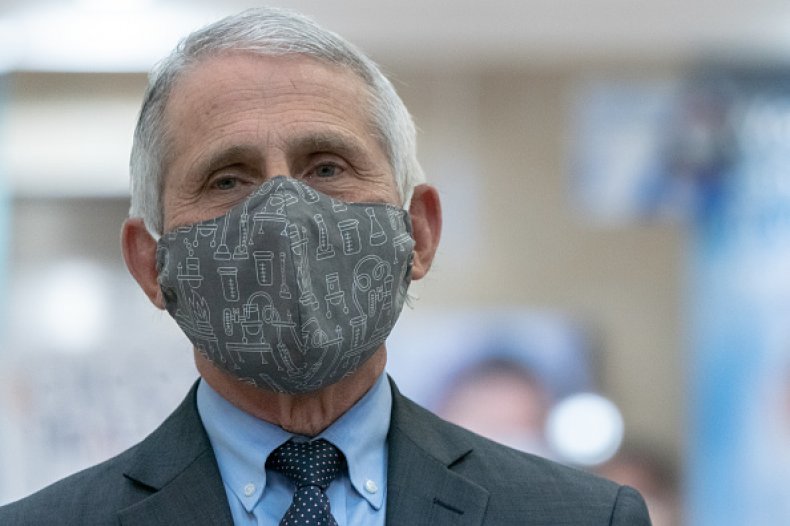 While the vaccines against the coronavirus do not guarantee immunity from the virus, health officials are urging people to get their shots, which preliminary data has shown to be effective at preventing serious illness, even in cases involving the Delta variant.
Unvaccinated people currently account for 99.5 percent of COVID-related deaths and about 97 percent of hospitalizations.
Despite the push to get more people vaccinated to combat the recent surge, roughly 32 percent of Americans over the age of 12 are still unvaccinated. Fauci has suggested that it may already be too late for vaccines, which take a couple of weeks to work, to stifle the surge looming in the fall.
"Even if we vaccinated everyone today, we're not going to see an effect until the middle to end of September," he said.
However, the top infectious disease expert warned that if there are not more drastic measures taken to encourage vaccinations, the virus will continue to mutate into a potentially even stronger variant than the one that's currently spreading.
"If we don't crush the outbreak to the point of getting the overwhelming proportion of the population vaccinated, then what will happen is the virus will continue to smolder through the fall into the winter, giving it ample chance to get a variant which, quite frankly, we're very lucky that the vaccines that we have now do very well against the variants — particularly against severe illness," Fauci said. "We're very fortunate that that's the case. There could be a variant that's lingering out there that can push aside Delta."
"If another one comes along that has an equally high capability of transmitting but also is much more severe, then we could really be in trouble," he added. "People who are not getting vaccinated mistakenly think it's only about them. But it isn't. It's about everybody else, also."
Fauci's remarks come as another highly contagious variant is gaining attention.
The Lambda variant, which has been spreading through South America, is now being seen in Texas and South Carolina.
While much remains unknown about the mutation, the World Health Organization has said the Lambda variant has the potential for increased transmissibility or possible increased resistance to vaccines than the original strain of the coronavirus.