On Friday, Dr. Anthony Fauci, director of the National Institute of Allergy and Infectious Disease, said coronavirus antibody tests were just days away from being put in use and a "rather large number of tests," will be available within a week.
While appearing on CNN, Fauci was asked if the U.S. was really "just days away from," from the tests being in use, to which he answered by saying, "yes."
"Actually at the last task force meeting the individuals responsible for both developing, validating and getting the tests out, are saying, and I'm certain that's gonna happen, that within a period of a week or so, we're gonna have a rather large number of tests that are available," Fauci added.
Fauci went on to explain the difference between an antibody test and a test to see who is infected with coronavirus, and how the two will be used "in parallel" with each other.
"We still rely appropriately and heavily on the test to show that someone is in fact infected," Fauci said. "Whereas the antibody test says that you were infected and if you're feeling well, you're very likely recovered. When you're trying to find out whether a person is infected that's the test we always talk about," Fauci said about the antibody tests.
According to Fauci, the antibody tests will help to show "how much that virus has penetrated the society," as more times goes by and the U.S. gets to the point of "considering opening up the country."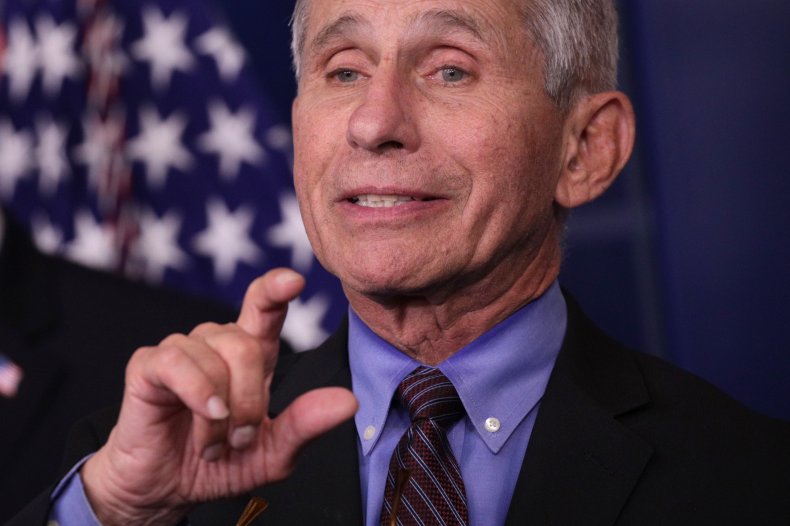 "Because it's very likely that there are a large number of people out there that have been infected, have been asymptomatic and did not know they were infected," Fauci said. "Because if their antibody test is positive, one can formulate kind of strategies about whether or not they would be at risk or vulnerable to getting re-infected. This would be important for healthcare workers, for first-line fighters."
While the antibody tests will show who has been infected with this virus, Fauci said it is "possible" when asked if he could imagine a time where Americans are instructed to hold a certificate of immunity.
"It's one of those things that we talk about when we want to make sure that we know who the vulnerable people are and not," Fauci added.
Fauci's remarks come just one day after he spoke about a reduced death toll projection in the U.S., stating that the final toll "looks more like 60,000 than the 100,000 to 200,000," which was previously forecasted by the White House Coronavirus Task Force.
Despite a reduced death toll estimate and the soon-to-be-available antibody tests, the novel coronavirus, which causes the respiratory disease COVID-19 continues to spread throughout the U.S. According to a tracker provided by Johns Hopkins University, there are currently over 466,300 confirmed coronavirus cases and at least 16,703 deaths in the U.S.