Dr. Fauci Says Coronavirus Vaccine Could be Widely Available by January if 'Things Fall in the Right Place'
Dr. Anthony Fauci, director of the National Institute of Allergy and Infectious Diseases, is confident that January is a realistic deadline for a SARS-CoV-2 vaccine to become widely available, if "things fall into place."
Speaking to Today's Savannah Guthrie on Thursday morning, Fauci said he was part of the team at the White House that was developing the vaccine plan. A Phase I trial is underway for a potential vaccine and the next step would be to do a Phase II trial to determine if it works and is safe.
If the vaccine proves to be a viable option in the Phase I trial, the administration won't wait for results from the Phase II trial to start producing the vaccine, according to Fauci.
"You don't wait until you get an answer to start manufacturing," Fauci told Guthrie. "You, at risk, proactively start making it assuming it's going to work and if it does then you can scale up."
By ramping up production "at risk," if the results are positive from the Phase II trial, it'll mean a quick roll out to the general public because the supplies are already in place.
While a January 2021 timeline may seem shocking for people who kept hearing "12 to 18 months," Fauci noted that when he first started giving that timeline, it was back in January and February. So, it isn't all that different from his original statements, but he added it's "aspirational."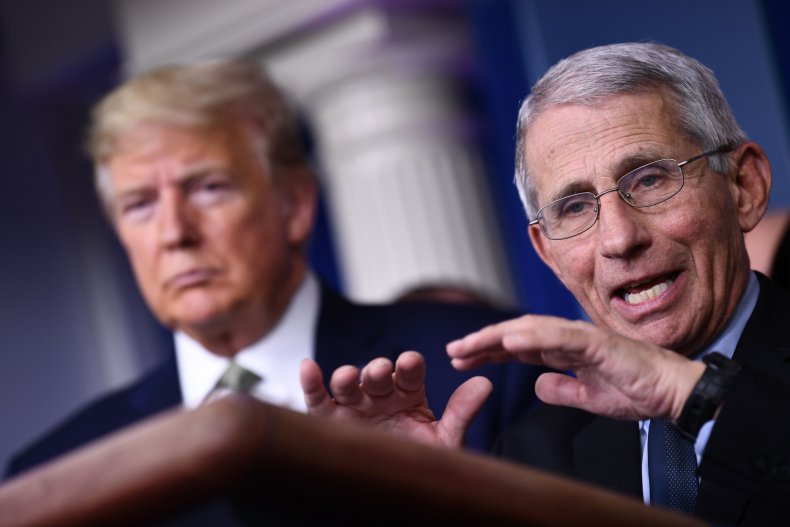 Governors in Illinois and California floated the idea that mass gatherings could be canceled until a vaccine is available and New York Governor Andrew Cuomo said the crisis won't be over until people can be inoculated. Even if officials lift restrictions before a vaccine is ready, business leaders are concerned that consumers won't fully return until they can be protected against the new coronavirus.
"Of course we worry about it," Chris Narsetta, president and CEO of Hilton, said during a Wednesday roundtable at the White House.
President Donald Trump acknowledged that vaccines haven't been created for every virus, but said "a lot of progress" was being made with the one for SARS-CoV-2. Although he thinks America will be successful with a new coronavirus vaccine, he wouldn't wait for that to reopen restaurants and stadiums at 100 percent capacity.
As of Friday morning, 1,040,488 people in America have been confirmed to have the virus, according to the Johns Hopkins University tracker. Of those people, 60, 999 people have died and with encouraging results from a trial for a treatment drug, called a therapeutic, Trump said he might prefer treatment over a vaccine.
"If you gave me both, I'd rather have the [therapeutic] because that makes people better right now," Trump said on Wednesday. "Whether it's helping them along or makes them better almost instantly, we have to see."
It's likely a therapeutic will be on the market before a vaccine because when you're dealing with people who are already ill, the safety issues are "much, much different," according to Fauci. Plus, you can tell if the drug is working "almost immediately," whereas determining the efficacy of a vaccine requires additional research.
The vaccine's in the third phase of the Phase 1 study and Phase II will start in the summer, which will involve hundreds of people, according to Fauci.