Dr. Fauci Says He's Hopeful We'll Be On Our Way Toward 'Normalization' By Summer
Dr. Anthony Fauci, a key member of the White House Coronavirus Task Force, said that he hopes the U.S. can be back to normal by summer but cautioned that it depends on the mitigation measures that are in place.
During a Thursday interview with CBS This Morning, Fauci, who serves as the director of the National Institute of Allergy and Infectious Diseases, was asked if he could "envision" that Americans would be at beaches and holding social gatherings like normal by summertime, based on current modeling of the coronavirus pandemic. The public health official expressed cautious optimism that this could be possible.
"It can be in the cards and I say that with some caution," Fauci said, "because as I said, when we do that, when we pull back and try to open up the country...we have to be prepared that when the infections start to rear their heads again that we have in place a very aggressive and effective way to identify, isolate, contact trace and make sure we don't have those spikes that we see now."
"So the answer to your question is yes, if we do the things that we need to do to prevent the resurgence," Fauci said. He also suggested that some steps toward normalization could begin by the end of the month, but the health official noted that this would not be like a "light switch that you turn on and off."
Stringent federal social distancing guidelines put forward by the White House are currently only in place through April 30, but could potentially be extended. Some local leaders and health officials have already anticipated that the pandemic's spread could continue much longer than the current federal guidelines suggest. Virginia's governor has put in place a stay-at-home order that's valid through June 10.
Before extending the social distancing guidelines through April, President Donald Trump had suggested that the economy could fully reopen as soon as Easter. But many health experts were quick to criticize the suggestion, noting that modeling suggested the coronavirus outbreak would just be reaching its peak by mid-April. Now administration officials are suggesting they hope to start reopening the economy in four to eight weeks.
"I know the president is very much looking at how we can reopen parts of the economy," Treasury Secretary Steven Mnuchin told Fox Business on Tuesday. He suggested that some parts of the country could reopen sooner than others, noting that areas like New York are especially hard hit by the pandemic.
White House economic adviser Larry Kudlow also told Politico this week that he believes "that in the next four to eight weeks we will be able to reopen the economy and that the power of the virus will be substantially reduced and we will be able to flatten the curve."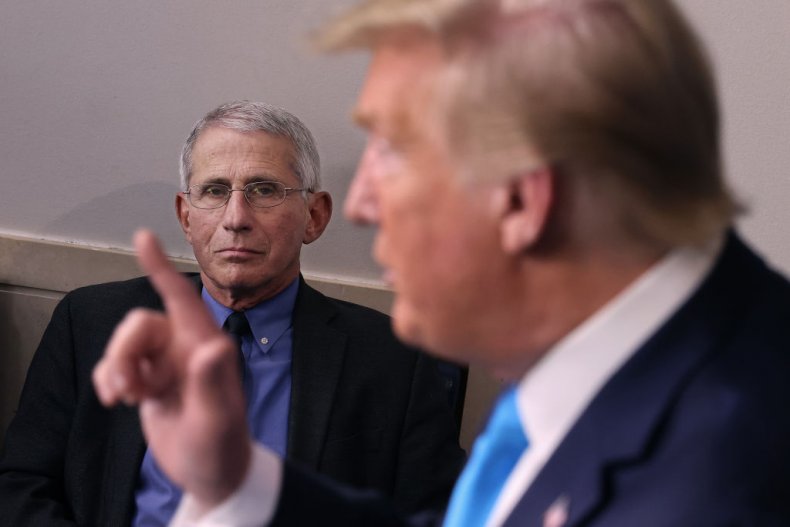 Many health experts and medical practitioners have cautioned, as Fauci has, that the coronavirus could make a resurgence even if the U.S. gets the number of new infections and deaths under control in the short term. A vaccine for the novel virus is not expected for at least a year, meaning mitigations steps would be necessary to prevent further outbreaks.
The Chinese government has begun lifting the stringent lockdown measures it had imposed on Wuhan, where the first cases of coronavirus were discovered. The city was formerly seen as the global epicenter of the outbreak, but now the U.S. has far outpaced China in the number of confirmed cases. Meanwhile, China moved this week to lockdown Suifenhe, a city in the northernmost Heilongjiang province bordering Russia, where it saw a surge in new cases.
As of Thursday morning, the U.S. has more than 430,000 confirmed cases of coronavirus. Of those, more than 14,800 have died while more than 24,000 people have already recovered.