Dr. Fauci Says It's 'Conceivable' That Coronavirus Vaccine Ready By October But 'Not Likely'
Dr. Anthony Fauci, a key member of the White House coronavirus task force, said that it's "conceivable" that a safe vaccine for the novel coronavirus could be ready by October, but he expects it is more likely to be ready by closer to the end of the year.
As the COVID-19 pandemic continues across the country, promising vaccine trials by leading pharmaceutical companies have proceeded rapidly, with several promising candidates emerging. Various estimates of a potential timeline for a safe and effective vaccine to be approved have been projected by heads of different companies and public health officials.
"These are all guesstimates," Fauci, director of the National Institute of Allergy and Infectious Diseases, said during a Thursday interview with CNN. "I mean, if you look at the projection of the enrollment and the kind of thing you'll need to get a decision about whether the vaccine is safe and effective, most of us project that that's going to be by November [or] December—by the end of the year."
But Fauci added that it could be earlier. "So if somebody comes out and says, you know, 'I'm gonna shoot for the possibility that I'll get it out by October,' it's hard to argue strongly against that. It's unlikely, not impossible," he said. "I think most of the people feel it's gonna be November-December," the public health official said.
Fauci said depending on how trials proceed, it would be "conceivable that you could have it by October, though I don't think that that's likely."
The White House task force member also pushed back in the interview against concerns raised by some that a potential COVID-19 vaccine could be politicized, and be given early approval by the Food and Drug Administration to benefit President Donald Trump's administration. Fauci noted that the FDA has been "very explicit" that any approval will be based on scientific data, not politics.
"We can have some confidence and some faith in what the FDA is saying," he said.
Newsweek reached out to the FDA for comment, but it did not respond by the time of publication.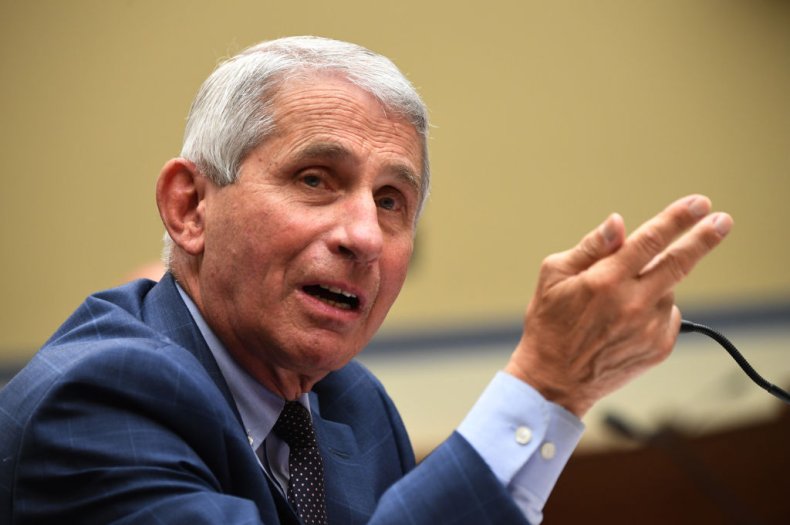 As of the early afternoon on Thursday, the U.S. had recorded more than 6.1 million confirmed cases of the novel coronavirus. From those reported infections, nearly 186,000 people have died, according to The New York Times tracker. But the number of new daily nationwide infections has declined from a July peak of more than 75,000 new cases to a running seven-day average of about 40,531 daily new infections. The seven-day average of daily deaths stands at 862, while 1,076 people died from the virus on Wednesday.
If a vaccine is ready by October, or even by the end of the year, it will have been developed in record-breaking time. Efforts to mobilize and develop a COVID-19 vaccine began earlier this year, after the virus began to spread rapidly across the country in March. The first confirmed case in the U.S. was reported on January 20. The previous record for a vaccine being developed was four years. That was for mumps and it was released in 1967.