Dr. Fauci Says Some Places 'Better Hold Off' on Thanksgiving Celebrations
Some places in the U.S. may need to take extra precautions against the spread of the coronavirus during the upcoming Thanksgiving holiday, Dr. Anthony Fauci told CNN on Monday.
Fauci, Director of the National Institute of Allergy and Infectious Diseases, has been a member of the White House coronavirus task force since its inception in January. Although positive cases of the coronavirus have declined in some areas of the U.S., Fauci told CNN's Chris Cuomo that surges of the virus as the weather grows cooler are possible. Those increases in COVID-19 cases could affect how Americans normally celebrate the November holiday.
Fauci acknowledged that some U.S. regions are "looking good" as far as case positivity. "But what we're starting to see now—and we can't run away from it—we're starting to see in the midwest and the northwest an uptick in test positivity which tends to be a predictor that you're going to have surges," Fauci said. "When you go into the fall and winter, the weather's colder, you tend to be indoors. When you're indoors it becomes more problematic to be able to block the transmission of infection."
"I say that some people in this country are going to be a relatively normal type of a Thanksgiving but in other areas of the country, it's gonna be—you better hold off and maybe just have immediate family," Fauci continued. "Make sure you do it in a way that people wear masks and you don't have large crowds of people. You know, I'd like to say that everything is gonna be great by Thanksgiving, but I'm not so sure it is."
Guidance from the Centers for Disease Control and Prevention (CDC) suggests that people stay home for Thanksgiving instead of traveling in order to be together. Small dinners "with only people who live in your household" are recommended. Newsweek reached out to the CDC for further comment.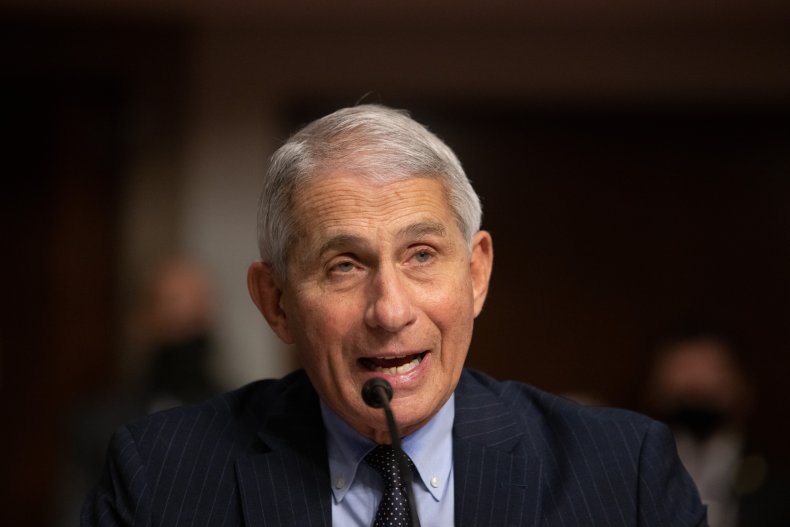 Saturday saw 2,892 new cases of coronavirus in Wisconsin, a state record. On Monday, Wisconsin reported 1,696 new positive cases of COVID-19 which brought the state's total to 134,359 cases of the coronavirus. In total, 1,381 fatalities have been attributed statewide to the virus. Wisconsin Governor Tony Evers said during a Friday interview with WBAY that people refusing to wear face masks could be blamed for the surge of coronavirus cases in his state.
"We have been in a position where half the state is cooperating and half the state has decided to go their own way," Evers said. "I know politics are involved with this, I get that, but at the end of the day we can't afford to go downhill any more than we have right now."
Despite the rise in U.S. positive cases, President Donald Trump said Monday that worrying about the coronavirus should not "take over your lives." Trump was released from Walter Reed National Military Medical Center on Monday after a three-day-long stay during which he was treated for coronavirus symptoms. Trump praised the therapeutics he was given for his recovery.
"And now I'm better, and maybe I'm immune," Trump said in a video posted Monday. "I don't know. But don't let it dominate your lives. Get out there, be careful."