Dr. Fauci Says Trump Is 'Not Absolutely Wed' to Reopening Country By Easter: 'The Pattern of the Virus Will Determine' Date
The United States will not necessarily resume business as usual two-and-a-half weeks from now, and President Donald Trump's stated intention to reopen the country by April 12 is an "aspirational goal," Dr. Anthony Fauci, National Institute of Allergy and Infectious Diseases director, told NPR Thursday.
"He knows, and we've discussed this with him, that you have to be very flexible in that. And he will be flexible," Fauci, a White House Coronavirus Task Force member, said. "He put [that date] out there because he wanted to give some hope to people, but he is not absolutely wed to that."
Fauci said that in a recent conversation with Trump, the president appeared "open-minded" and keen on ensuring that "the pattern of the virus is going to determine what we do."
Earlier this week, Trump sparked controversy during a Fox New coronavirus town hall when he told the public he'd "love to have the country opened up and raring to go by Easter," arguing that the U.S. "is not built to be shut down."
As of Thursday morning, more than 69,000 cases of COVID-19 had been confirmed in the U.S., according to data published by Johns Hopkins University. On Tuesday, the World Health Organization (WHO) reported that 85 percent of new coronavirus cases had been diagnosed in Europe and the U.S. The organization also acknowledged that the U.S. had the potential to become the next global epicenter of the outbreak.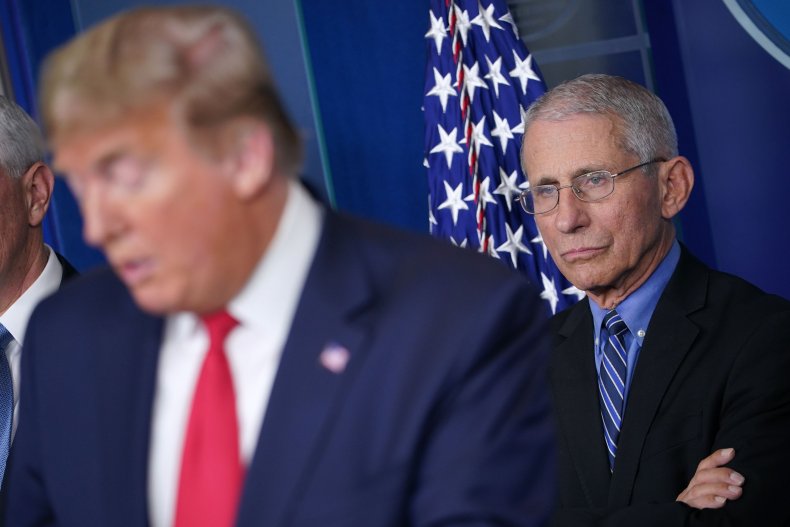 In response to the virus' accelerated impact, states across the nation have mandated closures of all nonessential businesses in an effort to encourage widespread isolation. Scientists and medical professionals have said this is the only reliable method to combat the disease's spread. Trump's comments during Tuesday's town hall stipulated that the remedy could "be worse than the problem itself" because of its economic impact.
"You can destroy a country this way by closing it down," Trump said Tuesday during the Fox News town hall. "People are going to go out of business and they're going to go bankrupt."
The Senate has since approved a $2 trillion stimulus package to help relieve some of the pandemic's projected economic consequences.
While the number of COVID-19 cases in the U.S. continues to climb, Fauci said there is the possibility of an upcoming "respite" during his conversation on NPR.
"We hope we get a respite as we get into April, May and June," because of the warmer weather, he said. Even so, Fauci noted that the disease could return next season "because it's a very vigorous virus and we're seeing it already infecting people in the southern hemisphere now, as they enter into their winter."