Dr. Fauci Says U.S. Coronavirus Deaths Could Be Far Less Than Predicted, But Cautions Against Loosening Social Distancing Restrictions
The United States could see as few as 60,000 fatalities as a result of the new coronavirus, Dr. Anthony Fauci said Thursday.
During an interview with NBC's "TODAY" Show, the National Institute of Allergy and Infectious Diseases director explained that countrywide social distancing efforts have lowered the mortality estimate by meaningful margins as compared with last week's projections.
"The real data are telling us it is highly likely we are having a definite positive effect by the mitigation things that we're doing, this physical separation," Fauci told NBC, referring to the White House's national guidelines, as well as individual stay-at-home orders enacted across more than 40 U.S. states. The infectious disease specialist said he believes behavior changes prompted by those policies have influenced a "downturn" in the country's predicted fatality count.
"It looks more like the 60,000 than the 100,000 to 200,000," Fauci said. "But having said that, we'd better be careful that we don't say, 'OK, we're doing so well we could pull back.'"
Coronavirus Task Force response coordinator Dr. Deborah Birx relayed initial U.S. death toll projections during a White House briefing on March 31. At the time, she said data indicated the virus would claim between 100,000 and 240,000 lives nationwide over the course of the pandemic, even with mitigation guidelines in place. Without social distancing, Birx warned that overall fatalities could exceed 2 million.
"Models are really only as good as the assumptions that you put into the model," Fauci said during Thursday's interview. "When you start to see real data, you can modify that model."
Thousands of new coronavirus cases and resulting deaths have been reported across the U.S. since the original projection model was presented. The nation confirmed its highest single-day increase in fatalities due to the virus on Wednesday, with more than 14,808 deaths now reported since the start of the domestic outbreak. The U.S., the epicenter of the global pandemic, has diagnosed at least 432,238 coronavirus cases as of Thursday morning, according to a tracker updated by Johns Hopkins University.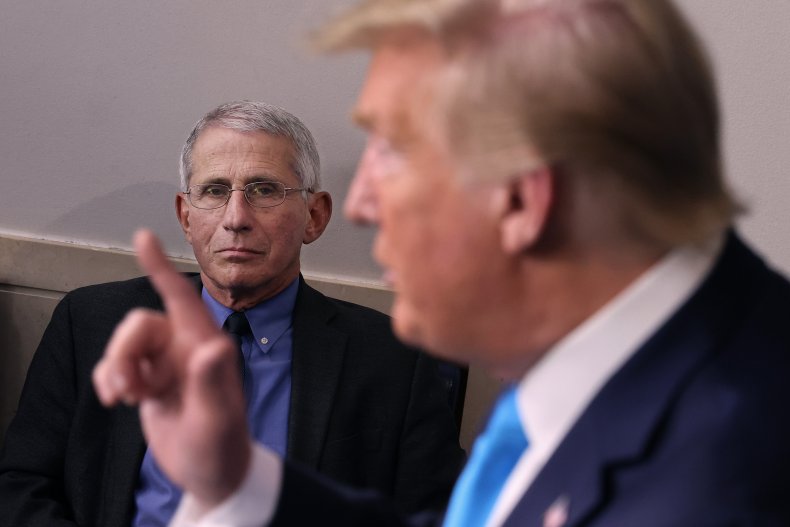 While Fauci acknowledged that the country is experiencing a particularly "bad" week, he suggested the outbreak's impact rate is stabilizing, echoing similar statements made by New York Governor Andrew Cuomo throughout the week.
"We are hoping, with cautious optimism, that at the same time we're in for a bad week, we're going to start to see a turnaround," Fauci said, citing lower hospitalization admissions and ICU transfers reported recently. Regarding a "flattening" of the coronavirus curve in New York, which has reported the highest incidence of coronavirus cases and deaths in the U.S., he cautioned against "jumping the gun" but said the beginnings of a shift in the state's outbreak trajectory could be on its way.