Dr. Fauci Says U.S. is 'Facing A Whole Lot of Trouble' With Coronavirus Cases as Temperatures Drop
Dr. Anthony Fauci warned Monday that the U.S. could face an increase in positive cases of COVID-19 as the weather becomes cooler.
Recent data indicated more than 8 million U.S. cases of coronavirus, with 220,010 deaths attributable to the virus. Some states are seeing a surge in positive cases, spreading resources thin. President Donald Trump, who contracted the virus in early October, said during a Saturday address that the virus would soon "disappear."
In a Monday interview with Shephard Smith on CNBC, Fauci said he believed that the U.S. is "facing a whole lot of trouble."
"We have a baseline of infections now that vary between 40,000 and 50,000 per day," Fauci said. "That's a bad place to be when you're going into the cooler weather of the fall and the colder weather of the winter."
Fauci explained that the combination of a higher baseline number of positive cases combined with chilly temperatures could make more people stay indoors. Fauci called that situation "a perfect set-up for an acceleration of respiratory-borne diseases."
"We're in a bad place now," Fauci added. "We've gotta turn this around."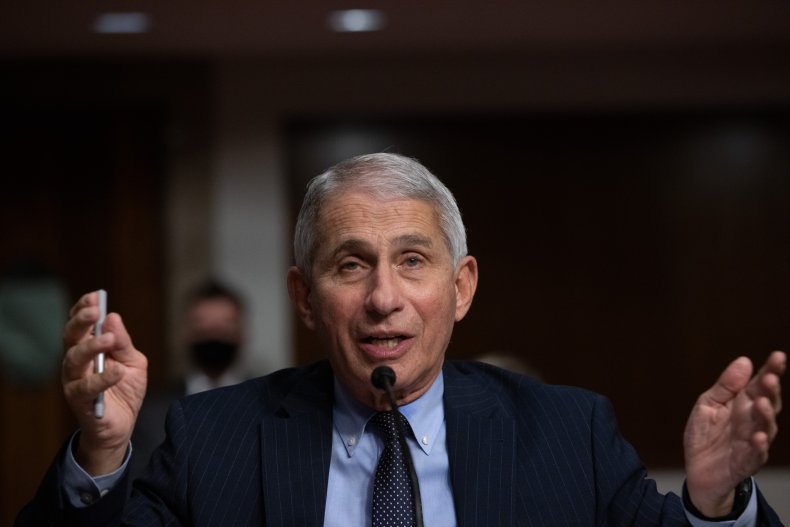 Fauci encouraged people to continue to follow "fundamentals" including wearing face masks and washing hands to curb the spread of COVID-19. "We've got to stop thinking we exist in a vacuum," Fauci said.
A member of the White House Coronavirus Task Force, Fauci said his research work on the coronavirus would continue regardless of who was running the county. "I'm not gonna walk away from this outbreak no matter who's the president," Fauci said.
In a news release sent to Newsweek on Monday, Johns Hopkins University School of Medicine said that COVID-19 cases could surge as the seasons change.
"Based on our early findings," assistant professor of psychiatry and behavioral sciences at the Johns Hopkins University School of Medicine Adam Kaplin M.D., Ph.D. said, "we believe we're going to be fighting an even greater uphill battle this fall, because the same level of social interventions used to prevent the spread of the virus this summer isn't going to contain it come autumn or winter due to lower temperatures."
Trump has praised an antibody treatment manufactured by the pharmaceutical firm Regeneron for his recovery from the coronavirus. According to a statement from White House physician Dr. Sean Conley on Monday, Trump is no longer "infectious to others."
On Saturday, Trump said in remarks from the White House that COVID-19 would go away by itself. "A lot of flare-ups but it's going to disappear, it is disappearing," Trump said.
Many states are experiencing a surge in positive cases. On Monday, Iowa reported a total of 100,202 positive cases of the virus with 510 new cases recorded. Trump is expected to hold a campaign rally in Des Moines on Wednesday.
Des Moines Mayor Frank Cownie expressed concern on Sunday that Trump's campaign event could turn into a "super-spread event."
"We urge everyone who would attend this event to wear a mask and social distance as best they can and to stay safe and healthy," Cownie told the Des Moines Register.
Trump's rally is expected to take place at the Des Moines International Airport in an open door hangar.
Updated 8:49 p.m. EST: This story has been updated with a statement from Johns Hopkins University.