Dr. Fauci Says WH Rose Garden SCOTUS Event Was a COVID-19 'Superspreader'
Dr. Anthony Fauci said that the White House Rose Garden event on September 26 to mark the Supreme Court nomination of Judge Amy Coney Barrett was a coronavirus "superspreader."
"Well, I think the data speaks for themselves. We had a superspreader event in the White House," the nation's leading infectious disease expert told CBS News Radio on Friday. "And it was in a situation where people were crowded together without wearing masks, so the data speaks for themselves."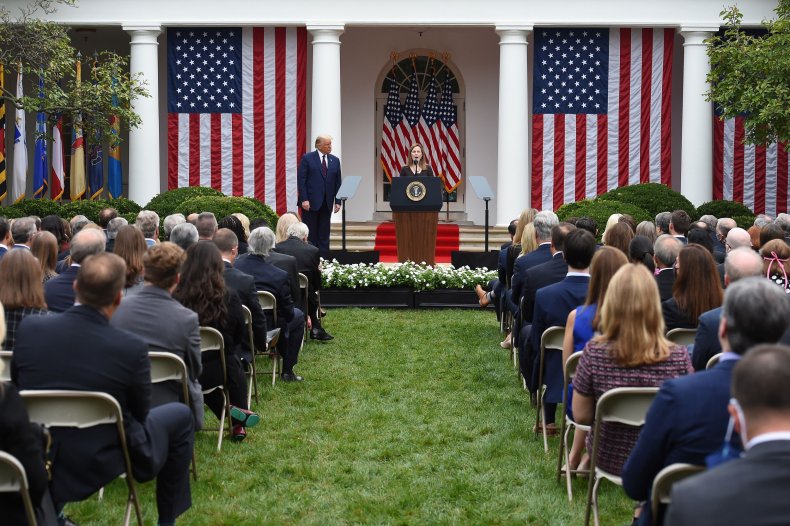 President Donald Trump officially announced Barrett as his nominee for the Supreme Court last month, following the death of Justice Ruth Bader Ginsburg. Less than a week after the White House ceremony, the president said that he and first lady Melania Trump tested positive for the novel virus. A number of other White House staff members and Republican lawmakers who attended the event also confirmed they were diagnosed with COVID-19.
Newsweek reached out to the White House for comment, but did not receive a response in time for publication.
Prior to Fauci's comments, recently released data suggested that the event was a superspreader for the novel virus.
According to the data, which was compiled by Peter James Walker and released on Tableau Public, at least 37 COVID-19 cases were confirmed within 12 days after the September 26 event. Among the 37 confirmed cases following the event, at least 11 of them were in attendance for Barrett's nomination ceremony, and pictures showed a majority of people in the Rose Garden not wearing masks or practicing social distancing measures to help mitigate the spread of the virus.
In an email sent to Newsweek, Walker made comments similar to Fauci's, when asked if the September 26 event was a superspreader.
"As to whether the ACB nomination was a super-spreader, the data are rather clear. There were 11 people who later tested positive at the event and it was unique in that many attending came in from across the country and then returned to their home states," Walker told Newsweek via email.
Fauci has continued to stress the importance of wearing masks during the ongoing pandemic, and while speaking with CBS News Radio, he said, "We've found out a couple of other things that made it compelling to recommend strongly that everyone wear a mask."
"We found out that about 40 to 45 percent of all infected people did not have symptoms," Fauci said. "So, you do not know that they are infected. And we found out that those people are a substantial part of the people that actually transmit infections to other people."
The director of the National Institute of Allergy and Infectious Diseases added that "so the better part of the recommendation would be everybody should wear a mask, literally, universally."
This story has been updated with additional information and background.