Dr. Fauci Has His Own Beer Thanks to This Georgia Brewery
A Georgia brewery has released two new beers that people can enjoy while social distancing, one celebrating pandemic response team leader Dr. Anthony Fauci.
Wild Heaven Brewery in Avondale, Georgia, posted its "Don't Stand So Close to Me" German-style lager and "Fauci Spring" açaí pale ale on Twitter. Both sound like delicious options for people to enjoy in their own homes (especially an açaí pale ale-that sounds awesome), while practicing social distancing.
Brewery President Nick Purdy told Newsweek that Wild Heaven thought that beer named after Fauci would make people happy. "We were inspired to try to put some smiles on people's faces. That's the job of a brewery on most days, and it seems even more so right now," he told Newsweek. "This beer and 'Don't Stand So Close to Me' were beers that were already in process with a different plan of distribution, but things changed. So, we had to decide what to do with these beers, and canning them up and having some fun with the name just seemed like the thing to do."
Purdy also explained what beer drinkers can expect from the new drafts. "Don't Stand So Close to Me is sort of like a classic German lighter beer, in the lager category. Fauci Spring is a very experimental and weird beer that people are liking—and that's kind of surprising to us in some ways that they like it so much, because it is a strange beer with a brand new hop in it that doesn't even have a name yet that is a mixture of cocoa and tropical and berry [author's note: yum], which are not three flavors you would think to put together, but somehow it works."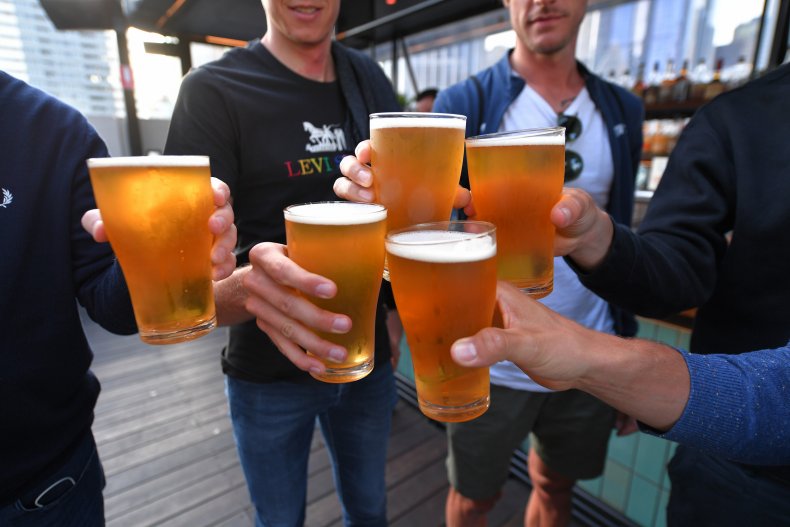 According to WPXI, the brewery also plans to release a third social distancing–inspired beer—the "We Will Meet Again" rye IPA (which is really more my speed). "That really comes from Queen Elizabeth II. She gave a beautiful and inspiring speech to the British people, and it's actually pretty rare, aside from her annual Christmas message, that she has ever spoken to them. So, it was historic even for that, but it was also an inspiring thought as we start to maybe see flickers of light at the end of tunnel," Purdy said. "I think having something to look forward to is a great idea."
According to the Wild Heaven website, its beers are available in Georgia, Tennessee, Florida, Alabama and in Greenville, South Carolina. Unfortunately, the social distancing–inspired beers are only available in Georgia, even though there's been nationwide desire for the beer. "We've gotten hundreds of requests and phone calls and emails from around the country of people wanting to buy the beer, and we're not allowed to ship it direct to consumers by law. So, the only way to get it is at our breweries—and we actually sold out [Friday], but coming back soon—and there's a few stores around Atlanta that actually got a very small amount," Purdy said.
For Georgia residents that may be looking to toast Fauci with the beer bearing his name, the brewery is open for curbside pickup.
Purdy said that he hopes that his brewery can still bring joy to the community, even through this difficult period. "I think it's important that breweries, who are already community minded, we just keep trying to figure out ways to be servants of our communities during a time where everybody's just pulling together," Purdy said. "We take the crisis extremely seriously, and it's completely upended how we do business. But at the same time, we're in the happiness business, if we can provide a little bit of light in the middle of all this, then job well done."