Dr. Fauci 'Stunned' That Some Americans Still Don't Believe COVID is Real After So Much Death and Devastation
Dr. Anthony Fauci, the nation's leading infectious disease expert, said he is "stunned" that some Americans still believe that novel coronavirus pandemic is a hoax after so much death and devastation.
During a New York Times interview published Thursday, Fauci, the director of the National Institute of Allergy and Infectious Diseases, spoke about states that have mask mandates and how they have trouble enforcing residents to abide by them.
"That's really one of the reasons there's a reticence on the part of many people, including myself, [to support a national mandate]. If you have a mandate, you have to enforce it. And hopefully we can convince people when they see what is going on in the country," Fauci said during the interview. "I was stunned by the fact that in certain areas of the country, even though the devastation of the outbreak is clear, some people are still saying it's fake news."

He continued, "That is a very difficult thing to get over. Why people still insist that something that's staring you right in the face is not real."
Fauci's comments come amid surging cases of COVID-19 across the U.S. as Americans prepare for the upcoming holidays and winter months, with an increase in indoor activities.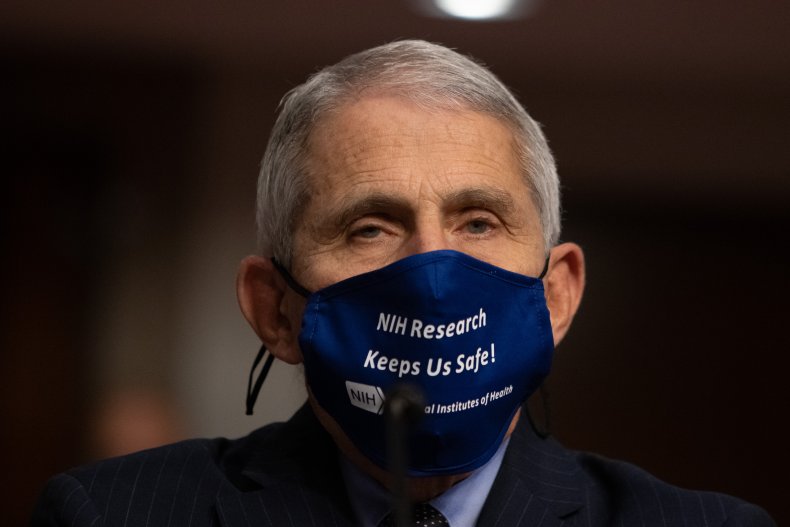 According to data from Johns Hopkins University, the U.S. has recorded over 100,000 daily cases since November 3. Across the U.S. there are currently over 11.6 million confirmed cases of the novel coronavirus, and at least 251,328 deaths.
A poll conducted by Pew Research Center in July found 25 percent of Americans saying that they believe the theories that the novel coronavirus outbreak was intentionally planned by powerful people.
During his interview with the Times, Fauci also spoke about a national mask mandate and his view on it. President Donald Trump's administration has not imposed a nationwide mask mandate and instead has left a majority of decisions up to state and local lawmakers.
"I think that there should be universal wearing of masks. If we can accomplish that with local mayors, governors, local authorities, fine. If not, we should seriously consider national," Fauci said. "The only reason that I shy away from making a strong recommendation in that regard is that things that come from the national level down generally engender a bit of pushback from an already reluctant populace that doesn't like to be told what to do."
Additionally, Fauci was also asked about participating in different activities during the winter months, such as eating indoors at restaurants, going to bars or getting a haircut at a salon.
He noted that he would not feel safe eating at an indoor restaurant without a mask, but added that, "Bars are really problematic."
"I have to tell you, if you look at some of the outbreaks that we've seen, it's when people go into bars, crowded bars," he told the Times. "When you're at a bar, people are leaning over your shoulder to get a drink, people next to each other like this. It's kind of fun because it's social, but it's not fun when this virus is in the air. So I would think that if there's anything you want to clamp down on for the time being, it's bars."
Fauci declined further comment after Newsweek reached out to the National Institute of Allergy and Infectious Diseases.