Dr. Fauci Tells Kids Not to Worry, Santa Has Been Taking Serious COVID Precautions
Coronavirus is raising a lot of questions about how to properly celebrate the holidays this year, but kids should not fret over Santa Claus. In a recent press conference, infectious disease expert Dr. Anthony Fauci told children not to worry about Kris Kringle spreading any germs this upcoming holiday season.
"Santa is exempt from this because Santa, of all the good qualities, has a lot of good innate immunity," Fauci told USA Today this week. "Santa is not going to be spreading any infections to anybody."
Fauci and other health experts have weighed in on and approved of Santa's COVID precautions. So, folks can rest assured knowing that Santa is taking the pandemic very seriously.
This holiday season, Santa has been taking precautions regarding visits and photographs at the mall, where children typically sit on his lap and tell him what they want for Christmas. Instead, he's been practicing social distancing, and will be keeping tabs on his naughty and nice list from a healthy remove.
"Santa does not want the kids to line up waiting to see him because he doesn't want to spread germs. Santa gets sad if the kids or their families are sick," said Dr. Gina Song, a pediatrician at Northwestern Medicine Delnor Hospital. "So this year, Santa will be watching you from afar, giving you the gift of good health and will only visit when no one is around on Christmas Eve."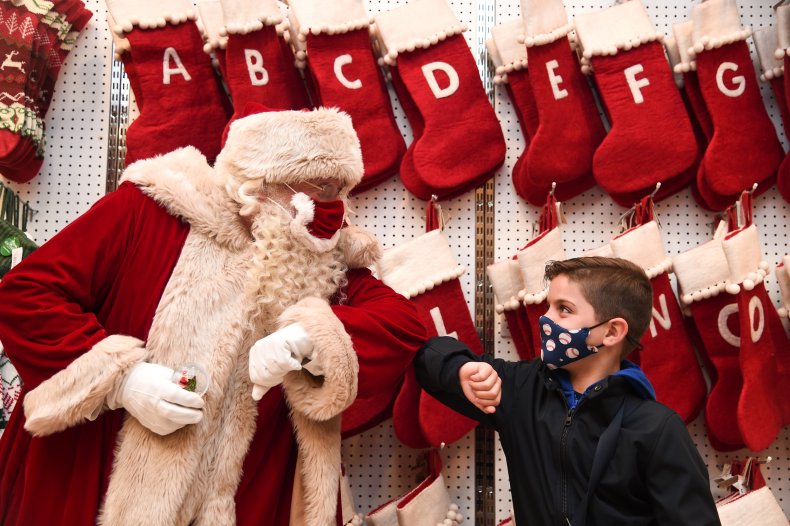 People recommends setting up virtual visits and video calls with Santa, along with doing COVID-friendly mall visits (which could include plexiglass barriers and Santa in a mask). Kids can also mail Santa a letter and get one in return. The U.S. Postal Service recently shared simple instructions on Twitter for how to get special snail mail from Santa.
Dr. Peter Hotez, the dean of the National School of Tropical Medicine at Baylor College of Medicine in Houston, told USA Today about the working conditions in Santa's workshop up north. "I hear the ventilation in Santa's workshop is not the best, and opening windows in North Pole winters problematic," he shared. "The good news is that mask compliance there is pretty good, and the elves are committed to social distancing. Mrs. Claus has implemented a program of regular testing and the reindeers now lead contact tracing."
Additionally, Dr. Greg Poland, director of the Mayo Clinic's Vaccine Research Group, revealed that despite how cautious the elves are, two fell ill with the virus, but neither cases are serious. "It was a good reminder to the elves about wearing the mask properly. They now do that. It's mandatory in the North Pole," Poland said of the learning experience.
Along with these precautions, Santa is also forgoing his annual appearance in the Macy's Thanksgiving Day Parade.