Dr. Fauci Tersely Calls Out Rand Paul for Misconstruing His Remarks: 'You've Done That Repetitively'
Dr. Anthony Fauci and Senator Rand Paul, a Kentucky Republican, had a tense exchange on Wednesday during a Senate hearing, in which the key White House coronavirus task force member called out the GOP lawmaker for misconstruing his remarks.
Paul argued that Fauci's praise of New York's response to the COVID-19 pandemic was misplaced.
"You've been a big fan of [New York Governor Andrew] Cuomo and the shutdown in New York. You've lauded New York and their policies. New York had the highest death rate in the world. How can we possibly be jumping up and down and saying, 'oh, Governor Cuomo did a great job!' He had the worst death rate in the world," Paul said.
Fauci responded tersely.
"No, you've misconstrued that senator and you've done that repetitively in the past," the director of National Institute of Allergy and Infectious Diseases responded. "They got hit very badly. They've made some mistakes. Right now, if you look at what's going on right now, the things that are going on in New York to get their test positivity rate—1 percent or less—is because they are looking at the guidelines that we have put together from the task force," Fauci said, pointing to masking, social distancing, handwashing and encouraging primarily outdoor socialization.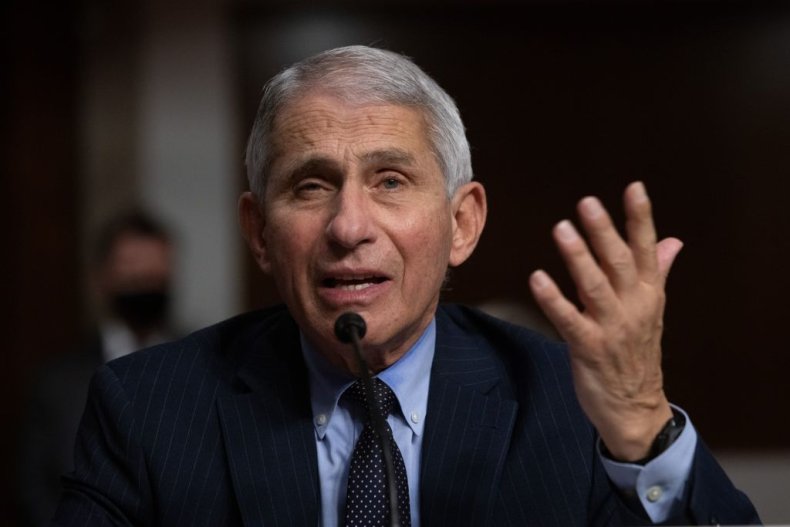 Paul then suggested that New York had managed to gain enough community immunity to prevent a new outbreak, a claim which the Republican senator has made before that is not backed by any scientific evidence.
"I challenge that senator," Fauci said forcefully in response. "I want to—please sir, I would like to be able to do this, because this happens with Senator Rand all the time," he said as the time was running out. "You are not listening to what the director of the CDC said, that in New York, it's about 22 percent [immunity]. If you believe 22 percent is herd immunity, I believe you're alone in that," the public health official pointed out.
Newsweek reached out to Paul's press representative for further comment, but they did not respond by the time of publication.
As Fauci noted, public health experts and scientists agree that to develop herd immunity—which means a large enough percentage of the population has developed immunity to prevent sizable outbreaks—a much larger percentage than 22 percent is needed. Experts have posited that at least 70 percent of the U.S. population would need to become infected and survive COVID-19 in order for there to be sufficient herd immunity.
Paul has been highly critical of lockdown measures, which public health experts and doctors credit with saving thousands of lives in the early days of the pandemic. He has also criticized Fauci repeatedly, while defending President Donald Trump's response to the national crisis.
As of Wednesday afternoon, the U.S. continues to have the highest number of infections and deaths due to the novel coronavirus. The country has confirmed well over 6.9 million infections and over 200,000 deaths. Although the U.S. only has a little more than 4 percent of the world's population, it now has more than 20 percent of the global deaths.